This post may contain affiliate links. If you buy thru these links, we may earn a commission at no additional cost to you.
---
Have you ever considered living off the grid in your RV? I've been full-time RVing for the past 7 years — I split my time between long term stays in RV parks and living off the grid in my RV as a nomad wandering with the weather.
Most full-time RVers are used to heading to the Southwest where winters are mild, and day-to-day life tends to be less expensive. It's a common trend, as we RVers plan our travel schedules around the seasons. Some will stay in the same place for a month or maybe two at the most, while others (like me) prefer to park the RV just one time each season and enjoy long term camping from there.
If you plan to stay in one place for 6 months to a year or more at a time, then living off-grid in an RV (boondocking) is a viable option that you might want to consider.
I've put together this helpful guide to give you an idea of what to expect in the way of living expenses and overall comfort when living off the grid in an RV, compared to on-grid RV camping.
Following are the costs and comforts associated with both on- and off-grid RV living…
Long Term On-Grid RV Living (RV Parks & Campgrounds)
Camping Fees
I've always recommended staying at an RV park for at least a month — to get the best bang for your buck. Paying by the day, it becomes very expensive. And weekly rates aren't much better.
By the month, you can likely find an RV park in almost any region of the country for somewhere around $300 to $400. Some more metropolitan areas will bump that up to $500 or more per month.
Especially in Arizona but also in south Texas and likely many other areas, it's not uncommon to find that some RV parks even have an annual or bi-annual rate that is a huge savings over the monthly rate.
I'm currently in an RV park that charges $820 every 6 months. It does have restrictions as to when you can check-in for that price — but that's a bargain if you plan to be reasonably permanent! For that price, you don't get much in the way of amenities — just the standard small RV park stuff like full hook-ups, roomy spaces, laundry facilities with bathrooms, and a community hall where special events take place through the winter (busy) season.
If you choose to upgrade to a fancier RV park and pay between $2,200 to $2,400 per year, you will get everything from swimming pools, exercise rooms, pool tables, paved streets, and endless entertainment through the winter.
Electrical Power
Once you pay for your camping spot, your financial cost is minimal.
You just have to pay for electricity — which is almost always an additional charge, no matter where you go. Of course, it's reasonable in the winter and outrageous through the heat of summer.
As an example… if you run the RV air conditioning round the clock, you can expect your electric bill to clear $200 in the months of June, July, and August.
Food And Supplies
The type of entertainment available in some RV parks is extensive — with admission to most of the shows priced under $10 per person. There are plenty of free events, as well.
One key consideration when choosing an affordable place to permanently camp in your RV is a campground's proximity to towns with stores and gas stations. It's currently a 50-mile one way drive to the nearest Walmart where I'm staying. I schedule a trip once a week and have just accepted it as part of my budget.
Summary: The Benefits Of On-Grid RV Living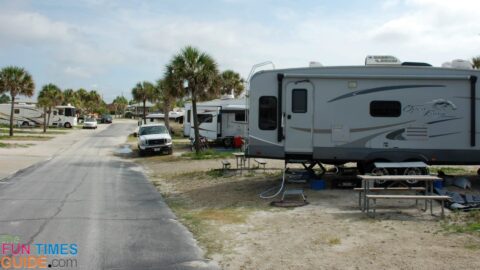 In my opinion, these are the biggest benefits of living on the grid in an RV park:
You always have a home to come to.
You don't have to find a dump station.
You will always have hot water.
You can take a shower every day without the concern of running out of water.
You will have plenty of drinking water — because the fresh water tanks are so easy to refill.
If you like to cook, plugging in the Instapot (or whatever your favorite camping cooking gear is) is as easy as locating the nearest outlet.
There's a sense of community, and those around you are friendly and outgoing.
A quiet +55 RV park gives you an added sense of security — as everyone watches out for those around them.
Long Term Off-Grid RV Living (BLM Land & National Forests)
Camping Fees
When living off the grid in an RV, these are your choices for a place to stay on public land:
During the winter, you can stay at any of about 8 Longterm Visitor Areas on BLM land for a one-time annual fee of $180. The permit is good for 7 months (September 15th through April 15th). Amenities vary by location. For example, in both Quartzsite and Yuma, there's one location that provides water stations, dump stations, and garbage dumpsters.
You can stay for free on many BLM (Bureau of Land Management)  locations for a period of 14 days — after which, you must move to another location at least 25 miles away.
During the summer, you can move to higher elevations on National Forest Lands. You can stay up to 14 days in one location for free before you have to move to a different National Forest. (See my list of the pros & cons of National Forest camping vs. National Park camping.)
That pretty much removes the expense of renting an RV park space for an extended period of time.
The question is, are you saving any money by going the off-grid route?
These are a few other expenses that you need to consider before making your decision…
Electrical Power
For off-grid RV living, you have 2 options:
RV Solar Power – For the bare necessities, you will need a minimum of 400 watts of solar power and 400 amp hours of battery bank. This will cost you at the very least $1,500 — if you install it yourself. That price could easily double or triple, depending on the type of batteries or if you want to run the microwave occasionally. And you can forget about running the air conditioner. Building an RV solar system sufficient to run an A/C more than 2 or 3 minutes would cost thousands of dollars!
RV Generator – Though this will address your power needs on the short term, generators have a measurable expected lifespan. They require regular servicing and often become unreliable after a surprisingly short time period. A generator operates with an unsophisticated small gas engine, similar to a lawn mower. Yes, name brands such as this Honda generator will serve you better — but consider the cost of fuel to run the generator endlessly, day after day. Spending more than $20 a week on generator gas can be expected.
By the way, having a good off-grid solar system isn't the complete answer — because you will still need a good generator for those rainy and cloudy days when solar panels become useless.
Water And Waste
Every time you need water or need to dump your holding tanks, you will have to close up camp and drive the RV to the nearest dump station. Or, you could install a macerator pump and carry a Blue Boy and haul jugs of water to lessen the amount of moving — that's how I handle the issue when staying in an LTVA where they have facilities relatively handy.
Anywhere else you camp, you will need to find dump stations and water sources. Many times, this will require you to drive 10 to 20 miles or more just to find somewhere you can dump. The average cost for these services is currently about $15 each time. This past summer, I saw a number of these locations were closing down permanently — making the chore of finding a place even more troublesome.
Food And Supplies
On the plus side, there are many free camping locations near towns with adequate shopping.
With a bit of research, it's likely that you can find good off-grid RV camping spots within 10 miles of a Walmart — and probably even closer to chain food restaurants.
Space And Privacy
Yes, you get more space and privacy in general — compared to the small spaces associated with RV parks, however:
During the popular winter months, you can forget about quiet and privacy in the LTVA's. There are thousands of other snowbirds doing the exact same thing as you, and the traffic to the dump stations is endless during January and February.
During the summer months, the popular off-grid RV camping spots are equally as busy. With some searching, you can find quieter locations with less traffic — but even those are getting restricted more and more every year, due to overuse.
Summary: The Benefits Of Off-Grid RV Living
In my opinion, these are the biggest benefits of living off the grid in your RV:
You can camp for an entire year for less than $200 — or for FREE, if you don't mind moving every 2 weeks!
You can park wherever you want on National Forest land and BLM land.
You can stay as long as you want (with a few stipulations).
You never have to leave your RV if you don't want to except to wander and explore the great outdoors, of course — which is a great reason to have a towable car, or at least an e-bike!
You don't have to deal with as many people, crowds, and noise
You have a lot more privacy than at an RV park — day and night.
You see a lot of wildlife in their natural habitat.
Pros & Cons Of On-Grid vs. Off-Grid RV Living
Which method of long term RVing is best?
That's a personal decision that only you can make.
I've been full-time RVing for the past 7 years. My time has been equally split between long term stays in RV parks and living as a nomad wandering with the weather.
Living off grid, I've never had a need for an air conditioner or a furnace. If the weather wasn't comfortable, that was my sign it was time to move to someplace else where it was. I made a number of friends that I've traveled with. Having a "tribe" of sorts, I've enjoyed a more mobile lifestyle.
I've also enjoyed RV park life and the conveniences that come with it. For example, this winter has been cooler than usual — and my electric blanket has been a welcome addition to my off-grid RV sleeping arrangements. Likewise, in the past (at other RV parks), daily swims in the pool and the warmth of the hot tub became part of my daily routine.
Personally, I think the costs associated with off-grid RV living and on-grid RVing equal out fairly close. It becomes more of an issue of what suits you.
Here's a summary of the pros & cons of each:
On-Grid RV Camping
Generally speaking, camping fees at RV parks and RV campgrounds are much more expensive. It costs between $300 to $400/mo to stay at a modest-level RV park. You can get better rates with a 6-month or 1-year contract.
Electricity is an additional cost, but it's more convenient than relying on solar panels, battery banks, and a generator
You don't have to think twice before using AC/heat and anything with a plug.
You have constant access to hot water for shower, cooking & cleaning.
Internet access is usually available.
There's on-site access to fresh water and dump stations.
It's much easier to access food and supplies — because most RV parks have on-site facilities for food, snacks, and other items.
There are usually laundry facilities on site.
You have much less personal space & privacy.
There's more noise and more people.
Overall convenience: It's easier to find campsites, you're located closer to town, there are more amenities… and events. Depending on how much you're willing to pay, nicer RV parks even have year round entertainment, swimming pools, exercise rooms, game rooms with pool tables, etc.
Off-Grid RV Camping
Generally speaking, camping fees on public land (such as National Forests and BLM land) are far less expensive. It costs less than $200 to camp on public land for the entire year. You can even camp for FREE, if you don't mind moving every 2 weeks.
There's no access electricity — so you need to bring your own solar panels, battery banks, and generator.
It's not feasible to use AC/heat or anything with a plug — because those items will quickly use up your stored power. (Bye bye microwave!)
You must use hot water sparingly (for showers, cooking & cleaning) due to limited access to electricity and fresh water.
Internet access is rarely available.
You have to tear down camp and drive the RV some distance to obtain fresh water and dump your waste.
It's more difficult to get food and supplies (especially on a whim) — because you have to drive your tow vehicle to the nearest town
You have to find a laundromat in a nearby town in order to do laundry… unless your RV has a washing machine on board.
You get lots more personal space and privacy.
There's less noise and fewer people.
Overall convenience: It takes more time to find campsites, you're located farther away from town, there are no amenities at all — unless you count watching wildlife and "being one with nature".
The Bottom Line
I like the ability to live off grid as I choose — but for now, I'm enjoying the amenities that come with being back on the grid.
Come summer, who knows where I will be!
In this video, I'm showing you what off-grid RV living and on-grid RV camping both look like near Quartzsite Arizona.:
See how I've managed to enjoy cheap RV living for all these years.
Like this post? Save it to read again later… or share with others on Pinterest!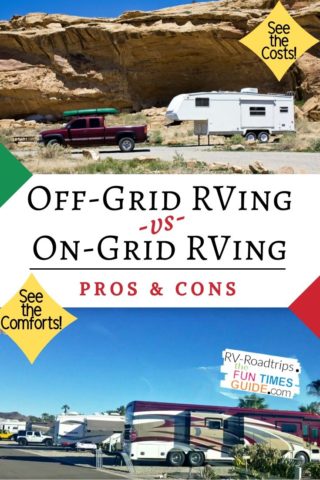 I've been involved in RVing for over 50 years — including camping, building, repairing, and even selling RVs and motorhomes. I've owned, used, and repaired almost every class and style of RV ever made. I do all of my own repair work. My other interests include cooking, living with an aging dog, and dealing with diabetic issues. If you can combine a grease monkey with a computer geek, throw in a touch of information nut and organization freak, combined with a little bit of storyteller… you've got a good idea of who I am. To date, I've shared my RV knowledge in over 300 articles here at The Fun Times Guide! Many of them have over 25K shares.