This post may contain affiliate links. If you buy thru these links, we may earn a commission at no additional cost to you.
---
Thinking of getting an RV electric bike?
I recently bought a Lectric XP eBike… and I love it!
An electric bike for RV owners is a smart choice for the following reasons:
You don't have to bring a tow car with you RVing.
You don't have to walk long distances around the campground… or in town.
You don't have to waste gas to run errands or pick up last-minute items.
You can easily get around to explore your surroundings — inside the campground and beyond.
You can also travel off-road and ride on non-motorized trails.
You have emergency transportation should your RV break down.
Here are my tips for choosing an electric bike, keeping your e-Bike safe and secure while camping, and charging your bicycle. Before you get an eBike for campgrounds or RV parks… read this first!
Secondary Transportation For RVers
There's a lot to consider when it comes to choosing the most practical secondary transportation for RVing:
If you don't tow a second vehicle behind your RV… it sure is a huge hassle to break camp to run a mile down the road for a gallon of milk.
If walking has become harder for you… then you'll need some form of campground-friendly transportation to get around.
An e-Bike can restore your freedom… so you don't have to fire up the truck or RV every time you need to run over to the other side of the campground.
Maybe you just want to explore and enjoy the area you're visiting… but you have a hard time walking anything more than a short distance.
If you want to travel off-road at all, ebikes make great substitutes for traditional mountain bikes.
There's also the issue of emergency transportation… If your RV should happen to break down on the road, an electric bicycle can save you a lot of worry in a bad situation — since eBikes have a 20 to 40 mile range. (Keep in mind, RV breakdowns are a matter of when, not a matter of if.)
In years past, I towed a Jeep CJ behind my motorhome.
Now I live full-time in an RV travel trailer — which makes that option impossible. Of course, I do have my truck available when I'm set up in a campsite. But it's still an expensive option, if all I need is a quick run down the road a mile or two.
The Ease Of Traveling With An Ebike
I rode motorcycles for many years — but the weight and physical requirements to load and unload something that weighs hundreds of pounds from a rack on the back of the RV trailer is something I'm no longer comfortable with.
Not to mention the fact that adding weight to the rear of a travel trailer is dangerous — because it will disturb weight distribution, making handling a nightmare.
My Lectric XP electric bike weighs about 60 lbs. That's not enough to influence RV towing weight limits and yet it's still manageable to load single-handed. (Even small scooters or mopeds can be a struggle to load by yourself.)
Storing An RV Electric Bike
My choice for an RV electric bike is one that folds in half, making storage simple!
I pull my RV trailer with a van and have assigned a rear corner in the van for my E-bike. This arrangement makes it easy for me to access the rest of the van throughout the day — and I don't need a bike rack.
The same could be said for a pickup truck, as well.
A folding bike will likely fit in most large storage bins in today's coaches and Class A motorhomes.
Keep Your RV E-Bike Safe & Secure
Another reason for choosing a folding E-bike is the ability to store safely it under cover.
Yes, you could get a fabric cover for it — but out of sight, out of mind is an even better choice.
TIP: Although they are considered water-resistant, eBikes are not water-proof. Should you have something go wrong because of water damage, it will not be covered by the warranty.
There are a number of options for locking down your E-bike and keeping it secure temporarily while you're bicycling. I opted for a heavy cable with a stronger than average padlock. There are also U-shaped locks that seem more secure — but their shape tends to limit what you can lock your bike to.
How To Charge Your RV Electric Bike
I live off-grid permanently — I often stay for weeks at a time at a national park or months at a time at a national forest.
Boondocking is a way of life that usually requires solar panel systems and other modifications for day to day life.
Since I'm already wired, so to speak — I simply plug in the charger for the E-bike during the main part of the day when the sun is at its peak.
A full charge will take 5 or 6 hours, so I may not get it topped off completely the first day. But since I'm riding only about 5 miles a day, there is plenty of power for my needs.
The draw seems minimal and has not proven to be much of an additional drain to my battery bank.
An RV Electric Bike vs. A Regular Pedal Bike
You may wonder if an E-bike is really a better option than a regular pedal bike.
I have joint pain issues and pedaling a regular bike for any distance is no longer possible.
The pedal assist feature of an E-bike takes all the effort out of pedaling! Yes you are making the pedaling motion and getting some mild low-impact exercise — but the actual force propelling you down the road is supplied by the electric motor.
Your first test ride on an E-bike may seem a bit too fast — but be reassured that after maybe 15 minutes of riding, things will become second nature. You will quickly adjust to maintaining a comfortable, effortless speed that beats the heck out of walking yet is still slow enough to feel controlled.
My E-bike is capable of doing up to 28 mph. But at almost 70 years of age, I find 8 to 9 mph more to my liking.
Are Electric Bikes Allowed In All Campgrounds?
Yes.
From the factory, my Lectric XP e-Bike is set to a top speed of 20 miles per hour — making it a Class 2 electric vehicle.
An electric bike is legal pretty much anywhere that a regular bicycle is allowed — no special license or insurance is required.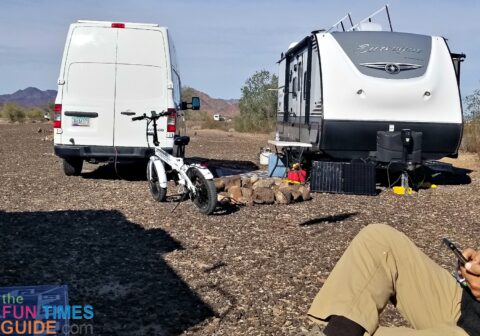 The Bottom Line
As we age, often the things we once did (like bicycling long distances) are no longer possible.
If you're looking for some low-impact exercise that won't aggravate conditions such as arthritis or weak bones, an E-bike can be a smart choice.
Riding an electric bike is a great way to maintain physical abilities that might otherwise be lost.
TIP: If stability is an issue for you, consider an electric trike.
For myself, the only comfort modification I made was to install a wider saddle.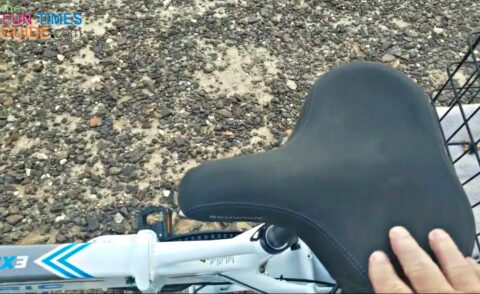 I also ordered the optional pannier bags — which will make carrying a few things with me easier.
The only other mandatory addition was a simple wire basket that I purchased from the home decor department at Walmart. I attached it to the rear of my eBike using a few plastic zip-ties.
My dog, Max, insists on riding in the basket wherever I go! He took to it immediately with no special prompting from me. He calmly sits in the basket — making no effort to jump overboard.
Here's a video of Max and I heading out for an afternoon of bike riding — he's just enjoying life:
I get some exercise and Max gets to people watch… his favorite activity!
Like this post? Save it to read again later… or share with others on Pinterest!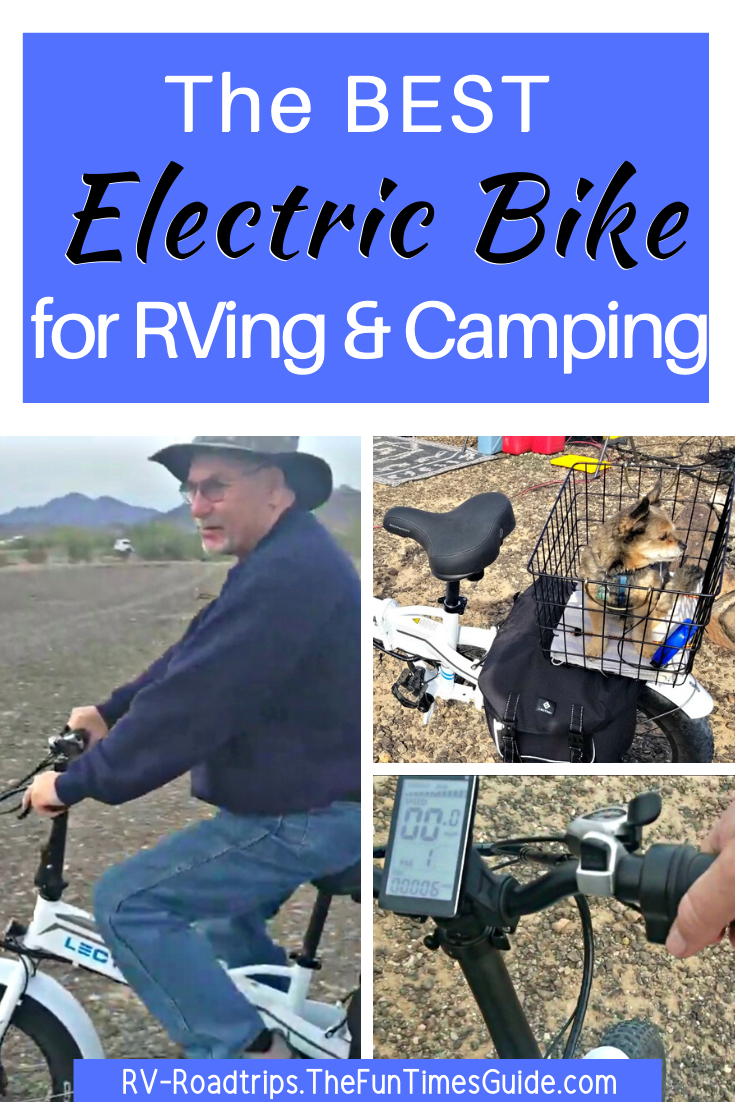 I've been involved in RVing for over 50 years — including camping, building, repairing, and even selling RVs and motorhomes. I've owned, used, and repaired almost every class and style of RV ever made. I do all of my own repair work. My other interests include cooking, living with an aging dog, and dealing with diabetic issues. If you can combine a grease monkey with a computer geek, throw in a touch of information nut and organization freak, combined with a little bit of storyteller… you've got a good idea of who I am. To date, I've shared my RV knowledge in over 300 articles here at The Fun Times Guide! Many of them have over 25K shares.