This post may contain affiliate links. If you buy thru these links, we may earn a commission at no additional cost to you.
---
A teardrop camper is a small and very lightweight trailer — just large enough to provide sleeping quarters for two. And there's a chuckwagon-style kitchen accessible through a hatch on the back.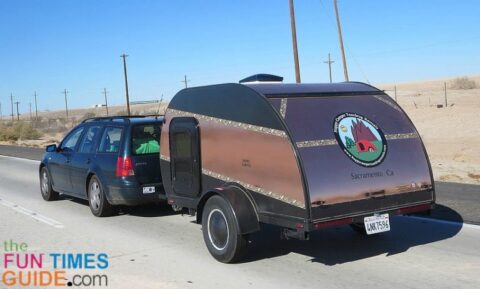 That is the essence of a teardrop trailer — and it's rapidly regaining popularity in the RV world today.
You can even rent a teardrop trailer these days!
Why Teardrop Campers Are Making A Comeback
Economics is the determining factor in most trends. These days, the market for small, efficient and low-cost RVs has begun to explode.
Popular back in the 1940's and 50's, the teardrop camper all but disappeared from the market until recent times.
Now, with the majority of cars being very limited in their towing capacity, equally small RVs are regaining their share of the overall RV market. This is both good and bad — because their smaller diminutive size, in many cases, is not reflected in their price.
Teardrop trailers, which got their start in the 1930s when do-it-yourself magazines published floor plans and then peaked in popularity among post World War II families, are making a comeback. Young families looking for a practical, fun way to travel like them. Singles traveling alone who need something to easily maneuver like them, too. And older couples or families weary of navigating a behemoth family RV around the country's twists and curves like the idea of downsizing. The National RV Dealers Association, which doesn't keep specific information on teardrops, says travel trailer shipments are up as a whole since 2009. Source
Teardrop trailer brands that were mere upstarts a couple years back have raised their prices to match demand. You can easily pay a similar amount for one of these tiny little rigs as you would for a much larger, roomier, and yes heavier RV that is still offered right alongside teardrop campers.
Popular Teardrop Trailer Brands
These companies all sell teardrop trailers:
These teardrop camper manufacturers all have one thing in common — it's the fact that you're still going to shell out a sizable amount of money to enjoy the so-called economy of a small teardrop camper design.
My Favorite Teardrop Trailer Alternative
If you just can't pony up, say $10,000 for a weekend hobby, there are still ways you too can get hitched up behind your minivan and hit the open road.
First, ask yourself:
Do you really need to have the exact teardrop shape?
Is the hatch with chuck wagon kitchen a necessity?
If you can get by with only the essentials and take care of the rest on your own, here's one company that still has a firm grip of the phrase "economic travel:" Runaway Campers.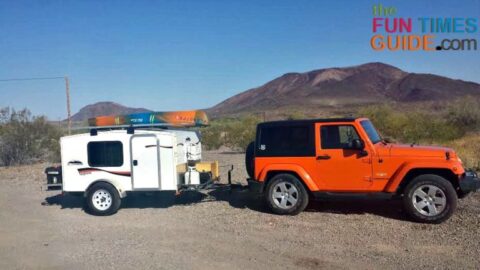 They're very lightweight and well-constructed, but they keep the total cost well under $3,000! Runaway Campers can set you up with a small trailer that lets you add what you need, and keep it simple in the process.
Build Your Own Teardrop Camper
Yet another way to keep the cost of your teardrop RV trailer under control is to build it yourself.
You can buy a kit, and let the manufacturer supply all the bits & pieces.
Here are some examples:
Or, if your woodworking abilities are up to the challenge, maybe you would rather design your own teardrop camper from scratch!
Many people have started with a simple basic trailer kit from Harbor Freight like this one.
Here's a video of a home-built teardrop camper showing all the various stages of the project:
Rent A Teardrop Trailer
As I mentioned at the start of this article, you can also rent a teardrop camper.
Read this before you rent an RV!
Here are some of the more popular Teardrop rental companies:
I've always been of the mindset that if I want to do something, I will find a way.
Yes, today's factory built teardrop RVs have climbed in price, but no one needs to feel they have been priced out of the market. Travel is affordable and available to almost everyone, and teardrop campers are a good way to keep your bed up off the ground and stay comfy cozy.
You can buy a teardrop camper that's ready to go with all the extras, you can roll up your sleeves and build one yourself, or you can rent a teardrop trailer!
However you do it, there's no time like the present to get on the road and see everything this country has to offer.
I've been involved in RVing for over 50 years — including camping, building, repairing, and even selling RVs and motorhomes. I've owned, used, and repaired almost every class and style of RV ever made. I do all of my own repair work. My other interests include cooking, living with an aging dog, and dealing with diabetic issues. If you can combine a grease monkey with a computer geek, throw in a touch of information nut and organization freak, combined with a little bit of storyteller… you've got a good idea of who I am. To date, I've shared my RV knowledge in over 300 articles here at The Fun Times Guide! Many of them have over 25K shares.