Have you considered living your life on the road and traveling wherever you want as a way to make the most of your retirement years?
But then reality strikes and you think to yourself, "How can that kind of life be financially doable?"
I'm a fulltime RVer. My 36-foot, 20-year-old motorhome is my only home.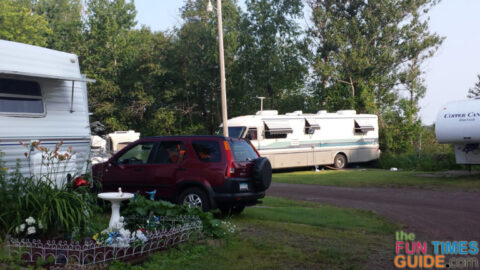 I travel most of the time. When I need a break from life on the road, I rent a spot at an RV park and stay put for a month or more.
Living this way I've found that — even with the high cost of fuel — RV travel is easily attainable. Even on a modest income.
Cheap RV Living
As it turns out, whether you are actually traveling or staying in an RV resort, the cost of day-to-day life is about the same.
You can travel when you want, or stay put with all the amenities of normal society. You can live according to what your mood tells you for the moment.
Using a 2-month time period as my scale (one that can be extended indefinitely because the cost of life really doesn't vary enough to matter), I will show you how it all balances out.
How Much It Costs To Stay In RV Parks
For a month I stayed in an RV park that was centrally located in a midsized city. It was nothing elaborate — just a place with:
hook-ups
laundry facilities
bath house
Those are my 3 major requirements, but I would prefer to include propane availability on site as well.
The cost for a month: $450 inclusive.
That's a little pricey for the quality of the place, but the location was convenient and it was a safe neighborhood.
How Much It Costs For RV Travel With Free Overnight Parking
I've been traveling since then, staying exclusively at spots where I can spend the night for free — Walmart parking lots for the most part. They have all welcomed me warmly when I ask at customer service if RVs are allowed to spend the night. It helps that I use a smartphone app to find Walmarts that do allow you to stay ahead of time, but I always confirm when I get there regardless.
I have also stayed at places like Cabela's — where not only do they allow you to stay, but they have a painted parking lot laid out just for RV overnight parking. They also supply a dump station and fresh water at no charge. And the last one I stayed at even had dog kennels so you can leave your pet while shopping.
With a very small amount of Internet search, I set my course in a general direction and hopscotch from one free RV parking spot to the next — driving between 25 miles and 100 miles per day. Remember, I'm retired. Hurry isn't in my vocabulary.
After completing 2 weeks of travel, I have spent a total of $240 on diesel fuel. Having spent $0 on lodging, and having a supermarket available at almost every stop, I have lived as well as anyone else — either on the road or parked — for the sum total of less than $500 a month, excluding the cost of food. Food is a fixed cost that you have no matter where you are.
By the end of the month, I will be halfway across the country — where I plan a stay at an RV resort, complete with all the amenities, including cable TV, WiFi, and an on-site RV/car wash. The total cost of a month's stay will be about $500.
Many places between here and there are measurably cheaper, but this place is on the outskirts of a major metropolitan area, so it is expected that the prices are a little higher. I've priced RV resorts and RV parks around the country, and I find that is about middle of the stream cost-wise.
It's True, Almost Anyone Can Afford Fulltime Living In An RV!
In the end, if you can be comfortable taking life at a slower pace, not driving long distances in a day or kicking back at the campground for a month's stay is the best way to stretch your fulltime RV dollars.
Keep in mind, a month's stay at an RV park is often half the cost of the daily rate. And short driving days means the monthly fuel budget stays intact.
If you choose to spend the winter months in the southwest, the numbers crunch even more to your favor! You can park on BLM land for free, or stay in a Long Term Visitor Area for $180 for the entire winter season.
When you compare $500 a month to the cost of home ownership, it's an easy decision. Life on the road can be attainable for almost anyone with a modest income.
Tips For Living In An RV Fulltime
...