This post may contain affiliate links. If you buy thru these links, we may earn a commission at no additional cost to you.
---
Choosing the right camp cooking equipment for RVers will make a huge difference if you're trying to get away from processed foods and start eating healthier, full-course meals on the road.
For some people, going on a trip in their RV means stocking up on canned, processed, quick & easy meals. You know… canned beef stew, canned soups, and maybe some freeze-dried survival rations packaged to stay edible for the next 25 years. Of course, junk food is high on the list of must-haves as well.
Not me!
Just because you're "on the road" doesn't mean you should change your eating habits from what you do (or did) at home.
And for some of us, our health and wellbeing makes a balanced diet (or specialized diet) mandatory. I'm diabetic — so that pretty much takes all sweets and junk food and as much processed foods as I can avoid permanently off my shopping list.
That said, I take pride in my cooking abilities and the wide range of recipes that I have no problem executing to near perfection — pretty much anywhere I happen to be. So far, no complaints at least. Don't forget that you'll need fresh drinking water for your next camping trip. A leakproof and durable water container is needed for drinking, cleaning dishes, cooking, and brushing your teeth on camping trips.
There are plenty of ways to increase your RV cooking abilities — which makes exploring new recipes on the road an exciting and rewarding adventure!
Following are all of the camping cooking equipment pieces that I use for making breakfast, lunch, dinner, desserts, appetizers, holiday meals, and more as a full-time RVer…
Camp Cooking Equipment I Own
I consistently use these camping appliances in my RV:
I bought this on a whim, and quickly thought it was just a luxury toy that might not be too practical with RV cooking. But this simple flatiron grill has become my most-used cooking surface!
I love my Blackstone grill for these reasons:
Food is so much more convenient when it's cooked outside — no grease or smell in the RV.
A seasoned flatiron grill is both nonstick and adds a certain flavor to your burgers that you can't get any other way.
It's also great for grilling veggies to a perfect doneness.
The convenience of using the Blackstone grill has helped me make breakfast a daily ritual that's quick & easy.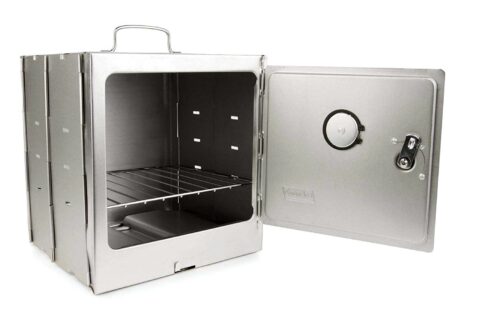 It's a simple metal box with a door, but it does so much:
Morning buttermilk biscuits
Perfect pizza for lunch
Tasty pot roast for supper
This simple oven (which operates by setting it on a burner of your propane camp stove) can crank out goodies you haven't even thought of yet. Pies, brownies, and sweet rolls turn out just like you baked them at home!
Chicken, steak, hotdogs, shish kabobs, pork chops — it's all so convenient to cook on the grill! Simply lift the door and press the ignitor.
RV outdoor kitchens like this are usually hard plumbed into the propane supply of the RV. Hook the hose to the grill using the quick-disconnect fitting, and you're ready to cook!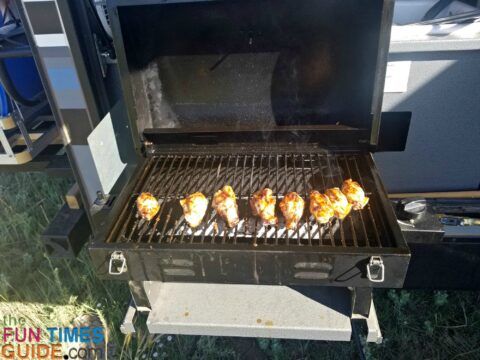 Most RVs come standard with a paltry oven that's only suitable for baking a small batch of biscuits or a low pan casserole.
I highly recommend when shopping for your next RV to seek out those with an upgraded 22-inch Suburban oven. You won't be sorry — regardless of the cost.
If you like cooking, this is an oven of useful dimensions. For example, a modest sized turkey is no problem. Making a large dutch oven of baked beans is a breeze. And there's room to spare!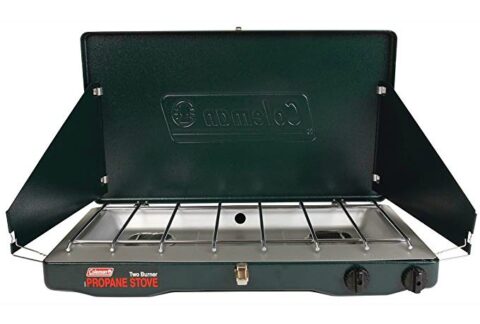 This is the most universal (and pretty much required) cooking platform for outdoor camp cooking.
For example, you'll need somewhere to heat the above mentioned Coleman camp oven — and this gives you a second burner for that mandatory morning coffee to simmer while you cook!
Electric RV Cookware I Own
These are the electronic camping appliances that are also helpful for RV cooking: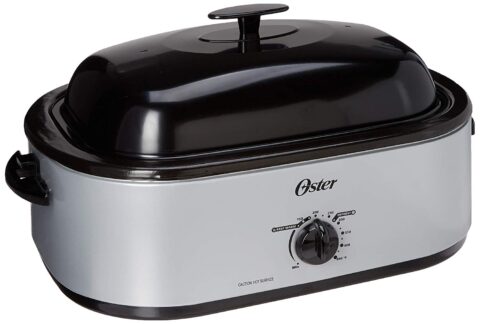 Cooking for a crowd? Having Thanksgiving dinner in camp?
These portable electric ovens can be a lifesaver!
Just plug in the Honda EU2000i Generator, and your gourmet RV cooking skills will surely impress everyone.
These next items are by no means mandatory camp cooking equipment, but they can add a little special flair to your RV cooking — as long as you have the generator with you.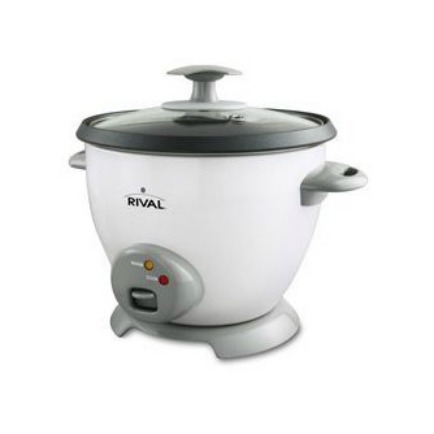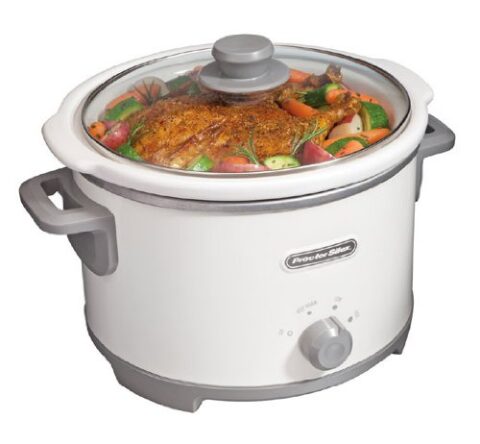 The Bottom Line
As you can see, your options for creating wonderful, home-cooked meals need not be hampered just because you're RVing.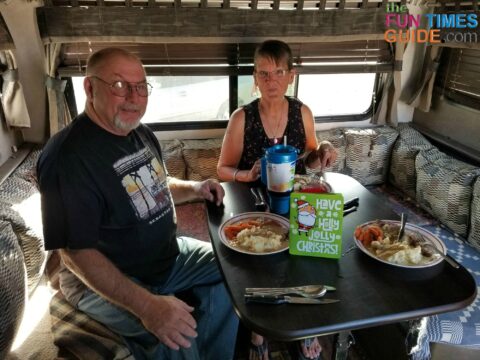 Whether cooking for one or two — or fixing a holiday meal for an entire crowd — there are no limits to what you can create from the comfort of your RV!
Making use of all my means of camp cooking, I have whipped up a number of full-fledged Thanksgiving dinners — complete with all the fixin's.
Some of my most memorable times have been hinged around creating a good meal for those around me.
Here's my video showing how I use each of the above items for RV cooking:
More Ways To Get The Most From Your RV Cooking
In addition to the items mentioned above, we've also got a few other articles filled with tips to help you streamline your RV cooking: 
Like this post? Save it to read again later… or share with others on Pinterest!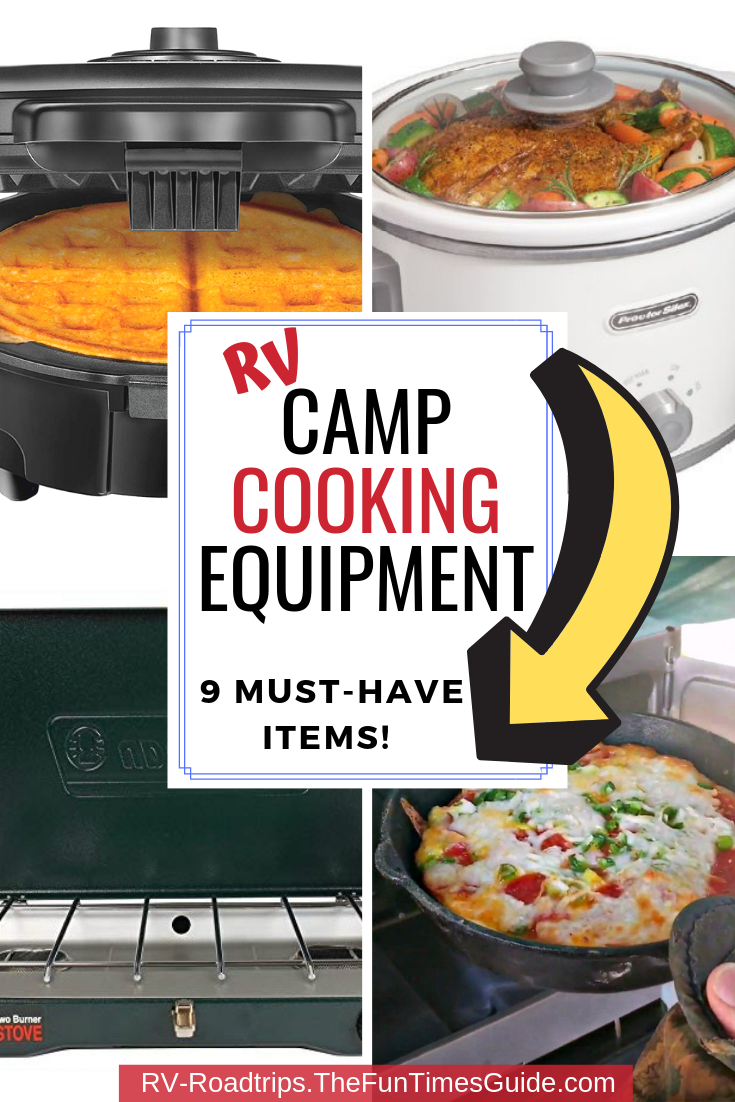 I've been involved in RVing for over 50 years — including camping, building, repairing, and even selling RVs and motorhomes. I've owned, used, and repaired almost every class and style of RV ever made. I do all of my own repair work. My other interests include cooking, living with an aging dog, and dealing with diabetic issues. If you can combine a grease monkey with a computer geek, throw in a touch of information nut and organization freak, combined with a little bit of storyteller… you've got a good idea of who I am. To date, I've shared my RV knowledge in over 300 articles here at The Fun Times Guide! Many of them have over 25K shares.