This post may contain affiliate links. If you buy thru these links, we may earn a commission at no additional cost to you.
---
Whether you intend to eventually buy an RV at some point or not, renting an RV is always good idea.
…And a FUN one, too!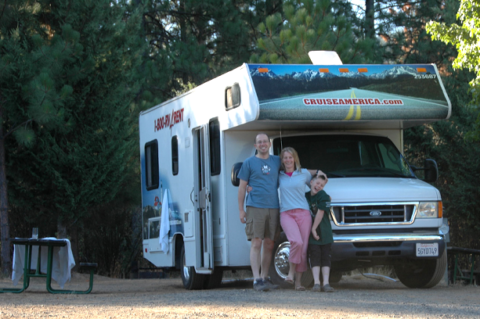 There Are Many Good Reasons To Rent An RV:
#1 – Perhaps you'd like to take a memorable vacation before the kids (or the grandparents) get too old to enjoy it — because those rare opportunities are only becoming rarer.
#2 – Or, if you're in the process of moving across the country, why not turn a routine, boring trip into something special — simply send your things off with the movers (or pack your one-way rental RV) and experience the fun and convenience of RV moving!
#3 – Maybe you want to try out a particular make & model before you commit to buying one — because there are so many types and sizes of RVs to choose from and they are vastly different in terms of the type of chassis they are built on, the features they include, the fuel costs required to operate them, the spaciousness inside, etc.
#4 – Renting an RV is cheaper than staying in hotels (roughly 30% less expensive) — the savings on meals that you'd prepare yourself in the RV offsets the higher cost of fuel.
#5 – Even if you don't intend on sleeping in the rental RV, it's still a convenient way to travel — because even the smallest motorhome is roomier than a car, the trip is more enjoyable for children since they have more room to play, it's convenient to have snacks on the countertop and cold drinks in the fridge while you're driving, and there's a clean restroom available anytime you need it.
#6 – Renting an RV for a short period of time makes more sense than making the financial commitment to buy one if you don't plan to drive the RV much — because there are ongoing costs that can become overwhelming to an RV owner, such as maintenance costs and storage fees.
#7 – While the average RV owner spends $715 a month on their RV, when you rent an RV you pay for it only when you need it — and renting an RV can be as low as $50 a day!
#8 – If you need a spare bedroom for visitors at your home (think holidays, weddings, graduations, reunions), an RV can be an affordable alternative to paying for a hotel — when all you need is extra sleeping space and bath/shower facilities.
#9 – If you're building, remodeling, or your house gets damaged after a bad weather storm or natural disaster, a rental RV can provide temporary shelter for your family — you'll have the bare necessities that you need without leaving the property while your home takes shape, and you won't incur any mileage fees!
#10 – If you're going to an event where tailgating is involved (like a sporting event, a multi-day outdoor music event, or a car race), an RV provides added space and "luxuries" that other event attendees won't have — like a refrigerator, stove, toilet, shower, shade, and dry bedding.
And just for fun, here are 10 more reasons to rent an RV:
Your luggage arrives when you do
Sleep on your own bed linens
Flexible travel plans
A different view out your living room nightly
No lines for the rest room
No lines at the airport
Economical and cost effective
Snacks and meals literally on the go
Nap time can be anytime
Getting there is half the fun
Definitely Rent An RV Before You Buy One!
Renting an RV is definitely the best course of action before you purchase a motorhome of your own — because it's a major investment that you don't want to take lightly.
This is something that we've learned firsthand!
If you plan to use your RV the typical number of days per year (27), and you purchase your 3-year-old RV on credit, you will pay a premium of $200 more per day for the privilege of ownership versus renting! To make ownership financially worthwhile you need to use your RV about 40 days per year if you buy the RV outright or about 50 days per year if you buy the RV on credit. On the other hand for those who live full-time in their RV the costs per day can be well under $100.  — 'Rent vs Buy' by Dave Neale
In our case… like many other adults who like to travel, our bucket list included the item "Travel in an RV" ever since we got married.
We always thought it would be fun to travel year round in an RV. And since our primary source of income comes from our website business, all we'd need is a WiFi connection to keep working while we're traveling.
Fortunately, my husband's job with NHRA drag racing teams has provided us with the opportunity to drive lots of different RVs and motorhomes. We've spent weeks at a time traveling in an RV to fun locations all across the U.S. — just the 2 of us (and sometimes our dog).
Through the years, we've used that as a chance to "test drive" a wide variety of motorhomes. It's also been a way for us to determine if we would really be happy owning an RV ourselves.
The bottom line for us… since we enjoy motorcycling so much and we have a large group of friends locally who ride motorcycles, we probably wouldn't use an RV enough right now to make it worth owning one right now (not when you consider the ongoing maintenance and storage costs).
We still drive RVs on occasion — usually our friends' RVs.
And personally, this now appears on my bucket list: "RV cross country with girlfriends."
But owning an RV is something we're saving for our retirement years. For now, we're happy to enjoy short trips in an RV whenever we want.
Must read: RV Renting Is The Option For Those Who Want Freedom Not To Own
Little-Known Facts About Renting RVs
Here are some of our other helpful tips that are good to know before you rent an RV.
And here's our list of the best places to rent RVs.
Like this post? Save it to read again later… or share with others on Pinterest!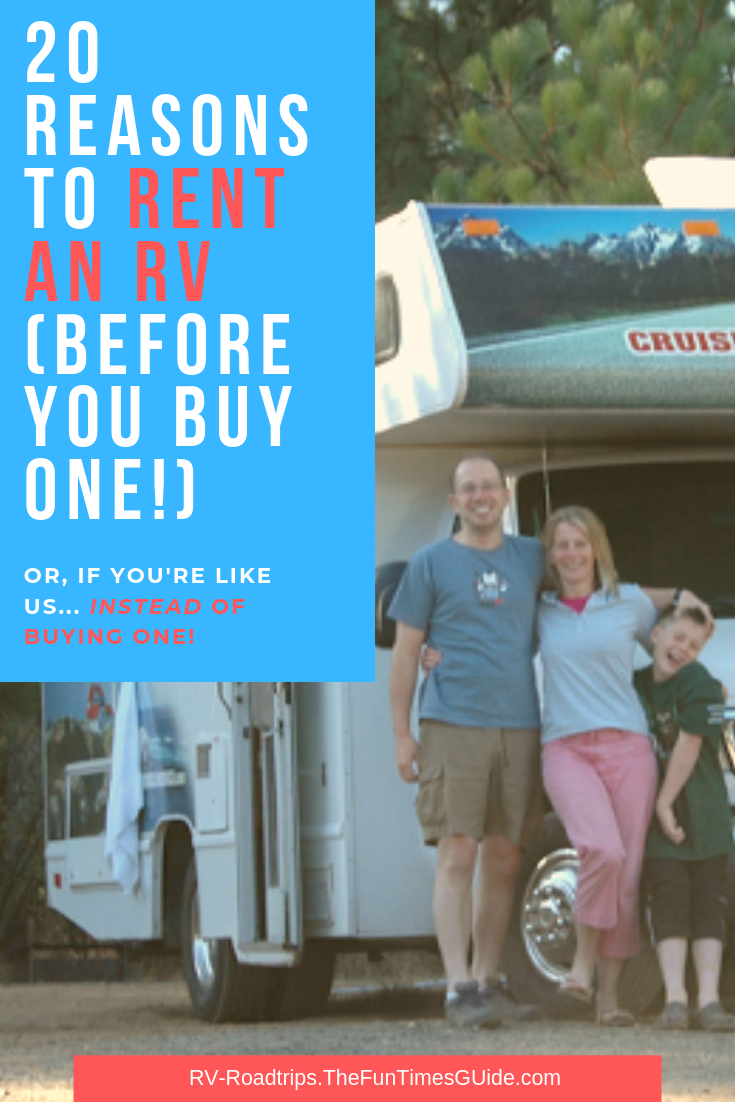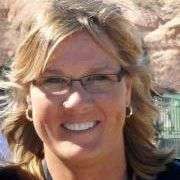 Over the past several years, I've been involved with transporting RVs, renting RVs, and fulltime RVing (months at a time). I'm fortunate to have had a number of different RVs available to me to try out — which has enabled me to experience the nuances of RVing firsthand. When I'm not RVing, you can find me at the corner of Good News & Fun Times as publisher of The Fun Times Guide (32 fun & helpful websites).