Whether you intend to eventually buy an RV at some point or not, renting an RV is always good idea (…and a FUN one, too).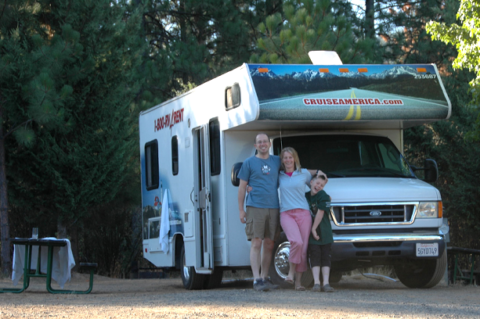 It might also be the best course of action before you purchase a motorhome of your own.
If you plan to use your RV the typical number of days per year (27), and you purchase your 3-year-old RV on credit, you will pay a premium of $200 more per day for the privilege of ownership versus renting! To make ownership financially worthwhile you need to use your RV about 40 days per year if you buy the RV outright or about 50 days per year if you buy the RV on credit. On the other hand for those who live full-time in their RV the costs per day can be well under $100.  — 'Rent vs Buy' by Dave Neale
In our case, Jim has driven RVs and motorhomes of all shapes and sizes in his work with NHRA drag racing teams. So, other than "for the fun factor alone," we don't have the same pressing need to rent an RV before we buy one that most potential RVers have.
But test-drive a few RVs before we buy one?… That's another story! We will definitely be test-driving several RVs before we ultimately purchase our own.
Must read: How Much Does It Cost To Rent An RV?
Little-Known Facts About Renting RVs
See why you need RV rental insurance. (What you don't know could cost you thousands of dollars!)
Where To Rent An RV
Whether you're looking for a fun getaway for a day or two (or a multi-day vacation roadtrip), renting an RV makes a lot of sense.
And, RVing as a mode of travel turns a 'fun' trip into an adventure!
Here are some larger, more well-knonwn places where you can rent an RV:
Want more? Check out this mega list of RV rentals in various points across the U.S. Here's another list of 150+ places to rent RVs.
Here are some things that are good to know before you rent an RV. (More here.)
Top 10 Reasons To Rent An RV
1.     Your luggage arrives when you do
2.     Sleep on your own bed linens
3.     Flexible travel plans
4.     A different view out your living room nightly
5.     No lines for the rest room
6.     No lines at the airport
7.     Economical and cost effective
8.     Snacks and meals literally on the go
9.     Nap time can be anytime
10.   Getting there is half the fun