This post may contain affiliate links. If you buy thru these links, we may earn a commission at no additional cost to you.
---
It's been a long cold winter and your RV hasn't turned a wheel.
If you followed our Fall RV Maintenance Checklist to prepare your RV for winter prior to storage, then you might be thinking that all is well — and you can hit the open road as soon as spring weather hits.
Not so fast!
There are a few things you need to take care of before your RVing season gets started.
If you've never de-winterized an RV before, you're probably wondering how do you dewinterize an RV yourself? What are the steps involved?
Read on for the 8 most important tasks on your Spring RV Maintenance Checklist…
Your checklist for spring RV maintenance includes:
Tasks that are specific to the start of the spring RV travel season
Tasks that will verify no damage was done by winter's wrath while your rig was in storage
Tasks that you may recognize from the Fall Maintenance Checklist — because they need to be done in both the fall and the spring
RV Spring Checklist
#1 – Check the roof — extreme temperature changes over the winter may have loosened sealant or damaged vent covers.
The weight of snow and repeated melt & freeze cycles can cause lots of damage!
Touch up any seams where the sealant looks questionable. And replace any vents that were damaged from the weight of snow.
A thorough inspection of the RV ceiling inside will quickly confirm if any water found its way inside.
TIP: Be sure to open all of the cabinet doors along the ceiling — so you can get an accurate picture of every spot where water could've migrated in.
#2 – If your RV is an older model, it might be time for a new RV roof coating.
It's better to do this kind of chore during the warmer temperatures of spring going into summer — rather than in the colder months of fall or winter.
This video shows how to do it yourself:
Coating your RV roof with Dicor's Fiberglass RV Roof Coating System
Be sure to choose a product designed specifically for your type of RV roof material.
TIP: Stay away from any products that are recommended for coating homes… or even mobile homes. You need to stay within the list of products designed for recreational vehicles.
#3 – Check for proper tire pressure.
Temperature changes can cause a slow bead leak, and a low RV tire will quickly overheat (and likely blow out).
TIP: Don't forget the spare tire! Making sure the spare tire is ready to take the load will at least keep your first RV outing on track — should you have a flat.
#4 – Re-torque wheel nuts to the correct specifications.
Don't rely on the Armstrong method where you just lean on the lug wrench, figuring you got it tight enough.
It's surprisingly easy to over torque wheel nuts — causing the threads to stretch (…and they will never stay tight after being overtightened).
Also, you don't have to be Superman to actually shear a lug bolt off. Things will look normal — but as soon as you get up to highway speed, the wheel could take off into the weeds. (By the way, this kind of damage isn't covered by warranty.)
TIP: Here's how to do it properly:
Checking Tire Pressure and Lug Nut Torque | Pete's RV Quick Tips
#5 – Check all fluid levels in your motorhome.
RV leaks can show up during the winter — especially if the coolant wasn't protected to a low enough temperature.
TIP: Early indicators of major engine issues are either 1) a milky color to the engine oil, or 2) an oily film on top of the coolant in the reservoir.
#6 – Start up all of the RV appliances.
It's best to know that the refrigerator, furnace, air conditioner, stove, and water heater are all working properly — well before you plan your first outing.
Once the summer RV camping season is in full swing, getting an appointment at an RV dealer in a reasonable amount of time becomes difficult. Everyone wants RV service once the weather warms up!
TIP: Here's what to do if your RV refrigerator isn't working properly and how to remove and prevent mold inside the refrigerator.
#7 – Check all RV lights to make sure they're working properly.
This includes checking all RV interior lights and all RV exterior lights for proper operation!
Also, plug in the tow vehicle and make sure all turn signals, brake lights, and marker lights are functioning.
TIP: Fortunately, LED lights are becoming the standard — they're much more reliable than the old incandescent bulbs of years gone by.
#8 – Sanitize the RV water system.
After sitting all winter, this spring maintenance task cannot be overlooked before hitting the road in your RV!
First, make sure the fresh water tank is empty.
Then, grab some bleach and follow these steps.
It takes less than 1 cup of household bleach to ensure that you have a fresh smelling and good tasting water supply for the travel season ahead.
TIP: This video shows how to do it yourself:
RV 101® - How To Sanitize the RV Water System Using Regular Household Bleach
The Bottom Line
As an RV owner, spring RV maintenance is the best way to protect your investment and make sure it's ready to go when you are.
Be sure to follow these 8 seasonal maintenance tips to get your RV ready for your first trip of the year — because nothing spoils a vacation quicker than discovering something is amiss just as you're ready to pull out of the driveway!
Must read: All The Best Checklists For RVers
In this video, I'm walking you through each of the 8 spring RV maintenance tasks one-by-one. Plus, reminders to check the water level on RV batteries to make sure they stay fully charged, how to ensure that you've properly checked for leaks everywhere, and how I go about sanitizing the RV water system each spring:
8 Spring RV Maintenance Tasks You Can't Ignore
Like this post? Share it with others on Pinterest: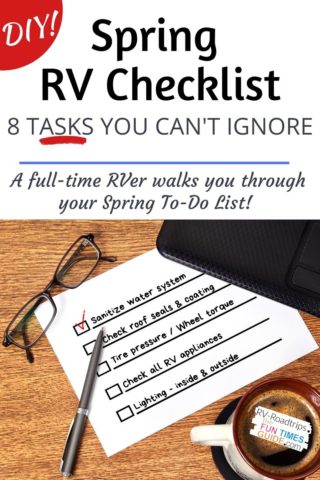 I've been involved in RVing for over 50 years — including camping, building, repairing, and even selling RVs and motorhomes. I've owned, used, and repaired almost every class and style of RV ever made. I do all of my own repair work. My other interests include cooking, living with an aging dog, and dealing with diabetic issues. If you can combine a grease monkey with a computer geek, throw in a touch of information nut and organization freak, combined with a little bit of storyteller… you've got a good idea of who I am. To date, I've shared my RV knowledge in over 300 articles here at The Fun Times Guide! Many of them have over 25K shares.