This post may contain affiliate links. If you buy thru these links, we may earn a commission at no additional cost to you.
---
If you want the experience of RVing without commitment of owning one, then you've come to the right place!
Renting an RV is the logical first step.
Whether you're looking for a fun getaway for the weekend or a long vacation roadtrip, renting an RV makes a lot of sense.
Honestly, there are lots of great reasons to rent an RV — not the least of which is the fact that it's cheaper than staying in hotels. (Renting an RV can be as low as $50 a day!)
Whatever your reason for wanting to rent an RV, following are my best tips & tricks before you rent your first RV, what you can expect, and where to rent an RV in the US…
Despite high fuel costs, rentals soared and campground bookings were up 5% to 20%. Paying another dollar per gallon might add $100 or $200 to the cost of a vacation. But that doesn't stop most RVers from traveling. Plus, by saving on food and hotels, families pay 26% to 74% less for an RV vacation than they do traveling other ways to the same destination — even when RVers eat out once a day and factor in ownership costs, says an industry study. Source
First Things First…
First off, it is imperative that you find a reputable business or individual to rent from.
Then, you'll want to make sure you are properly covered in the event of an accident or other damages to the vehicle while it's in your possession.
Aside from that, there are plenty of fun times to be had aboard a rental RV. Hopefully, there's one in your future!
Let's start with what you need to know about RV rental insurance…
RV rentals are booming — and with good reason. With RVing, you control your own time, where you go, where you stay. And the price is right. — Peter Greenberg, travel expert
RV Rental Insurance
Remember… when you return your rental RV and the owner claims the big gouge running down the side was caused by you, proof of existing damage will be your responsibility.  Anything that wasn't verified on paper ahead of time will be looked at as "new damage" — and they will be expecting you to pay up.
This is where RV rental insurance comes into the picture.
Call your own auto insurance agent and get clarification from them whether your existing policy covers the deductible or any damages caused to a rental vehicle.  Many auto insurance companies cover your risk when renting a car — but renting a motorhome may be a whole different story.
Whether you're purchasing an insurance package from the RV rental company (which typically costs between $15 and $25 per day) or verifying that your own auto insurance covers your liability in a rented RV, make sure that you are covered before you move the RV off the property.  The legal headache of proving the RV's owner was less than truthful after the fact just isn't worth it.
RV Insurance FAQs – What You Need To Know:
Where To Rent An RV
Now, let's move on to finding a reliable RV to rent.
There are 3 primary ways to rent an RV.  I'll talk about each one separately:
#1 – National RV Companies Renting Their Own Inventory Of RVs
If you're traveling a long distance across the country (especially on a one-way trip) it's best to go with a nationwide chain that has multiple outlets.
Cruise America is the largest with RV rental locations spread all across the country.  According to their website, a standard sized Class C recreational vehicle can be rented from their St. Paul location for 10 days and 1,000 miles for around $1,000.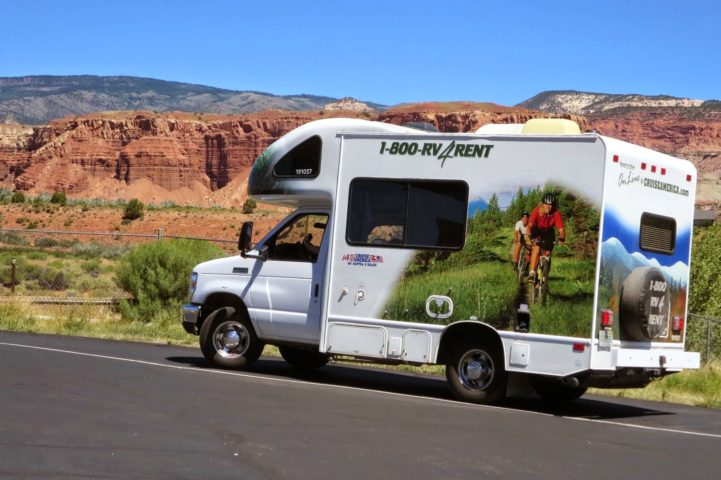 One benefit of going with a nationwide company is you can rent one-way and drop the RV off at your destination.  Of course, this is generally more expensive, but at Cruise America they run special deals that allow you to rent from certain locations with a drop-off at a location they specify for a considerable savings.  What you're actually doing is returning an RV that someone else rented one-way and now needs to find its way back home.  This can be a really good deal if you're flexible with your destination and travel dates.
El Monte RV Rentals is one of the largest companies offering motorhome rentals in the world — with convenient locations across the U.S. Both round-trip and one-way RV rentals are available. Several hundred wholesale travel companies and thousands of travel agents routinely promote this RV rental company. Approximately half of El Monte RV's rental business comes from overseas travelers who fly in to various cities throughout the United States. They also work with insurance companies to provide temporary housing needs during natural disasters and home catastrophes.
USA RV Rentals is another reputable nationwide RV rental company — though they have a much smaller network with relatively fewer pick-up locations.  They also provide one-way RV rentals.
Motorhomes cost on average $120,000. That's why renting an RV may be a wiser choice for many. Summertime RV rental rates start at around $125 a day plus gas. An extra $375 to $750 gets you a one-way rental that you can return at a different location. Source
#2 – RV Rental Platforms Renting Private Owners' RVs For Them
Have you ever used a website or app that connects people who have similar interests together?  Where people who have something (like a house, high-end clothing, or an extra car) are connected with people who want that thing.
Well, there are a handful of RV rental marketplaces like this — where the RV rental company acts on behalf of the private RV owner to rent out their RV.  It's similar to AirBnB… but for RVs! Lots of people own RVs, but they don't use them every day. Lots of people want to rent RVs, and they want to travel on their own schedule. They meet through these RV rental platforms — it's a win-win for everyone.
The average family's RV will sit unused for approximately 90% of the year. Meanwhile, families everywhere want to rent an RV and taste the open road for themselves. Source
Here's why RV rental platforms are desirable:
It's quick and easy to browse RVs, compare prices, and rent an RV simply by visiting a single website (or app) — and there's no fee to join.
The process of renting an RV has been streamlined for you — so it's easy to find the best RV to meet your needs.  You'll quickly find an RV in the city/state/country you want, with the features you desire, at a price you can afford.
RV rental prices are affordable — even as low as $50 a day to rent an RV!
Your rights are protected — so you'll get exactly what you thought you were getting.
TIP: By dealing with a reputable RV rental marketplace that puts current RV owners in touch with prospective RV renters, you stand a much better chance of having an enjoyable trip than if you seek out RV rentals on your own.  Why?  Because these third-party companies act as a barrier against improprieties and make it quicker & easier than ever to rent an RV on your own — even for a last-minute trip!
Outdoorsy is the world's #1 peer-to-peer RV rental marketplace for RVs — for those who want to rent Class A, B, and C motorhomes, camper vans, vintage Airstreams, truck campers, travel trailers, folding trailers, fifth wheel trailers, and toy haulers.  They also offer RV rentals with unlimited mileage (no mileage restrictions).
What makes Outdoorsy different is they're the only RV rental platform that does DMV checks on all RV drivers (to protect renters and owners) and 93% of their ratings are 5 Star Reviews (so you can search for only highly rated RV owners, etc).  In addition, Outdoorsy provides:
RVshare is the first RV rental service to bring together every RV rental dealer across the country — providing a one-stop-shop to compare all of your RV rental options at once.  RVshare's rental insurance covers the RV renter, the RV itself, and the RV owner.  Their Liability, Comprehensive and Collision coverage is backed by 'A' rated insurance carriers MBA Insurance and National General Insurance.  They also have RV rentals with unlimited mileage.
What makes RVshare different is the fact that Roadside Assistance is included for FREE with every rental and it covers your entire trip.
Private Motorhome Rentals is a luxury RV rental referral service for privately owned Class A, B, C motorhomes and towables.  They have RV rental listings all over the country.
What makes Private Motorhome Rentals different is they are one of the few that offers one-way RV rentals to cities with major airports.
#3 – Individual Owners Renting RVs Themselves
For starters, lots of RV dealers are getting into the RV rental business lately.  Most require that the rental unit be returned to the original site (the dealer's lot).  However, if they are a factory-sponsored rental dealer, they may have other options too.
One good example is Road Bear RV Rentals. They have 8 locations in major cities throughout the United States and lots of great specials, especially on one-way RV rentals. What makes Road Bear RV different is the fact that they have the newest motorhomes to choose from — their rental fleet typically consists of the last 2 years' models.
Looking for RV rentals by owner?  Well, if you drive around town you can probably find RVs parked in private driveways with a "For Rent" sign in the windshield.  You can find local RV rentals through Craigslist, as well.
However, on Craigslist it's usually an owner who can't afford to use the RV anymore and is hoping to recoup some of their investment.  In my opinion, these are a big RED FLAG.  You're dealing with a person who isn't a professional dealer, probably doesn't have proper leasing paperwork, and may be super critical of how his RV is returned.  Beyond that, he may or may not have insurance that will cover a non-owner who might be using the rig.  There are just too many variables to go wrong.  Worst of all, an accident could leave you holding the bag for some serious money.
1 RV Rentals is a place for RV owners to place online classified ads to find RV renters.  They do not get between the RV owner and the RV renter in any way.  Individuals from all over the U.S. post their own ads for RVs that they own and would like to rent out.  You can search the RV rental ads by state.
TIP: Be careful when you're dealing with private RV owners and RV dealers via classified ad sites like Craigslist, Facebook Marketplace, Ebay, etc.  It's up to you to make sure that your liability is thoroughly covered — since there's no third-party agency acting on your behalf and no one who is pre-screening the RV owners for you.  Don't be afraid to ask for references.  Then, take the time to ask previous renters if they had a good experience or not — this could save you a lot of headaches!
Little-Known Facts About Renting RVs
Chances are, you've still got questions about renting an RV — like whether you can travel with pets in a rented RV, whether you can tow a trailer or not, the size of recreational vehicles available for rent, and what others who've rented from these companies think about their experiences.
The answers to your remaining RV rental questions can be found here:
Like this post? Save it to read again later… or share with others on Pinterest!
I've been involved in RVing for over 50 years — including camping, building, repairing, and even selling RVs and motorhomes. I've owned, used, and repaired almost every class and style of RV ever made. I do all of my own repair work. My other interests include cooking, living with an aging dog, and dealing with diabetic issues. If you can combine a grease monkey with a computer geek, throw in a touch of information nut and organization freak, combined with a little bit of storyteller… you've got a good idea of who I am. To date, I've shared my RV knowledge in over 300 articles here at The Fun Times Guide! Many of them have over 25K shares.