This post may contain affiliate links. If you buy thru these links, we may earn a commission at no additional cost to you.
---
My wife and I made the decision to hit the road as full time RVers with little more preparation than a few years worth of subscriptions to Trailer Life magazine.
We sold the house, the car, and a lot of junk.  Then, we packed the rest into a small motorhome and thought we were ready.
Well… we made some mistakes along the way.
Hopefully, the following tips will help you avoid some of the pitfalls that we fell victim to during our first year of full time RV living — some of which can be expensive lessons!
4 Costly Mistakes We Made Our First Year Of Full Time RV Living
#1 – It's hard to adjust to the new change of pace.
Staying in town for the summer after selling the house was a smart move.
The motorhome got traded in for a 36-foot travel trailer — which gave us enough room to exhale.  We were a bit unrealistic thinking that we could easily adapt to a much smaller space for the long term.
Knowing that we would have to find work of some sort within a reasonable timeframe, we wasted no time getting from our hometown to Arizona — where we planned to settle in to some degree.
As new full timers, we found it very hard to get it in our heads that we no longer had a time schedule to keep.

#2 – If you don't stop and smell the roses, you'll have regrets.
We never realized that the limbo in between destinations is time that can be stretched out very inexpensively.
For the cost of food and gas, you can remain out there indefinitely by making use of truck stops, Walmarts, and similar overnight stopovers — most of which are free.  So take your time. Go slow, and see all there is to see out there!
Many small towns have city parks with campsites as a way to draw in tourists.
We found quite a few going across Texas from Denton and headed toward Roswell, New Mexico. Some even provide the first night free — just to entice you to stop and see what they have to offer.

#3 – Think twice before going in debt for fancy RV upgrades.
Within a couple months, we had settled into jobs in Tucson and once again started thinking like house-bound people.
For example, we were wanting a few more luxuries — like a washer & dryer. So we traded in our 36-foot travel trailer for a 37-foot 5th wheel trailer.  Of course, that meant we were no longer debt-free.  (Our initial trailer and truck were paid off before we left home to explore full time RV living.)
Yep, our next big mistake was to mortgage our future by upgrading.  Any debt will severely reduce your ability to pack up and leave.  Day-to-day living expenses can be pretty reasonable — but making payments is a whole different story.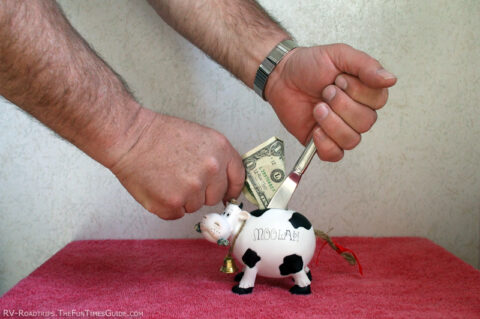 #4 – Choose your RV wisely!
Picking the right RV the first time around is the most important thing you can do.
Depreciation on a new RV will drop its value by 10% to 15% the day you drive it off the lot!  Within 2 years, you could easily be out 30% or more of your investment — if you made the wrong choice and were forced to trade it in.
Plus, full time RV living is harder on an RV. This also will have a heavy impact on its trade-in value.
Concerned that I should have something heavier duty than my ¾-ton pickup to pull our now 14,000-lb home, I traded the pickup truck for a 1994 Chevy Kodiak 1-½ ton truck — thinking that bigger was better and that I would have power to spare.  I would encourage you to do some research first.  The new truck was more stable and had plenty of stopping power, but it was underpowered and could hardly pull the load.
Headed north out of Los Cruses, my new truck barely cleared the long hill heading for White Sands.  Down to first gear and just creeping along, we made one trip from Arizona to Minnesota — and then traded both the truck and the trailer before we returned in the Fall!
It can't be emphasized enough, all RV dealers will sell you absolutely anything to make a commission — because that's what they live on.  Without a sale, they go hungry.  That's why the act of making sure your tow vehicle and trailer are well-matched is completely up to you.
Our next RV was a 37-foot Class A motorhome.  We towed a Ford Fiesta behind it — with a small motorcycle on the back bumper.  This was absolutely the best vehicle we owned for our times on the road.  It made traveling a terrific experience.  We had it for 2 years until we became house-bound again.

Which RV Is Best For Full Time RV Living?
At the end of our early RV trips, we reached the conclusion that if your full time experience has you on the road more than sitting still, then a large motorhome would be the most comfortable way to travel.
On the other hand, if you're expecting to be stationary for months at a time, then you can't beat a travel trailer for giving you the feeling of being in your own small apartment.
Unless climbing a few steps up to the bathroom and bedroom are an issue for you, I would recommend a fifth wheel trailer — because the towing characteristics are so much better than a travel trailer.
You can't realistically compare the two.  A large travel trailer will have you worn out at the end of a day's driving because you can't relax.  You have to be "on your game" all the time in order to safely tow a large travel trailer.
The most important tip I have for anyone considering full-time RVing is to do everything in your power to choose the right RV for your situation the first time.  Otherwise, RV mistakes like those we made will eat up your available funds real quick!
Here are some of my additional tips for choosing the right RV for you.
Other RV Mistakes To Avoid
I've been involved in RVing for over 50 years — including camping, building, repairing, and even selling RVs and motorhomes. I've owned, used, and repaired almost every class and style of RV ever made. I do all of my own repair work. My other interests include cooking, living with an aging dog, and dealing with diabetic issues. If you can combine a grease monkey with a computer geek, throw in a touch of information nut and organization freak, combined with a little bit of storyteller… you've got a good idea of who I am. To date, I've shared my RV knowledge in over 300 articles here at The Fun Times Guide! Many of them have over 25K shares.