This post may contain affiliate links. If you buy thru these links, we may earn a commission at no additional cost to you.
---
When you've decided to become a full time RVer, choosing the best RV for you is the one decision that will be critical in determining how well your new lifestyle fits you.
Each couple (or person) embarking on the RV lifestyle will find different needs and desires.  Everybody's situation is unique and there is no single RV that will address everyone's needs.
I speak from experience because the first few years when we were full time RVing, we owned all 3 of the most likely choices:
Travel trailer
Fifth wheel RV
Motorhome
A tent camper (pop-up) is another choice, but wasn't the right type for us at the time.
The best way to help you make an educated decision on the best RV for you is for me to relate our personal experiences from the past few years and point out the pros and cons of each type of RV that we encountered.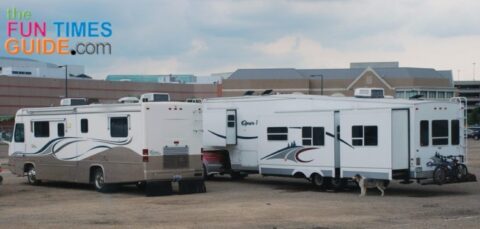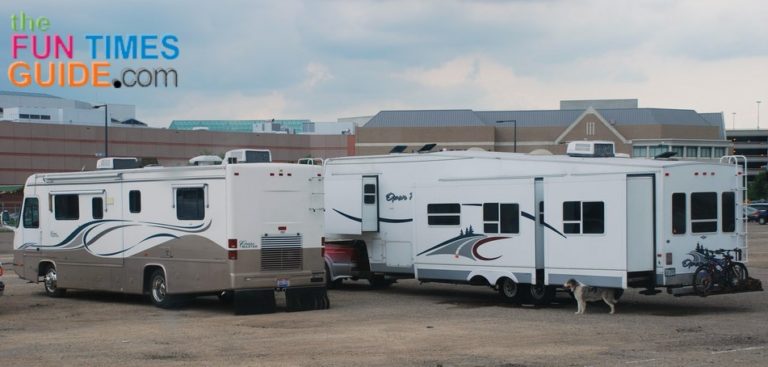 Our First RV Was A Travel Trailer
Our first choice was a 36-foot Dutchman travel trailer that had a living room slide-out.
We lived stationary in this trailer in a nice park for almost 6 months while we sold off the remainder of our possessions before heading out on the open road.
It was a very comfortable apartment for two people, with enough space that we didn't feel claustrophobic because this was our first RV since selling our house.
On the down side, we found out that driving a long travel trailer is a full time job.
There is no relaxing. You keep both hands on the wheel, eyes on the road, and keep your head in the game at all times.  Being passed by a tractor-trailer means correcting for the suction caused as it goes by — momentarily dragging your RV towards it. Once the tractor-trailer passes you, the wind cushion pushes you away.  If you're not paying attention, you'll find yourself swaying back and forth.
Then, We Upgraded To A Fifth Wheel RV
After settling in Tucson a few months later, we again became stationary because we needed to work if we wanted to eat.  Not being retired, a few months on the road was nice but, sadly, a regular income became mandatory.
After another 6 months, though our travel trailer was nice, we got the urge to upgrade to an RV of higher quality — one that had more conveniences.
We moved up to a 37-foot Alpha fifth wheel trailer with both a bedroom slide-out and a living room slide-out.
5TH WHEEL RV TIP #1 – Modern Conveniences In An RV Make A World Of Difference
The one appliance that took us from the level of "camping" and brought us into more of a condo or apartment-type lifestyle was the built-in RV washer & dryer.
Being able to wash our clothes onboard used up valuable space.  However, the dual slide-outs of the 5th wheel made the space seem larger.
Our one major mistake was an underpowered tow vehicle that made traveling a slow and painful process.  In addition, the steps up into the bathroom and bedroom end of the trailer became an issue — because my wife suffers from arthritis in her knees.
5TH WHEEL RV TIP #2 – Get A Powerful Vehicle To Tow Your 5th Wheel
Our bi-annual migration to cooler, summer climates turned into a major event.
Traveling too slow for comfort due to the drastically underpowered truck was compounded by our caravan appearance.  We now had 2 cars — Mary drove one and towed the second on a tow bar.
Before the summer was out we had traded in the truck and trailer. We were willing to do anything to return to a single-unit operation because Mary is very uncomfortable with freeway driving, and towing a car made the experience much worse for her.
Finally, We Upgraded To A Motorhome
That autumn, we left Minnesota with a 37-foot Bounder motorhome. I towed our car on a tow bar behind the motorhome.
We, again, had an on-board laundry facility.
Traveling was exceedingly comfortable because the large picture window at the front of the motorhome provided a view over the landscape that can't be matched by any other mode of transportation.
Driving all day was a complete pleasure because the motorhome was steady on the road, it had comfortable seats, and a cold can of soda was just a few steps away.
With our little toad (car) attached behind us, we could still venture away from our RV with ease. In addition, the 2 slide-outs provided plenty of space inside the motorhome when parked.
The only real issue — precious RV storage space — came about because we ended up staying in one place for an extended period of time again.  At that point, the square footage taken up by the driving compartment became an issue.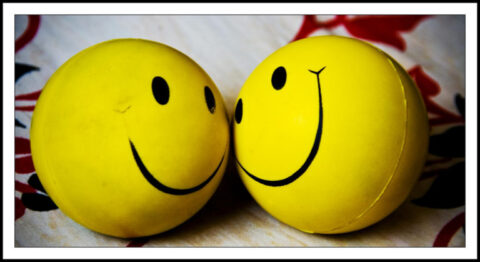 Pros & Cons of All 3 Types of RVs: A Summary Of Our Experience
Summing up the whole 3-year experience, when asked which is the best RV for a full time RVer — a motorhome or a trailer — I always answer that both can be an excellent choice.
The factors that seem most important in making the decision between one or the other became quite clear for us:
Long travel trailers are a handful.  Driving all day will leave you plumb tuckered.  If you're staying put for extended periods — especially if climbing stairs is an issue — a standard travel trailer can be a good choice.
Fifth wheel RVs tow very stable and easy.  They're not affected by sway — because the hitch point is over the rear axle of your truck.  When it comes to trailers, a 5th wheel is the best handling and safest on the road.  As long as your truck is well matched to the trailer, they are a pleasure to drive.
Motorhomes are the ultimate on-the-road luxury RV.  You can stop anywhere, set up for the night, and head out in the morning — all without leaving the comfort of your rolling RV!
The storage capacity on all 3 types of RVs that we owned was quite adequate:
Large 5th wheel RVs probably have the largest storage capacity — because there is usually a huge space toward the front of the trailer located under the bathroom space.
The motorhome was a basement model and had storage compartments down both sides.
Even the travel trailer covered our storage needs well enough.
To narrow this down further:
If you plan on being on the road constantly, a motorhome is a good choice.
If you plan on staying in one location for weeks or months at a time, the added useful space of a 5th wheel combined with the more apartment-like feel makes that style of RV a better choice.
Finally, if stairs are an issue for health reasons, a travel trailer usually has less steps to enter the front door and provides a level floorplan once inside.
All 3 types of RVs can do the job for you, but usually there is one that will do it better — based on your unique situation.
When you are deciding on which type of RV to buy, make a list of pros and cons as they apply to your own needs and wants and then narrow down your choices like I have done above.
Other RVers' Pros & Cons Of Each Type Of RV
I've been involved in RVing for over 50 years — including camping, building, repairing, and even selling RVs and motorhomes. I've owned, used, and repaired almost every class and style of RV ever made. I do all of my own repair work. My other interests include cooking, living with an aging dog, and dealing with diabetic issues. If you can combine a grease monkey with a computer geek, throw in a touch of information nut and organization freak, combined with a little bit of storyteller… you've got a good idea of who I am. To date, I've shared my RV knowledge in over 300 articles here at The Fun Times Guide! Many of them have over 25K shares.