This post may contain affiliate links. If you buy thru these links, we may earn a commission at no additional cost to you.
---
Some of us are retired with adequate financial capacity to just enjoy the ride as we travel the country.
If you're like my wife and I, who bailed out of our original careers at age 45, you probably need a working income of one level or another to live comfortably on the road.
There are a wide variety of possibilities for providing a source of income to the full time RVer. Some may take a bit of "thinking outside the box" so to speak, but that's what makes them fun and enjoyable!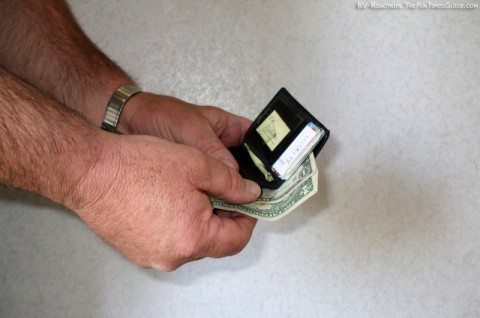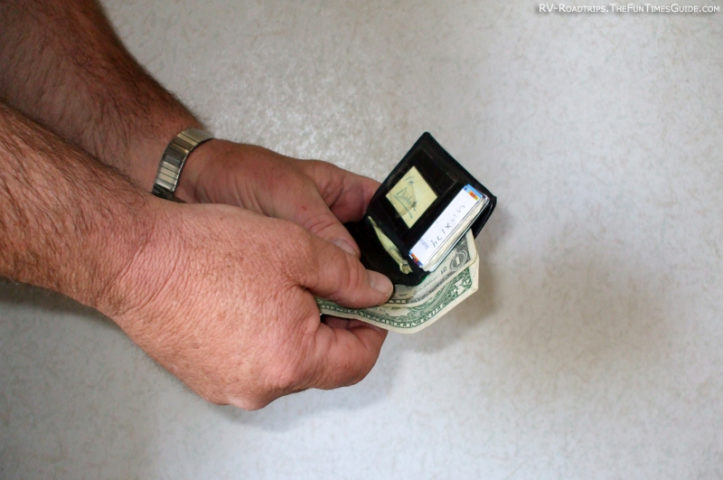 Ways To Make Money RVing
#1 – People who work for certain professional fields can easily find work for whatever length of time they choose.  Take nursing and medical fields, for example.  Hospitals and clinics are so short-handed these days, people certified in most any specialty can pretty much name their own terms.  Fulltime RVers who are skilled in those fields can find work among a number of different places across the country.
#2 – Temp services in sizable cities have a continuing demand for workers — especially clerical and administrative help. Plus, there always seem to be plenty of routine labor jobs available.  Replacing employees on a short-term basis is what temp agencies are all about.  So they're a great way to pick up a couple weeks of work to refresh the kitty, then continue on with your travels.
#3 – Some large companies (like Home Depot, for example) willingly hire people that will rotate between a number of stores across the country.  Their busy time differs from one part of the country to another.  If you're willing to follow the seasons so to speak, places like this can make maximum use of your abilities while saving them money and giving you the freedom to move with the weather.
#4 – Over the road driving is a field that is wide open.  If your home base is a large 5th wheel RV or travel trailer, then you can relocate as you choose.  As a truck driver, you may not want the expense of a house, or the roots that tie you down by owning one.  As an RVer and a trucker, you can move your portable residence as you please, then go back on the road to make a living.
#5 – Consider this… trucking is not just confined to a semi-sized rig.  For 3 years, I made my living hauling freight nationwide with a 1-ton dually that had an 11' flatbed.  At the rear of that flatbed were a set of Reese hitch rails allowing me to move my 5th wheel RV home wherever I wanted.  Outside the box, the more flexible the rig, the more options you have.  Mobility is your shining advantage, allowing you to go wherever the work is.
#6 – All kinds of seasonal jobs are out there that require people for periods of time ranging from a few weeks to a few months.  Think: theme parks, campgrounds, fairs, and carnivals.  Yes, you can even run away and join the circus if you want.  Having endless variety in what work you do definitely adds spice to the experience.
#7 – One year I rotated between two RV dealerships, working in their parts departments.  The summer up north in Minnesota is the busy time and winter in Arizona gets all the action.  Splitting the year between the two kept everybody happy.
#8 – Some full-timers follow the craft show circuit selling jewelry, crafts, or even books at flea markets across the south.  In Texas for example, "Trade Days" are a big thing.  In days of old, the circuit judge would travel from town to town to hold court.  Open air bazaars were established around his arrival and continue on today.  First Monday Trade Days in Canton, Texas is a big flea market sale that takes place monthly year round. Followed by Second Monday Trade Days in Bowie Texas, Third Monday Trade Days in McKinney, Texas …and so on.
#9 – And finally, there's the most portable profession of all: writing.  The Internet has opened up a whole new field seemingly aimed directly at the RVer — since you're able to take your job with you, and you don't need an office larger than the couch in your motorhome.  Reporting for magazines, websites, even televised media are some of the avenues to consider.  You might also be interested in researching a book, writing technical manuals, or selling short stories.  Opportunities abound on the Internet.
Whatever your skill level or particular interests, there's a job out there waiting for you.  A little creativity will go along way in matching you to a position that addresses your own situation.  Don't be afraid to try new things, you never know where it may lead.  You might even find yourself writing articles for RV websites on the Internet!
An excellent source of job openings can be found with a subscription to Workamper News.  Matching workers to openings geared especially to RVers is what they do better then anyone else.  It's like a newspaper classified section dedicated just to you, the RV enthusiast.
More Ways To Make Money Fulltime RVing
I've been involved in RVing for over 50 years — including camping, building, repairing, and even selling RVs and motorhomes. I've owned, used, and repaired almost every class and style of RV ever made. I do all of my own repair work. My other interests include cooking, living with an aging dog, and dealing with diabetic issues. If you can combine a grease monkey with a computer geek, throw in a touch of information nut and organization freak, combined with a little bit of storyteller… you've got a good idea of who I am. To date, I've shared my RV knowledge in over 300 articles here at The Fun Times Guide! Many of them have over 25K shares.