This post may contain affiliate links. If you buy thru these links, we may earn a commission at no additional cost to you.
---
Let's face it, sometimes you need to be able to pull 2 trailers behind one vehicle:
You might want to tow a toy — like a boat, motorcycle, golf cart and a vehicle behind your RV — like this.
Or maybe you'd like to tow a camper and a boat behind your vehicle — like this.
Maybe you have ATVs, bicycles, motorcycles, etc. inside your toy hauler and you'd like to tow it along with another trailer to your destination.
The point is… there are times when just one trailer isn't enough for everything that you want to bring along with you!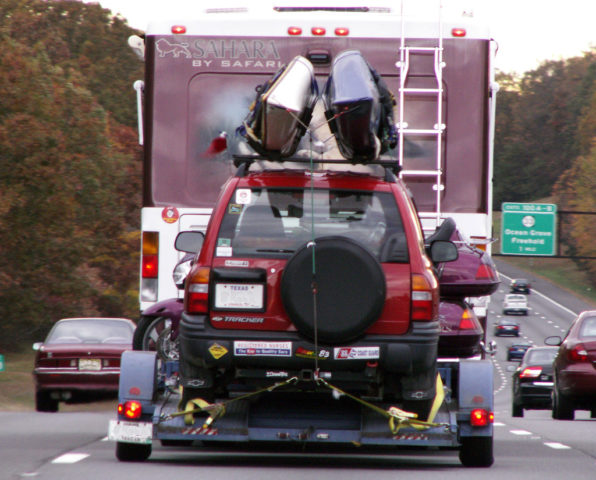 ---
Here's some good news: in many states it is legal to tow 2 trailers at the same time.
See which states allow triple towing, plus what you need to know before pulling 2 trailers behind 1 vehicle…
U.S. States Where Triple Towing Is Legal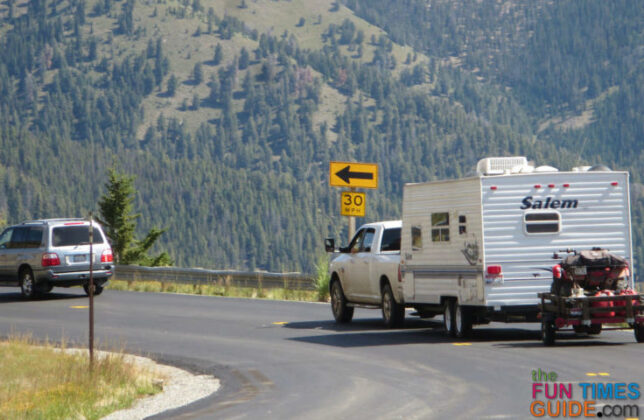 ---
Triple towing is allowed in the following states:
Alaska
Arizona
Arkansas
California
Colorado
Idaho
Illinois
Indiana
Iowa
Kansas
Kentucky
Louisiana
Maryland
Michigan
Minnesota
Mississippi
Missouri
Montana
Nebraska
Nevada
New Mexico
North Dakota
Ohio
Oklahoma
South Dakota
Tennessee
Texas
Utah
Exceptions To The RV Towing Laws By State
Of course, nothing is ever straightforward and simple though.
Many of the above states still have a variety of restrictions which could hamper your ability to tow 2 trailers:
Some states limit the total length of all 3 units to 65 feet — in other states, the limit is 70 feet or 75 feet total length.
In some states, triple towing is restricted to adding the second trailer only behind a 5th wheel trailer.
Many states limit the second trailer to recreational equipment — such as a boat, snowmobile, or ATV 4-wheeler.
In some states (like California and Michigan) you need a special endorsement on your drivers license to tow any trailer over 10,000 lbs or to drive a motorhome that is over 40 feet in length.
---
Towing Rules For Commercial Trucks vs. Recreational Vehicles
As far as state DMVs go, the world of recreational vehicles and the world of commercial trucking are two separate entities.
Some states allow "double towing," "triple towing," or however you wish to label a situation where you have 2 trailers hooked behind one tow vehicle in the commercial truck classifications. But, these rules may not cross over to the RV world!
Commercial triples are set up such that the air brake system continues on through all 3 pieces. And the second trailer rides on a fifth wheel tow dolly — not a 2-inch chrome ball purchased at the local hardware store. Therefore, when commercial trucks apply the brakes, all wheels will apply at the same time with equal pressure.
On the other hand, recreational vehicles may have:
Air brakes on the motorhome
Electric brakes on the first trailer
And, in many cases, no brakes at all on the third item being towed
To that end, the federal D.O.T. doesn't want any part of regulating non-commercial situations — so, they leave it completely up to each state to set their own limitations for RV towing.
Just remember, seeing a semi truck pulling 2 trailers on or near an interstate highway does NOT mean you're good to go with more than one trailer behind your motorhome!
Double / Triple Towing Laws By State & By Vehicle
There are 4 great sites that list trailer towing rules and regulations — by state and by vehicle:
Here's the difference between GVWR and GCWR.
Of course, these resources should only be considered basic guidelines — because laws change and information can get mixed up in translation.
The only way to get completely accurate information about triple towing is to contact the Department of Transportation or Highway Patrol offices for your state and any states you plan to travel through.
If you do tow 2 trailers, be sure to follow all regulations and safety measures — because you will be accepting a whole new level of responsibility with that second trailer. Your ability to maneuver in close spaces (or to stop safely) may be reduced considerably. One thing's for sure, you can forget about backing up when you're triple towing — getting everything to turn the way you want in a triple-tow configuration will be next to impossible!
READ NEXT: How To Drive An RV When You're Towing A Trailer — so you will know what to expect!
Like this post?

Save it

to read again later… or share with others on Pinterest!
I've been involved in RVing for over 50 years — including camping, building, repairing, and even selling RVs and motorhomes. I've owned, used, and repaired almost every class and style of RV ever made. I do all of my own repair work. My other interests include cooking, living with an aging dog, and dealing with diabetic issues. If you can combine a grease monkey with a computer geek, throw in a touch of information nut and organization freak, combined with a little bit of storyteller… you've got a good idea of who I am. To date, I've shared my RV knowledge in over 300 articles here at The Fun Times Guide! Many of them have over 25K shares.