This post may contain affiliate links. If you buy thru these links, we may earn a commission at no additional cost to you.
---
For those of us enjoying RV travel, the thought that any place or business could possibly be less than welcoming seems ridiculous.  After all, RVers are friendly, outgoing people, that generally spend money wherever they go.
While some places post signs to discourage you from even coming in, there are many places that roll out the red carpet to entice RVers to make themselves comfortable.  They bend over backwards to provide easily accessible accommodations and services to those passing through.
There is good reason the following 6 places are RV friendly — they're hoping you will patronize their and other local establishments.
Just maybe, if you enjoy your stay, you will come back and visit again.
#1 – Truck Stops
Truck stops are an oasis of services spread across the country.  During our first cross-country trip, we never realized that national brand truck stops welcome RVers to spend the night for free.
Just like with the big rigs, truck stops expect to make their money from fuel, food, and other supplies you purchase, rather than charging you to park in their lot overnight.
These are some of the major truck stop chains with travel centers covering the entire country:
Regardless of where you are on the interstate highway system, you are seldom more than 100 miles away from at least 1 or 2 of these truck stops or travel centers.
Beyond fuel and a free place to park for the night, many truck stops also offer free dump sites to empty your waste tanks, full scale restaurants, and convenience stores to restock your supplies.
Because they are catering to the trucking industry, they also carry small 12-volt appliances that are useful to RVers.  You can also find some repair parts and other gadgets that you can't often locate in normal retail outlets.
If you need to catch up on your laundry, or take a nice long hot shower, truck stops can accommodate you for a reasonable charge.  Their whole business is based on people just passing through.
#2 – Large Retail Chain Stores
Free RV camping at Walmart has become a way of life for many travelers.  They are the national leader in welcoming RVers to come spend the night with them.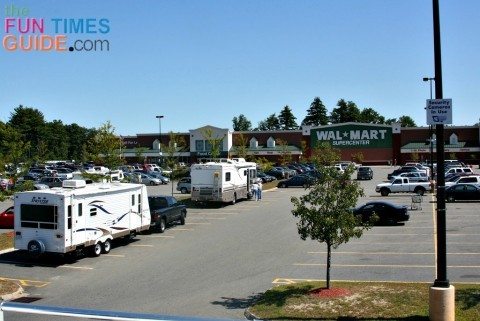 Do be aware that not all Walmarts allow overnight parking.  Each Walmart establishes its own policy on the matter, and often times this is in accordance with local ordinances.  Most of the time, signs will be posted indicating if there is no overnight parking allowed.
Don't assume it's ok to stay in every Walmart parking lot though.  Always go in and ask the manager if you can spend the night. They will likely direct you to a spot that is best for both you and them.
Here's the official Walmart Atlas with a list of no-park Walmarts.
Spending the night at a Walmart Supercenter may seem like the perfect solution because there is at least one in almost every small city.  You have food and supplies readily available at the best price, and they have no problem with you coming in and using their restroom.
Beware of the parking lot sweeping truck.  At about 2 a.m. it will start its nightly back and forth routine, with it's high-powered vacuum running full blast.  I have had that sweeper operator (non-Walmart contract service) spend what seemed like an hour, doing circles around our motorhome, just to see if he could drive us to distraction.
How to camp in an RV at Wal-Mart for free
Many other large retail chains are just as welcoming as Walmart.  Kmart was the first corporation to publicly make themselves open to RV guests overnight.  Again, remember that local ordinances may be a determining factor.
#3 – Restaurants
Easy access is a big deal when your RV is as long as a semi-truck.
Chains like Cracker Barrel offer good food at reasonable prices, and they are usually located right at an exit on the freeway.  Even some fast-food restaurants like McDonalds, Subway, Arby's, and Burger King provide secondary parking lots with spots designated for trucks or RVs.
One added benefit available at most of these food chains is they provide free wifi access for their customers.
#4 – RV Parts And Service Spots

Hopefully, you will be traveling beyond the reach of your local RV dealer.  With 85 Camping World locations across the country, if a problem arises, help won't be that far away.  When it comes to repairing systems within your RV and adding accessories to make life better, Camping World is your best friend.
Because they're a national chain, with access to large quantities of stock, their prices are very competitive.  By becoming a Club member you can save an additional 10% to 50%, making RV parts and accessories a real bargain.
Camping World is a multi-faceted corporation.  They can take care of you right from selling you the RV to insuring it with the best possible coverage.  You can get discounts on the products they sell, and through the Good Sam Club, you can get discounts on places to stay and things to do.  Of course their full line of RV products is available on-line, so you can have something delivered right to your door, too.
#5 – Casinos
Las Vegas is the land of slot machines and endless buffets.
We have stayed at the Circus Circus RV Park and enjoyed the whole Las Vegas experience from the comfort of our motorhome.
Now that gambling has become more prevalent across the country, most casinos welcome RVers with open arms.
Spend the day, the weekend, whatever suits you — just keep putting money into their pockets, and you're welcome to park in their lot.
#6 – Small Towns
Yes, small town America is generally very welcoming to RVers.  Tourists and people passing through are often a large part of their otherwise small economy.
You can find many Elk's Lodges and local city parks that offer RV facilities or 1 night's free stay — with the hope you will drop by a restaurant or go see a movie while you're there.
One example is Bloomfield, Iowa — an RV friendly small town.
Highway 380 going west across Texas is dotted with many small towns.  Besides being a slower, more scenic drive (compared to ripping down the freeway at high speed), we also found free overnight camping — complete with electric hookups.  The first night was on them, and the daily rate beyond that was very reasonable.
With so many RVers traveling the country, the Good Sam's Club list of RV-friendly businesses can be your guide.  Voted on by club members, these companies treat RVers like royalty, and have been honored for doing so.
Must read: RV Boondocking Tips: All The Best Places For Free Overnight Parking
Now it's time to head out on the open road and enjoy the new world of RV travel.  You're one step ahead of many, because now you know there are lots of people and businesses out there just waiting to welcome you… and your RV!
I've been involved in RVing for over 50 years — including camping, building, repairing, and even selling RVs and motorhomes. I've owned, used, and repaired almost every class and style of RV ever made. I do all of my own repair work. My other interests include cooking, living with an aging dog, and dealing with diabetic issues. If you can combine a grease monkey with a computer geek, throw in a touch of information nut and organization freak, combined with a little bit of storyteller… you've got a good idea of who I am. To date, I've shared my RV knowledge in over 300 articles here at The Fun Times Guide! Many of them have over 25K shares.