This post may contain affiliate links. If you buy thru these links, we may earn a commission at no additional cost to you.
---
Breaking down on the highway is every traveler's nightmare.
It's even worse when you're driving an RV or motorhome.
Having a good emergency roadside assistance plan (or towing insurance) provides a level of security that's priceless when things go bad.
I've put in plenty of hours driving across endless desert regions in the southwest with temperatures well over 100 degrees.  Shade is a pretty scarce commodity out there, so I know how important it is to make sure that you're prepared for problems.
It could mean the difference between an inconvenience and a disaster — even life or death.
Is Your RV Maintenance Up To Date?
Of course, proper maintenance and servicing is the best way to avoid breakdowns in the first place.
Taking shortcuts and letting things go will greatly increase the possibility of something quitting on you at the most inopportune time.
Having appliances like the refrigerator or plumbing give you problems can be annoying, but when the motor sputters to a halt and all you get is a Click, Click when you attempt to restart…  things can get serious real quick.
Your options for seeking roadside assistance vary greatly, depending on what type of RV you have.
Better Safe Than Sorry
First of all, be aware that towing insurance can be the best spent dollars you ever invested.  Because when it comes to retrieving almost any RV, it's going to cost you big bucks.
The Good Sam RV Club has emergency road service as part of their membership package.  You can enjoy the benefit of their top-rated organization and be covered in the event of an emergency, as well.
Big RVs Require Special Equipment To Service Them
All types of RVs — from luxury Class A motorhomes to travel trailers and fifth wheels — require special equipment to pick them up and bring them in for repair.  The neighborhood gas station with their little repo-style wrecker will do more damage than good when attempting to hook up to your RV.
If you find yourself stranded, and you call for a tow, be sure to specify what type of vehicle they will be dealing with.  Most of all, watch them carefully and if there is any doubt in your mind that what they brought won't handle the job, send them on their way before they make matters worse.
Here's how to find a local RV service center.
The Best RV Service & Repair Facilities
As for what type of facility is best equipped to get you back on the road?  Well, that will largely depend on your RV, too.
Big diesel motorhomes will do well at truck stops, truck dealerships, truck service centers, and even agricultural equipment dealers can help.  Again, you pay for size.  Repairs on such a rig won't come cheap.  If you need a heavy-duty diesel mechanic, then be prepared to pay the price.
Gasmotorhomess and Class C motorhomes are best suited for car dealerships and possibly chain auto repair centers.
You'll run into plenty of places that will say, "We don't work on those."  But be persistent.  Gas RVs hook up to the same computer diagnostic machines as your family sedan.  If they can get it in their shop, they can check it out for you.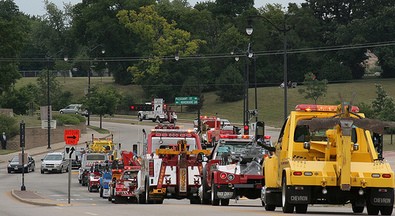 RV trailers are a different story.  About all that goes wrong mechanically in an RV trailer concerns the wheel bearings, axles, springs and lights — all of which aren't that hard to work on.  Most any small garage can handle these types of repairs.
Even if they don't have parts available locally, UPS can get them to you in a few days.  You'll just be stuck to sit and wait.  Hopefully, your RV will be in a place where you can stay in it while you wait for parts.
When it comes to repairs to the house portion of your RV, you're better off finding an RV dealer .  This includes repairs to the refrigerator, stove, plumbing, or pretty much anything beyond what it takes to get down the road.  Yes, even the refrigerator is a convenience item that is best left for someone who is familiar with them.  Not many automotive repair facilities will have a clue about what makes them work.
Some Repairs You Can Do Yourself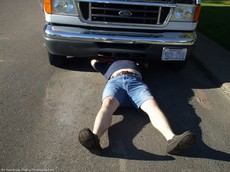 While preventative maintenance is the best way to avoid problems on the road, being prepared with tools and even some common parts may help you when something happens along your route.
Case in point:  Once I changed a broken front spring pin on the axle of my RV trailer alongside Highway 287 near Childress, Texas.  It was a known weak point on that particular trailer, which is why I carried spares.  It took an hour or so of my time to fix it on the roadside, but it sure beat the expense of calling for help.
I've been involved in RVing for over 50 years — including camping, building, repairing, and even selling RVs and motorhomes. I've owned, used, and repaired almost every class and style of RV ever made. I do all of my own repair work. My other interests include cooking, living with an aging dog, and dealing with diabetic issues. If you can combine a grease monkey with a computer geek, throw in a touch of information nut and organization freak, combined with a little bit of storyteller… you've got a good idea of who I am. To date, I've shared my RV knowledge in over 300 articles here at The Fun Times Guide! Many of them have over 25K shares.