This post may contain affiliate links. If you buy thru these links, we may earn a commission at no additional cost to you.
---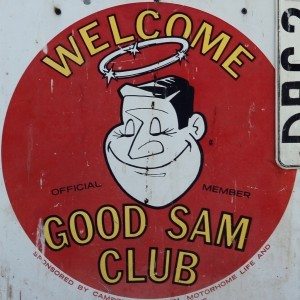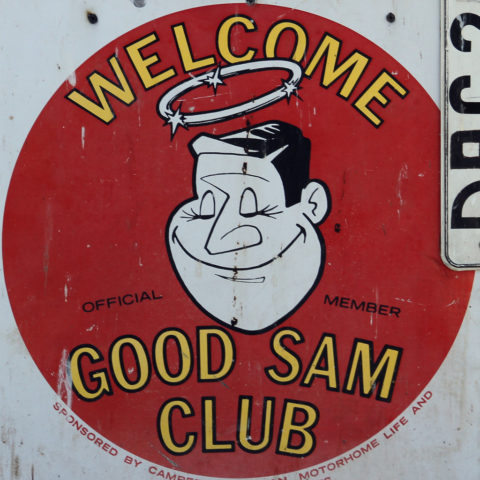 We've talked about the Good Sam Club membership here before — many times.
The Good Sam Club is the world's largest RV owner's organization with over 1.7 million members nationwide.
Jim and I have used our Good Sam Club membership several times.
Most notably, we've used it at lots of different RV campgrounds to save on camping costs and at lots of different Camping World stores (and online) to save on RV parts and accessories.
Those discounts alone have more than paid for our membership.
I thought I'd take a few minutes to share some of the reasons why we think membership in the Good Sam Club is a good thing — especially for new RVers who are planning some of their very first RV trips.
Best Reasons To Join Good Sam Club
We got the most value from our Good Sam Club membership in the very first year — when RVs were still relatively new to us, and we weren't quite sure what to expect when traveling across the country.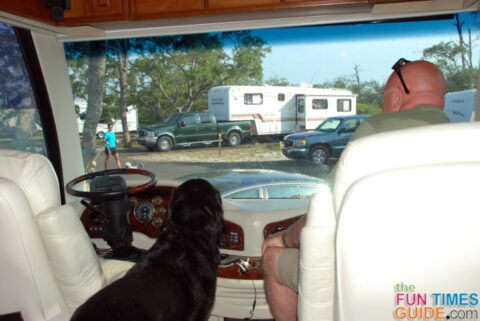 #1 – I can't count the number of times that Jim and I have showed our membership card in order to get discounts at RV campgrounds.
Save 10% on nightly rates every time you stay at any of the 2,100 Good Sam-endorsed RV parks and campgrounds. RV parks are inspected and rated annually so you can rest assured each park has earned the Good Sam seal of approval. –Good Sam Club
Not only is it convenient to be able to search Good Sam Club campgrounds right in one place, but there's also some comfort in knowing that you'll be staying at a clean and respectable place.
You can't always trust campground listings that you find elsewhere, but we've always had good luck with those we found through Good Sam Club.
Even if you use your Good Sam membership for nothing else than to save money at RV campgrounds, the membership is worth it. It pays for itself after just a few trips. And if you travel a lot, then you'll save quite a bit!
Find campgrounds that offer Good Sam Club discounts.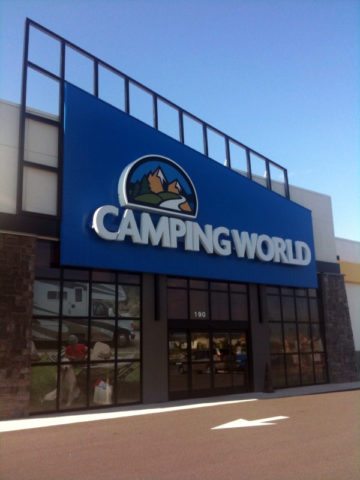 #2 – The second best way that Jim and I have benefited from our Good Sam Club membership is by taking advantage of members-only discounts at Camping World.
The discounts are fairly significant too — up to 30% off at Camping World SuperCenters.
There are also special Customer Appreciation Days a few times each year at Camping World stores across the country.
In my opinion, the Camping World discounts are especially useful for new RVers who are still fine-tuning what to take and what to leave at home, as well as which parts & accessories are must-haves.
I can tell you our first year on the road was definitely a learning experience for us. We quickly learned which RV accessories we needed and which ones we could live without. During our first year of RV is when we bought the most new stuff, so we were quite grateful to have Camping World and Good Sam Club discounts. Every little bit helps!
When we're traveling, Camping World is a fun stop that I always look forward too. It's so exciting to find a Camping World store on your route and to be able to shop in an RVer's paradise! There's no place like it — especially when you're a newbie.
When we're at home, Camping World is always on our radar. I monitor their sales, and keep an eye out for good deals on the items that are on my 'RV wish list'.
We got our first RV tune-up there, bought a few RV parts there, found plenty of unique accessories there, and we have enjoyed shopping online there for several years now.
Find Camping World stores across the country.
Beyond those 2 great benefits, everything else that you get from your membership in the Good Sam Club is purely a BONUS, in my opinion.
Other Free And Exclusive Benefits
A few of those bonus benefits for Good Sam Club members are:
FREE road trip planning — route your own trip using their private online software.
Fuel savings at Pilot and Flying J locations — 5 cents off gas and 8 cents off diesel
FREE dump station privileges — at Camping World SuperCenters that offer dump service
In addition, you get lots of other unique privileges and discounts exclusively for Good Sam Club members.
Some of the most notable ones: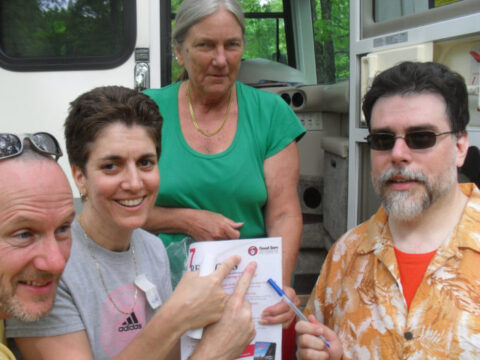 More About Good Sam Club Membership
The Good Sam Club is a reputable and respected organization within the RV community.
We feel comfortable relying on their recommendations and advice — in addition to all of the discounts that we've enjoyed.
Here's more about the Good Sam Club membership from the viewpoint of RVers: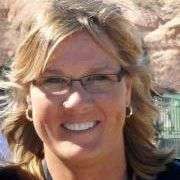 Over the past several years, I've been involved with transporting RVs, renting RVs, and fulltime RVing (months at a time). I'm fortunate to have had a number of different RVs available to me to try out — which has enabled me to experience the nuances of RVing firsthand. When I'm not RVing, you can find me at the corner of Good News & Fun Times as publisher of The Fun Times Guide (32 fun & helpful websites).