This post may contain affiliate links. If you buy thru these links, we may earn a commission at no additional cost to you.
---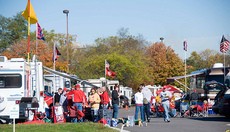 Every fall, the annual battle starts.  Army vs. Navy,  Vikings vs. Packers, even Duluth Central High School vs. Duluth Denfeld High School. 
Whatever your favorite team, now is the time to fire up the RV and head to the stadium parking lot. 
RVs and motorhomes are great for tailgating. You can load up a crowd and have your own small party before a concert, sporting event, parade, or most any other outdoor event you can think of!
If you're going RV tailgating, you will be joining thousands of people who enjoy the festive atmosphere while partying with fellow parking lot participants. 
Heck, there's even a web site for this!  Tailgating America is loaded with useful information that will make your next tailgating adventure a roaring success.
Think: Food First
For the most part, all you need to do is pack up the barbeque or smoker. (The fancier the better.) After all, tailgating is all about the food. That, and having lots of fun new gadgets and gizmos that take your tailgating to the next level.
Since food is the main attraction, you're not going to get by with simple hot dogs and hamburgers. Oh no… this is an all-day event.  Your tailgate party menu should cover the full day from breakfast through midnight snacks.  So it's time to put on your chef hat and do some serious research.  The crowd you bring, as well as those within smelling distance of your grill, will be expecting a world-class buffet. 
Here are some fabulous tailgating recipes to fill out the whole day and keep everybody happily munching throughout the event.
Securing a good spot in the parking lot will depend on your arrival time, so plan to get there early.  Besides, we all know it takes 8 hours to slow smoke a whole hog.  Bring your "A" game and this could be a training run for one of those high-dollar barbeque competitions.  Or maybe you'll want to follow the NASCAR circuit.
The Tailgate Party Planner can help get you started.  According to them, the most important tailgate recipe is "Jim's Tail Gate Beer" :
1 – Cooler
3 – Bags of Ice
1 – Case of Beer
Not too difficult to make, but nevertheless a mandatory dish to ensure the party will get off on the right foot.  (Be sure to check with the stadium or facility you're headed to, as not all will allow alcoholic beverages in the parking lot.)

RV Tailgating "Extras"
Be sure you decorate your RV appropriately, because you don't want anyone to be confused about which team you're supporting, or where your loyalties lie.  It's a good idea to bring lots of colorful balloons and banners to run the entire length of your RV.
Lots of people come for the party in the parking lot and never even make it inside for the event itself.  So, if you have a satellite dish and receiver, you may want to bring it so you can set up that big screen TV outside your RV!
Don't forget the face paint (or body paint) and team flags.  There's no such thing as going overboard when it comes to decorating your vehicle… or your body!  The more outrageous, the better.  After all, you want to get some attention, right?
If there is any doubt in your mind about how to coordinate a successful tailgate party, have a look at YourTailgateParty.com.  There, a team of professional tailgaters will provide you with all the ins and outs to help turn your tailgate extravaganza into a world-class affair.
Failure is not an option.  If you're headed to a football tailgate party, for example, just know that your team is counting on you to represent them and make your tailgate party a winner.  If you don't feel you're up to the competition of the professional leagues, then start small.  Being king of the high school parking lot will lead to bigger and better events in the future.  Work your way up the ladder by conquering college level tailgating next.  Then you'll be ready to carry the ball to your next goal: the major leagues.  Some day you could even become a legend like The Commissioner of Tailgating.
I've been involved in RVing for over 50 years — including camping, building, repairing, and even selling RVs and motorhomes. I've owned, used, and repaired almost every class and style of RV ever made. I do all of my own repair work. My other interests include cooking, living with an aging dog, and dealing with diabetic issues. If you can combine a grease monkey with a computer geek, throw in a touch of information nut and organization freak, combined with a little bit of storyteller… you've got a good idea of who I am. To date, I've shared my RV knowledge in over 300 articles here at The Fun Times Guide! Many of them have over 25K shares.