This post may contain affiliate links. If you buy thru these links, we may earn a commission at no additional cost to you.
---
The poor mother of most families looks at Thanksgiving dinner as an all-day cooking marathon, culminating in a 15-minute feast. Then, there's the challenge of cramming leftovers into a way too small refrigerator.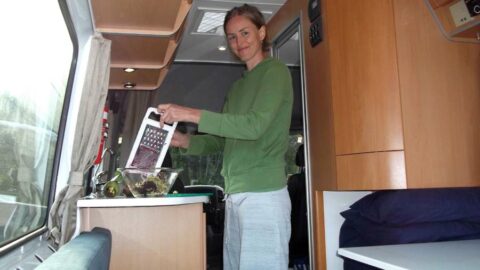 Imagine trying to squeeze all that baking, roasting, and mixing into a cramped RV… with a spouse and kids running in and out throughout the process!
How about if we make things a little simpler? What if I told you that you can prepare your RV Thanksgiving dinner in just 10 minutes?!
Yes, the following complete Thanksgiving meal only requires 10 minutes of prep time and will easily satisfy the appetite of a family of 4.
Better yet, it won't fill your sink with a mountain of cookware in the process — quick & easy cleanup is all that's required after this Thanksgiving feast has been devoured.
Let's start with your RV Thanksgiving dinner shopping list…
RV Thanksgiving Dinner Ingredients
3-lb Turkey Roast
1 box of Stove Top Stuffing
1 Baked Potato (or Sweet Potato) per person
1 bag of Frozen Vegetables
1 can of Whole Berry Cranberry Sauce
1 Pie for dessert
Whipped Cream (optional)
How To Cook Turkey In An RV
A 3-lb turkey will easily feed up to 4 adults.
Prep couldn't be any easier!… It's as simple as placing the turkey in an oven-safe pan. (I use a 6-inch cast iron frying pan.)
Add ¼ cup of water to the pan — to prevent the turkey from sticking and to create a little juice for your Thanksgiving gravy. (The turkey roast comes with a gravy packet to make use of those drippings.)
TIP: There won't be much of the drippings to work with, so you'll want to add more water to the gravy. Add a little cornstarch, as well, to thicken the gravy — because it turns out a little thin when cooked as the package directs.
Uncovered, your RV Thanksgiving turkey will take about 1-3/4 hours to cook at 350 degrees. It will be perfectly browned and 165 degrees on the inside. The meat will be moist and tender!
How To Make The Fixin's In Your RV
By itself, a single box of Stove Top turkey stuffing mix needs a little help. Here's what I do:
Sautee ½ of a medium-sized onion (diced) with 1 celery stalk (diced) and ½ stick of butter.
Once the onions are translucent, continue following the directions on the box.
TIP: I like to add ¼ cup of crushed walnuts and a few dried cranberries to the stuffing — for a little crunch and color.
Wrap each potato in aluminum foil. Then, put the potatoes into the oven with the turkey roast at the one hour mark. They will be perfectly cooked when your turkey roast is done!
I usually go with mixed broccoli and cauliflower as my RV Thanksgiving dinner veggies. They're healthy… tasty… and will add color to the plate!
Jellied cranberry sauce is for imitators. By all means, go with the whole cranberry sauce — and be sure to chill the can well before serving!)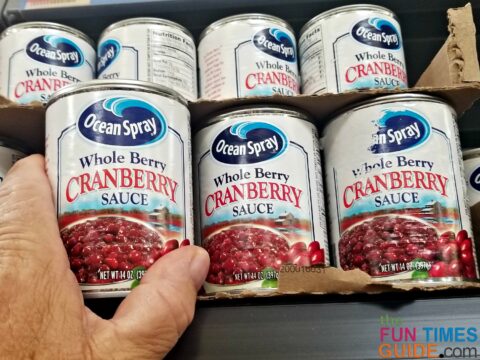 For a group of 4, you'd probably want a whole pie. But if there will only be one or two of you, then the small single serving pies will satisfy your craving without forcing you to eat the rest of the pie that evening.
Of course, all pie must be topped with whipped cream!
The Bottom Line
As you can see, this isn't much work for an RV Thanksgiving dinner on the road:
Start the turkey roast.
One hour later, put the potatoes in the oven.
Check the internal temp of the turkey at 1-1/2 hours — and when it's almost up to temp, start the stuffing.
While the turkey rests, make the gravy and heat the vegetables.
This RV cooking method for your Thanksgiving feast is quick and simple!
I've cooked plenty of huge all-day turkey dinners for family gatherings and seasonal special meals. I guess you could say I'm past that now.
Seldom do I have more than a few friends over for a holiday feast — so this is the perfect way to make a big dinner that everyone will think you spent hours working on.
We'll keep it our little secret that this RV Thanksgiving dinner can be put together in a matter of minutes — yet it tastes like it took all day!
More RV Thanksgiving Dinner Tips
In addition to the links I've shared above, here are a few of our other articles with clever holiday RV cooking tips:
Like this post? Save it to read again later… or share with others on Pinterest!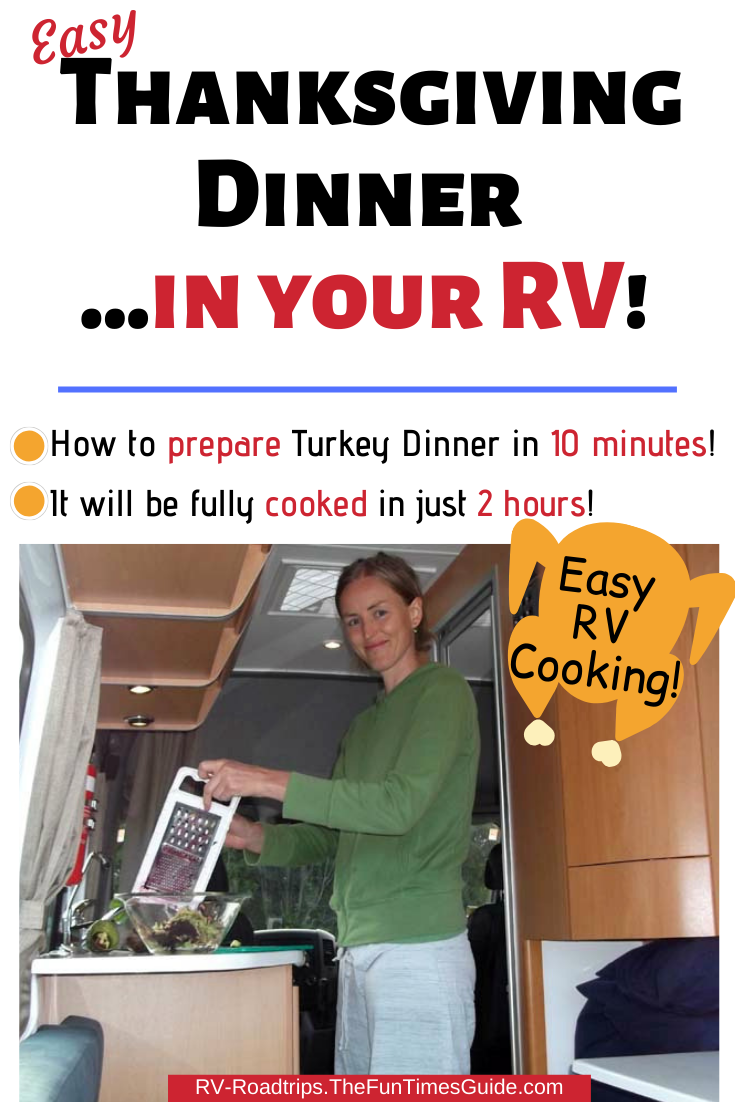 I've been involved in RVing for over 50 years — including camping, building, repairing, and even selling RVs and motorhomes. I've owned, used, and repaired almost every class and style of RV ever made. I do all of my own repair work. My other interests include cooking, living with an aging dog, and dealing with diabetic issues. If you can combine a grease monkey with a computer geek, throw in a touch of information nut and organization freak, combined with a little bit of storyteller… you've got a good idea of who I am. To date, I've shared my RV knowledge in over 300 articles here at The Fun Times Guide! Many of them have over 25K shares.