This post may contain affiliate links. If you buy thru these links, we may earn a commission at no additional cost to you.
---
With Halloween just around the corner, new full time RVers are probably wondering what other RVers do for Halloween and what to expect at the RV campgrounds.
Without a doubt, many RV parks and campgrounds go out of their way to make Halloween an event to remember.
After all, RVing is a family-oriented lifestyle and Halloween is definitely something that families celebrate together.
It's such a big deal that some RV parks celebrate Halloween every weekend in September and all of October.  For those in northern RV resorts it's a way to close out the season in preparation for the coming winter.
What if you want to decorate your RV campsite for Halloween, but you have a limited budget?  Plus, obviously storage space inside the RV is tight — so just how much stuff do you have to buy and where do you put it once Halloween is over?
The good news is making Halloween a fun and successful event has very little to do with money spent, and if you do it right there will be little in the way of stuff to store for next year!
Here are some of my best RV Halloween tips…
Fun RV Halloween Decorations
Halloween decorations are the easy part.
The dollar store is your best friend (Family Dollar, Dollar Tree, and Dollar General). They will have seasonal items — like banners & flags, paper ghosts & goblins, plastic jack-o-lanterns, and streamers.
If you prefer to make your own Halloween decorations, a quick trip to Walmart or most any convenience store will yield the basics — like construction paper, string, and markers.
Obviously, a great online source for all things Halloween is Amazon. You'll find everything from spooky streamers to light-up Halloween decor.
Some Halloween items to be on the watch for locally are:
bales of hay
pumpkins
gourds
spider webbing (or make your own!)
outdoor lights
cemetery tombstones
things you can hang from trees
…you get the idea
Tips For Decorating Your RV Campsite
I've seen strings of awning lights at RV dealers for incredibly high prices.
Instead, buy a string of cheap Christmas tree lights for less than $10 and make construction paper pumpkins. Tape the pumpkins to the wires between the lights and it will look just as festive.
TIP: Use the small Christmas lights that don't get hot — because you don't want to create a fire hazard.
You could also grab some cheap Halloween lights for a bright orange glow! It definitely doesn't have to be expensive to create simple, yet fun, Halloween decorations for your RV campsite.
If you get some mini pumpkins at the local supermarket, then you could create little jack-o-lanterns to place around your campsite.
With a battery-operated light (such as a mini flashlight, instead of a candle), freshly carved pumpkins can safely create a fun holiday atmosphere around your RV. Votive candles could also be used, as long as you're cautious about where you put them. Or, you could always paint pumpkins — a fun new twist that's safe (and fun!) for kids.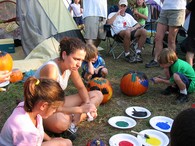 RV Halloween Costume Parties & Contests
Costume parties typically take place every weekend leading up to Halloween at RV parks and campgrounds.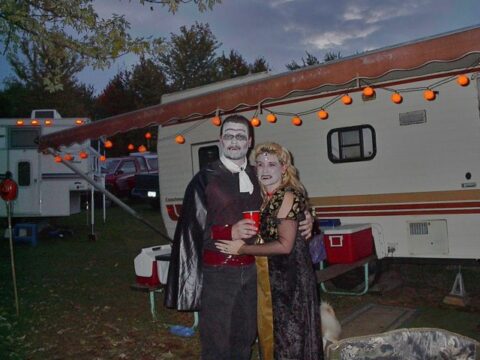 To find cheap Halloween costumes, take a trip to a local thrift store, Salvation Army, or Goodwill store and you'll find a good selection of vintage clothing at reasonable prices.
For example, you could buy a trench coat and a fedora and go as a "secret agent", or some bib overalls along with a hammer and tape measure would make you a "carpenter".  Use your imagination… whatever the clothes racks offer will determine the type of Halloween costume you come up with.
Of course, you could also visit any local party supply store for the most modern Halloween costumes around.  Or spend some time well in advance and make your own Halloween costume.
RV Trick or Treating & Other Campsite Activities
I'm not sure how many RV parks still promote actual Trick or Treating on Halloween night. My guess is it may continue to be popular at a few campgrounds — but park-sponsored activities leading up to Halloween are typically aimed at replacing the actual door-to-door search for candy and treats.
If your campground location is encouraging the little Goblins to go from campsite to campsite looking for treats, then download some Halloween recipes and make a couple batches of goodies that will please everyone. Here are 5 easy Halloween treat recipes that only have 3 ingredients each!
It's also fun to get together with fellow RVers located near you and plan your decorating schemes together, play outdoor Halloween games, and maybe even have a potluck party. Some RV parks organize such activities for their residents, but if the campground you're staying at hasn't planned such an event, you might want to plan your own Halloween potluck party for RVers — where everyone brings a dish or some fun Halloween treats to share with those who attend.
Likewise, many RV resorts put on hayrides in the weekends leading up to Halloween. If you're lucky, the wagon will be pulled by a team of horses — which is more realistic than an old farm tractor. Occasionally, you'll find an antique fire engine put into service for a unique twist to traditional hayrides.
Storing Your Halloween Decorations & Party Supplies
Once the celebrating is over, the reusable decorations can be easily stored in plastic containers. Chances are, there will still be plenty of room for the Christmas decorations you'll be needing in a couple months! Any old clothes or costumes can be re-donated back to Goodwill, and paper decorations can always be recycled.
With very little waste and a modest budget, Halloween can still be a fun event for RVers on the go.
Need a little inspiration decorating your RV campsite? Check out these RV campground decorating ideas:
Up next: RV Decorating Tips For Fall And Thanksgiving!
Like this post? Save it to read again later… or share with others on Pinterest!
I've been involved in RVing for over 50 years — including camping, building, repairing, and even selling RVs and motorhomes. I've owned, used, and repaired almost every class and style of RV ever made. I do all of my own repair work. My other interests include cooking, living with an aging dog, and dealing with diabetic issues. If you can combine a grease monkey with a computer geek, throw in a touch of information nut and organization freak, combined with a little bit of storyteller… you've got a good idea of who I am. To date, I've shared my RV knowledge in over 300 articles here at The Fun Times Guide! Many of them have over 25K shares.