This post may contain affiliate links. If you buy thru these links, we may earn a commission at no additional cost to you.
---
If you're a fulltime RVer without a permanent home or a full-sized kitchen, then you may be thinking that Thanksgiving will fall by the wayside this year.
But just because there are wheels under your residence and your address is ever-changing, there's no reason to give up the best meal of the year!
With a little planning, your undersized kitchen can produce everything you've prepared for past family gatherings.
Here are my best tips for RVers spending Thanksgiving on the road…
Find A Turkey Pan
When you downsized from a house to an RV, chances are the limited storage in your RV kitchen meant your favorite turkey roasting pan was sold in a garage sale or donated to Goodwill.
Good news: Every supermarket in the country carries throw-away foil pans designed for one-time use.
Pick one that fits in your RV oven and buy a bird to match.
Before you know it, the aroma of a roasting turkey will have everyone anxious for dinner around your campsite!
RV Cooking: Turkey Tips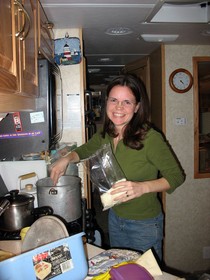 Instead of the all-day cooking and baking event of your previous Thanksgivings, the task may need to be spread out over a couple days — due to reduced cooking space in your RV.
Pumpkin pie keeps just fine for a day or two.  And the microwave can be used to reheat the side dishes when the turkey's done.
Many RVs come equipped with a perfectly usable oven beneath the stovetop.  It may be a bit smaller than what you had back home, but it's quite capable of roasting your turkey dinner to perfection.
Most of the microwaves in RVs are convection style microwave ovens with heating coils. That type of microwave allows you to brown the food — just as if you'd baked it in the oven!
And you can still make some fresh hot dinner rolls with ease.
Preparing Turkey For Lots Of People
Are all the relatives coming to visit you on Thanksgiving Day?
If nothing less than a 20-pound bird will satisfy the crowd, you still have options.
Electric turkey roasters aren't very expensive and can handle just about the biggest turkey you can find.  I've used one myself and can confirm they will produce a roasted turkey that you will be proud of.  With a toaster oven on the counter, you can cook up all your favorite side dishes.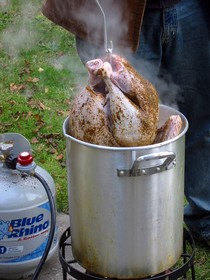 Want smoked turkey, or even deep-fried turkey?  If so, your outdoor barbeque or turkey deep fryer can be called to duty and you can take the cooking outside.  I've been told there is no turkey that is more moist than one that has been deep-fried in peanut oil.
With all these different ways of cooking your Thanksgiving turkey, there's no excuse for skipping Thanksgiving this year.
All it takes is a little imagination to get the job done in smaller spaces and tighter quarters in an RV.
Other Options For Thanksgiving Dinner
If you just don't want the bother of cooking the Thanksgiving dinner yourself, you can still enjoy a great feast while you're traveling.
Restaurants nationwide consider holidays the best time to show their stuff.  Since the Thanksgiving holiday is primarily centered around food, it's considered their prime time.  A quick check of the local paper or food apps like Yelp or TripAdvisor will direct you to many opportunities to enjoy a freshly prepared Thanksgiving dinner wherever you are!
And many RV resorts consider the Thanksgiving weekend as their end-of-the-season spectacular — throwing full-fledged feasts (or maybe potluck gatherings) to celebrate the season.  Just ask around.
No matter where you find yourself this Thanksgiving (even if it's just you and your RV), don't let the holiday pass by turkey-less!
Listen to Bud Light's Real Men of Genius "Mr. Electric Carving Knife Inventor":
https://rv-roadtrips.thefuntimesguide.com/files/Bud_Light_Real_Men_of_Genius_Mr_Electric_Carving_Knife_Inventor.mp3

Help Somebody If You Can
If your travels are taking you through a metropolitan area (or even many smaller cities), I would encourage you to consider donating your time to help those less fortunate.
There are charities and civic organizations everywhere that put on banquets to feed those with nowhere else to go.  There is no better feeling than to help others — especially during the holidays.
Just ask around to learn about special opportunities where you can help make the Thanksgiving holiday more enjoyable for someone else.  Along the way, you may find that you made your own holiday more memorable for yourself as well!
More RV Holiday Tips
I've been involved in RVing for over 50 years — including camping, building, repairing, and even selling RVs and motorhomes. I've owned, used, and repaired almost every class and style of RV ever made. I do all of my own repair work. My other interests include cooking, living with an aging dog, and dealing with diabetic issues. If you can combine a grease monkey with a computer geek, throw in a touch of information nut and organization freak, combined with a little bit of storyteller… you've got a good idea of who I am. To date, I've shared my RV knowledge in over 300 articles here at The Fun Times Guide! Many of them have over 25K shares.