This post may contain affiliate links. If you buy thru these links, we may earn a commission at no additional cost to you.
---
When you look at different RVs trying to find the right one to live in full time, you soon find out that the kitchens all have something in common.
No matter if the kitchen is located in the front, the middle, or the rear of the RV — the typical RV kitchen is SMALL!
Even the largest of motorhomes usually have a much smaller refrigerator than ones you will find in a regular house — and the ovens are usually smaller too.
See all the ways that an RV refrigerator is different from your home refrigerator — and how much food an RV refrigerator can hold.
My first uh-oh moment came not long after we moved in to our RV. I wanted to cook a baked ham and the dang thing wouldn't fit in my RV oven!
Now, after 8 years of living fulltime in an RV, I've learned:
How to shop for food.
How to prepare it for storing on the RV.
How to cook food within the confines of my small RV kitchen.
How To Decide What Kitchen Items You'll Need
When you start considering what items you really need in your RV kitchen, the key is to think about how you eat now:
Do you eat out for every meal?
Do you cook most meals at home?
Or is it an equal combination of the two?
Whatever you do now is what you will probably do when you live in an RV.
So, in order to equip your RV kitchen, do this:
Think about which utensils, pots, pans, and dishes you use the most in your sticks and bricks house.
Then, take into consideration your storage space on the RV.
When I had the house, I had several sets of pots and pans, baking pans, dinnerware service for 12, cabinets full of bowls, specialty utensils & gadgets, and Tupperware coming out of my ears!
Now, I have a much more conservative list of items on my RV kitchen.
My RV Cookware Includes:
a Dutch oven with a lid
a 10-inch frying pan with a lid
a 2-quart pot with a lid
a 4-quart pot with a lid
a 4-quart stainless steel pot with a lid
a 6-inch cast iron skillet
My cookware set happens to be from Cook's Essentials. All of the lids and a metal colander fit in (and on) the Dutch oven. And all the other cookware pieces nest together — taking up very little space in the cabinet.
Make sure you get a good set of heavy-duty pots and pans. If you try to get lightweight ones, it will make you mad when you try cook with them. If you need to conserve on RV weight, then throw out your extra shoes instead!
I have a 16-quart stockpot that I use for making soups and gumbo — and for steaming crabs. It also serves as my soap-making cauldron when needed.
For storage purposes, a 3-cup food processor, a mini blender, a handheld electric mixer, and a metal steamer all fit into that large stockpot.
I also have a 6-quart crock pot and a 5-quart Nesco roaster.
All of these things fit in the cabinet under my RV sink:
And there is still room for 3 cases of soft drinks, 10 pounds of potatoes, and 4 pounds of onions — along with a stack of disposable aluminum baking pans of various sizes!
Since I cook most of our meals in the RV, and because I have to make all of my bread myself, I need all of those things in my kitchen.
By the way, here's how I find Farmers Markets for buying fresh local food when we're traveling in our RV.
What's In The RV Kitchen Cabinets?
In the upper cabinet, we have 2 sets of 4 plates each (one is Corelle, the other is plastic).
In another cabinet, I keep my bakeware and serving pieces:
Oh, and if anyone tries to tell you that you can't have glass in your RV kitchen, don't believe them. I have been traveling for 8 years in an RV with my glass dishes and serving pieces!
When we travel, I wrap the glass bowls and plates with clean bath towels and kitchen towels. The only thing that has been broken is a plastic colander that jumped out of the cabinet on an especially bumpy road in Texas.
The second shelf of that same cabinet is designated for my plastic containers. The Gladware disposable ones, in various sizes are used for storing food in the freezer — and for leftovers. I bought a 1-drawer plastic storage unit to put all the lids in.
On The RV Countertop
On the RV kitchen counter, there's a set of 3 pottery canisters that we brought with us from our house.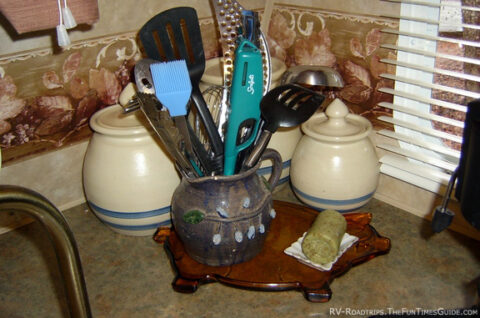 Another pottery piece (made by my mother- and father-in-law) holds cooking utensils.
A large bowl (that was a gift my son gave me when he got his first job) holds fresh fruit and snacks.
I purchased a 3-tier spice rack online because there was not a spice rack in my new RV trailer.
All of these items fit inside the cabinet under the sink when we are packed up for moving.
When It's Time To Pack & Ride…
Yes, I have to pack carefully every time we travel in the RV.
I have a system for getting it all done, and we are usually ready to roll in about 2 hours.
I've downsized my kitchen items quite a bit — but even with this small amount of equipment, I can make just about anything I want to cook. (Except for ham! I still have to have the butcher cut it in 2 pieces for me.)
Here's a list of my last-minute preparations before we hit the road in the RV.
Next up…
How I Found Space For My Hobbies, Crafts & Fun Stuff On The RV
How I Decorated My RV Inside And Out
My hubby and I have been living in a travel trailer and working at campgrounds and resorts for the past several years. We decide where we want to go, and look for a job there.