This post may contain affiliate links. If you buy thru these links, we may earn a commission at no additional cost to you.
---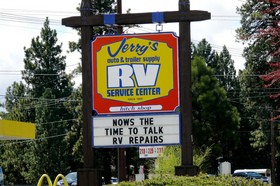 The one area of RV ownership that can give you the most problems is warranty work.
You assume that when you buy a new RV and the contract says you get bumper to bumper warranty coverage for 3 years 36,000 miles, if a problem should arise it would be taken care of.
However, many times that's not the case.
Here's why…
RV Warranty Issue #1:
Who Fixes What?
When a vehicle is manufactured by more than one company, there will most likely be disagreement between them as to who is responsible for what.
The manufacturer of the chassis (frame, motor, axles) is not going to cover body parts, interior issues, etc.
Just the same, the coach builder won't cover the appliances (such as the water heater, furnace, or refrigerator) since they each have their own warranty.
An aftermarket RV extended warranty can help pick up the slack in all this, just be sure to read the fine print so you understand up front what the exclusions are!  Generally, when the salesman says, "This one covers everything," most likely it doesn't even come close.
Getting pre-approved for specific RV warranty work is key — because if you tell the RV dealer to "just fix it" he will.  But if your RV warranty claim gets shot down, guess what… it's coming out of your pocket!
This video explains how an extended RV warranty protection plan works:
Protective RV Extended Service Contract
RV Warranty Issue #2:
What Happens When A Manufacturer Goes Out Of Business?
When an RV manufacturer or RV dealership goes out of business, where does that leave the RVer who is wondering about their RV warranty coverage?
Check out this list of RV manufacturers that went out of business.
Well, that's a somewhat complex question.
Unlike a car where Ford is responsible for all parts of any vehicle with the famous Ford blue oval on the front, RV warranty responsibilities are all over the map.
Your motorhome for instance has a chassis built by one manufacturer, and the body is built by another.  Inside your RV, the refrigerator is warrantied by yet a different company, as is the furnace, stove, air conditioner, and so on.  Conveniently, the RV dealership usually handles the paperwork between all these companies.  That way, to the RV owner, it appears seamless.
The good part about this is if the selling dealership goes belly up, when it comes to things like kitchen appliances you can have warranty work done at any reputable RV dealer — since they also sell the same appliances in their brand or style of RV.  Appliances and systems within your RVs are still covered by the appliance manufacturers.
The same goes for most chassis manufacturers.  For example, if your RV has a Ford chassis, it can be worked on at any Ford dealership.
For body issues, you will need to contact the factory to find their nearest service center. Chances are, in the event that an RV manufacturer goes under, the body portion of your RV warranty just became useless.  When the factories close down, not only are their customers left without warranty protection, the RV dealers selling their products are left empty-handed as well.
An extended service warranty may help in this situation, but if the factory isn't making them any more then parts are going to become scare real quick.
On the other hand, some of the bankrupt RV companies have been able to sell out and are coming back under new or reorganized names.  Their efforts to remain in business may give some hope for those with RV warranty claims — it all depends on the terms of their restructuring.
Fortunately, any RV dealer can make repairs on any brand of RV.  At least you can still get your RV worked on even if the warranty is no longer valid.  This video explains how a large RV dealership can do repair work on almost any RV, regardless of brand:
I've been involved in RVing for over 50 years — including camping, building, repairing, and even selling RVs and motorhomes. I've owned, used, and repaired almost every class and style of RV ever made. I do all of my own repair work. My other interests include cooking, living with an aging dog, and dealing with diabetic issues. If you can combine a grease monkey with a computer geek, throw in a touch of information nut and organization freak, combined with a little bit of storyteller… you've got a good idea of who I am. To date, I've shared my RV knowledge in over 300 articles here at The Fun Times Guide! Many of them have over 25K shares.