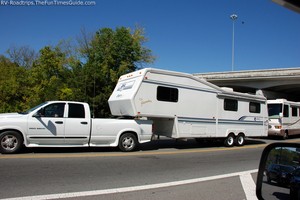 There's no doubt about it, RV trailer parking can be tricky — especially when it comes to backing up!
Fortunately, many high-end RV resorts provide pull-thru parking pads which makes your ability to access them much simpler.
Unfortunately, if you're like me and traveling on a budget, this won't be the case in most of the campgrounds you visit.
These simple trailer parking tips should keep you from making dumb or expensive mistakes when parking or backing up your RV trailer.
Here are the highlights:
Never try to back up with a car in tow.  It doesn't work, and you could severely damage the steering components of your car.
When in doubt, just stop.  Then get out to check for yourself.  Bad input from helpers causes many accidents.
If you can't see what you're doing in your mirrors, then you're backing in blind.  Get help!
Have enough sense to know when your RV won't fit somewhere — before you cause damage.
Get out and walk the spot first.  Soft or uneven ground can't be seen from the driver's seat, and parking there could result in you getting stuck.
Mastering the art of RV trailer parking — especially in a space not much larger than the RV itself — is a skill that will come in handy many times throughout your adventures.
It will build your confidence and give you access to many places that other RV drivers shy away from. Just take your time… and go slow!
The most important step in maneuvering any RV is to check twice, move once.  Just like cutting lumber, you want to be sure it's exactly right before you move.
Pulling ahead and giving it a second approach isn't a bad idea either.
Trailer Parking Videos
The following trailer parking videos provide excellent tips and examples showing how to use your side mirrors, and how to master turning in the opposite direction that you want your RV trailer to go: