This post may contain affiliate links. If you buy thru these links, we may earn a commission at no additional cost to you.
---
Smaller cars and tighter budgets are creating a market for RVs that break the mold from what has been the norm for many years.
Super lightweight RVs that don't destroy the high mile per gallon rating of many small cars are coming into vogue.
Though many are more like tents than enclosed RVs, teardrop trailers — like from the 40s & 50s — are making a huge comeback too.
Check out this classic RV video featuring a lightweight travel trailer and a 1974 Volkswagen Beetle.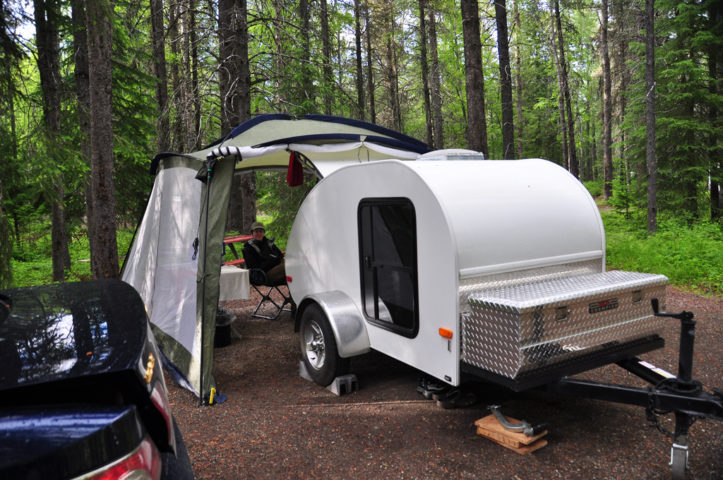 You can even build a teardrop RV trailer from a kit, or purchase it ready to go. (Here are some tips for building a Teardrop Trailer from plans.)
For a young couple with a small budget, this is a great way to begin a lifetime of RV memories.
You can see a lot more of the country for your dollar when you're still getting close to 30 mpg pulling such a small and lightweight trailer… even in the winter.
Of course, the downsides to lightweight RV trailers are:
They can twist and bend the frame
They tend to bounce all over the road
Typically, lightweight towables are under 26 feet in length and weigh less than 4,000 pounds — light enough to be towed by most six-cylinder vehicles. RV manufacturers remove 600 to 1,200 pounds of construction materials from conventional travel trailer and fifth wheel trailer designs to produce a lightweight version, while retaining all the modern conveniences of the traditional vehicles—fully equipped kitchens and baths, queen-sized beds, central heat and air conditioning. Source
Lightweight RV Trailers
Here are some places to find lightweight RV trailers:
Wacky Shack Portable Bungalows
Heartland Lightweight Teardrop Trailer
Molded Lightweight Fiberglass RVs
Trail Manor: World's Lightest Travel Trailers
Scarab Ultralight Tent Campers
A Guide To Ultra Lightweight Travel Trailers
Aluminum Ultra Lightweight Campers
rPod: The Ultra Lightweight RV
I've been involved in RVing for over 50 years — including camping, building, repairing, and even selling RVs and motorhomes. I've owned, used, and repaired almost every class and style of RV ever made. I do all of my own repair work. My other interests include cooking, living with an aging dog, and dealing with diabetic issues. If you can combine a grease monkey with a computer geek, throw in a touch of information nut and organization freak, combined with a little bit of storyteller… you've got a good idea of who I am. To date, I've shared my RV knowledge in over 300 articles here at The Fun Times Guide! Many of them have over 25K shares.