This post may contain affiliate links. If you buy thru these links, we may earn a commission at no additional cost to you.
---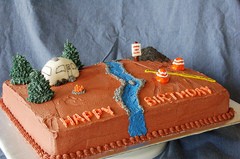 How do RVers celebrate kids birthdays on the road? The simple answer to this question is the same way as they do at home. 
Of course, nothing is ever simple. In an RV it can be better than simple. When you're RVing, instead of having your cake and ice cream at the kitchen table you can pick a special destination and make your birthday an event to remember.
If you happen to be a fulltime RVer, it's a simple matter of turning the ignition key and heading down the road.  There is always that one special place that you haven't visited yet just waiting for a special occasion. 
Even the weekend camper has lots of options to include RVing into the party. 
Here are some ideas for kids birthday parties while RVing…

Themed Birthday Parties & RVing
Famous celebrity birthdays can be the theme to your special outing.  By choosing a celebrity with the same birthday, you can pick a destination or activity that corresponds with that person.
As an example, my birthday is Nov. 12th, which I share with actress Grace Kelly and singer Neil Young of the group Crosby, Stills, Nash & Young. 
A trip to Hollywood to tour a movie studio, or maybe going to Nashville and exploring the history of country music would be a good choice. 
If you expand your list to celebrities whose birthdays fall within the whole month, your options become large enough to cover much of the country.  Within your region there are likely to be a number of possibilities.
Tour A Factory Or Museum
Another idea is to pick a factory tour that would be meaningful to the person whose birthday you're celebrating. 
As I have spent a good portion of my life working as a heavy equipment mechanic, a trip to Moline Illinois to visit the John Deere Pavilion would be very interesting to me.  What better thrill for your own little budding contractor than to take them to the factory gift store and buy them their own toy version of a big Green Machine.
Museums, or a Hall of Fame, would be a great choice for the sports fanatic in your family. A trip to a specific sports Hall of Fame is as easy as doing an Internet search on the name of the sport (like:  "baseball hall of fame"). 
A Birthday Party Isn't Complete Without Cake & Ice Cream
Don't forget the cake and ice cream.  You can bake your own right in your RV.
Here are a few other places that you can stop in while on the road to pick up your cake and ice cream:
Wal-Mart Supercenter
Sam's Club
Costco
Publix
Kroger
Any grocery store with a bakery
Any of the retailers mentioned above can set you up with a cake large enough for any sized group.  Many smaller towns have excellent local bakeries, as well.  With all the storage options available in most RVs, you have all sorts of places to hide the birthday gifts.
It's even possible to arrange a surprise birthday party while RVing.  Just notify everyone where and when the gathering is going to be and then mysteriously arrive at the chosen location with the birthday boy (or girl) thinking their special day has been forgotten. 
Invite Your Child's Friends For Even More Fun
If you're up to the challenge, turning a birthday party for a child into a weekend camping outing for the birthday child (and a group of their friends) would amount to taking the party on the road. 
Instead of having a nasty chocolate ice cream spill on your light-colored carpet at home, take the mess and confusion to a campground in the area.  Let Mother Nature absorb the stains. You may actually enjoy the outing rather than worrying about your collection of coveted Hummel figurines you have on display at home.
All it takes is a little thinking out of the box to settle on an idea, but the effort will be worth it.  There are so many things to see and do while RVing, it only makes sense to take advantage of being on the road to make a birthday extra special.
I've been involved in RVing for over 50 years — including camping, building, repairing, and even selling RVs and motorhomes. I've owned, used, and repaired almost every class and style of RV ever made. I do all of my own repair work. My other interests include cooking, living with an aging dog, and dealing with diabetic issues. If you can combine a grease monkey with a computer geek, throw in a touch of information nut and organization freak, combined with a little bit of storyteller… you've got a good idea of who I am. To date, I've shared my RV knowledge in over 300 articles here at The Fun Times Guide! Many of them have over 25K shares.