This post may contain affiliate links. If you buy thru these links, we may earn a commission at no additional cost to you.
---
RVers love to look backwards.  Not necessarily in the rearview mirror, but backwards in time — reminiscing of places they've visited, states they've driven through, and people they've met along the way.
After a few years of traveling, you can easily start to lose track of exactly where you've gone, or which states you've driven through.
There are a number of fun ways that RVers can remember their travels…
RV Sticker Maps
The most common and often seen indicator of states traveled is the familiar state sticker map of the United States attached to the window of many RVs.
The kit comes with individual state appliqués to be attached at the point a new state is visited.  It's like an advertisement to the public of all of the states you've visited.
At a glance, the person filling up at the gas station alongside you will take note that you're a well-seasoned traveler.  It's always a good icebreaker to start a conversation when you're in a new location.

Unique State Collectibles For RVers
Some RVers choose to collect unique mementos along their travels.
Examples of various mementos are inexpensive items purchased at gift stores, truck stops, and tourist points of interest along the way.
Miniature State Spoons 
My wife chose to collect miniature state spoons. We have a nice wicker basket filled with an ornamental state spoon from each state that we've traveled through.
At a cost of around $4 each, state spoons are a rather inexpensive collectible that can be displayed in a number of ways.  You can purchase a spoon rack for the wall that will spread them out for you and your visitors to enjoy.
We chose a basket to store them in because space is at a premium in most RVs and a wall-mounted display case just wasn't practical for us.

State Thimbles & Shot Glasses
Another popular collectible are state thimbles. Thimbles are often decorated to celebrate a particular state or attraction.  They're small in size, durable and not easily damaged while traveling.  A good-sized state thimble collection could be tucked away on your RV in a container as small as a cigar box.
State shot glasses are a decorative collectible, as well.  Many include humorous comments, nature scenes, or pictures depicting some interesting person or place.  Breakage is a concern, but with careful storage they too can be carried onboard and are small enough to be only a minor storage concern.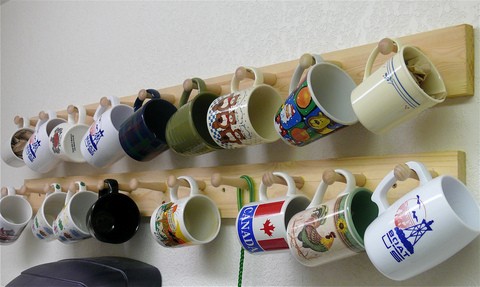 A Leaf Pressing Kit 
For those with a more crafty interest, making use of a leaf pressing kit can be a popular pastime.
Each state has a state flower and a state tree. Collecting a leaf or flower from each state that you've visited is fun and easy. If you don't want to go to the trouble and expense of buying a leaf pressing kit, simply pressing some examples between the pages of a heavy book will flatten them for display.
Place the leaves or flowers inside an envelope to protect the pages of your favorite book as direct contact will likely stain the pages. After the leaves have dried, you can laminate them with plastic, or insert them in plastic display pages to be inserted in a book.
RV Scrapbook Pages
Scrapbooking from local papers to create a chronicle of your journeys.  Adding your own comments on what was seen or done during that leg of your trip will provide an excellent record to return to years down the road.
Handwritten RV Journals
The simplest but most valuable of collectibles is the handwritten travel journal.
By jotting down a few comments as you experience the RV lifestyle, you will provide a history of events that can be passed on to future generations. Your present day traveling experiences could very well be something unique and marvelous in the future. Why? Because traveling by motorhome, or trailer, could be something unheard of in the future!
As hard as it is for us to relate to the days of the buffalo or the explorations conducted by the likes of Lewis and Clark, 150 years from now travel may be as simple as having Scotty beam you up to the surface of some strange planet.
No matter where you go or what you see, having some way to look back and remember the good times you experienced on the road is the backbone for collections of memorabilia.  Seemingly insignificant trinkets will likely become prized keepsakes years down the road.  Wit
h enough time, they'll become priceless artifacts for those coming up behind us.
I've been involved in RVing for over 50 years — including camping, building, repairing, and even selling RVs and motorhomes. I've owned, used, and repaired almost every class and style of RV ever made. I do all of my own repair work. My other interests include cooking, living with an aging dog, and dealing with diabetic issues. If you can combine a grease monkey with a computer geek, throw in a touch of information nut and organization freak, combined with a little bit of storyteller… you've got a good idea of who I am. To date, I've shared my RV knowledge in over 300 articles here at The Fun Times Guide! Many of them have over 25K shares.