This post may contain affiliate links. If you buy thru these links, we may earn a commission at no additional cost to you.
---
If you're like me, it's impossible to get a good night's sleep when the head of the bed is lower than the foot of the bed. Switching end for end might not be much better — especially if your pillow just falls onto the floor.
To make matters worse, when you wake up the next morning, you might find that everything in the refrigerator is a bit warm. Why? Because gas refrigerators need to be level in order to function properly.
Getting your RV level can be accomplished in a number of ways. Some take a bit of effort, and others are as simple as pushing a button.
Here's what you need to know to keep your RV trailer or motorhome level and stabilized…
2 Ways To Level An RV
There are 2 common ways to ensure that your RV is level when parked:
#1 – The cheapest way to get your RV level is to place a stack of 2x10s under as many tires as it takes to get the bubble on the level centered.
An inexpensive surface level will let you know when things are level in your RV. (This refrigerator level is my favorite.)
Of course there's the question of storing all of those lengths of wood. And more importantly, will the stack hold together as you try to run up on it with your tires? This method is not only an inconvenience — but also a possible safety hazard.
#2 – The next step up in getting your RV level would be a set of RV leveling blocks. (Lynx Levelers are my favorite.)
These interlocking plastic blocks are designed to handle the weight of the largest motorhome around.
You just snap them together and form a ramp that will stay stable while you drive or pull your RV onto them.
When you're ready to leave, they unsnap and can be easily stored in a handy carrying case.
3 Ways To Stabilize An RV
So now you've got the RV level, but what if it still rocks back and forth as you walk around? You'll also need an RV stabilizer.
These are the 3 most common ways to stabilize your RV:
#1 – The most basic way to stabilize your RV is to use stabilizing jack stands. They will make things nice and solid for you.
Again, there's the issue of storing the RV jack stands. Plus, you have to crawl under the RV to position each of the stands. So this isn't the most user-friendly method of stabilizing your RV.
#2 – Moving up to a better set-up, you could install a set of permanently mounted stabilizing jacks.
RV scissor jacks bolt or weld to your RV's frame. That way, you just go around to each corner and hand-crank each jack into place. A set of bubble levels mounted on the RV's exterior walls will indicate when you've found level.
Of course, with this method there is a bit of manual labor involved — cranking the jacks by hand and all.
#3 – The next step up is a set of electric jack stands.
With electric jack stands, it's simply a matter of pushing a button to get your RV trailer sitting straight with the world!
You might as well invest in an electric tongue jack too. Why not make it a complete package?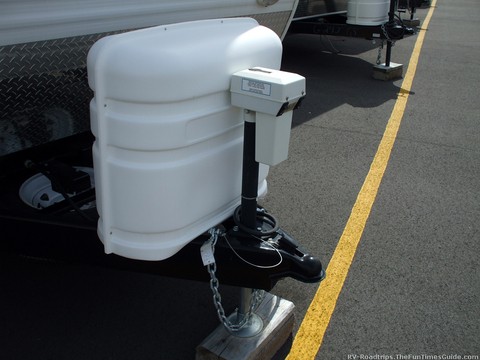 RV Motorhome Parking & Leveling Tips
How about parking your RV trailer when you get home? Do you park it in close quarters? Is it hard to maneuver around obstacles?
An electrically operated power mover will let you ease your RV around corners — avoiding trees and setting your trailer exactly where you want it. Again, all at the press of a button!
This takes care of your RV travel trailers and fifth wheels, but what about motorhomes?
Consider this hydraulic leveling system. With the push of a button or two, you can raise one corner, one side, or the whole motorhome — all by hydraulic rams mounted front and back. They can even lift the motorhome off the ground to make changing a flat tire a snap.
With all this convenience, one thing's for sure…
You'll be able to sleep well at night knowing that your pillow will stay put where it belongs — at the head of the bed!
What About RV Leveling Systems?
Before you try an RV leveling system for the first time, read about my experiences with each of these:
I've been involved in RVing for over 50 years — including camping, building, repairing, and even selling RVs and motorhomes. I've owned, used, and repaired almost every class and style of RV ever made. I do all of my own repair work. My other interests include cooking, living with an aging dog, and dealing with diabetic issues. If you can combine a grease monkey with a computer geek, throw in a touch of information nut and organization freak, combined with a little bit of storyteller… you've got a good idea of who I am. To date, I've shared my RV knowledge in over 300 articles here at The Fun Times Guide! Many of them have over 25K shares.