This post may contain affiliate links. If you buy thru these links, we may earn a commission at no additional cost to you.
---
There really is no rule on what the right RV is for fulltime living.
Deciding which RV is right for you may be easier if you think of it as buying a HOME instead of thinking of it as buying an RV.
After all, if you're going to be a fulltime RVer, your RV will be a home.
Types Of RVs
With so many different kinds of RVs on the market:
…and so many different sizes and floor plans, choosing one may seem to be an impossible task.
So, where to start?
Maybe the best place to start would be deciding what type of RV you want.
For many reasons, we chose a travel trailer. Jim did not want to have steps inside the unit, so that cut 5th wheels out of the choice immediately. And I wanted a floor plan with a front kitchen, which if it is available in a 5th wheel or motor home… I have not seen it out there.
Size Matters
After deciding what type of RV you want, you will need to consider the size. For instance, travel trailers come in sizes from very small 12 ft. models, and go up to 40 ft. with three or more slideout rooms.
One thing that affects size of RV you choose is where you plan to camp. More in this video:
Size matters when choosing an RV
In case you're wondering, here are the height, width, length, and overall size limits for RVs in all states.
Towable RVs
With a towable RV, the very next thing to consider is the towing capacity of your tow vehicle. Get out the owner's manual and read it. Whatever it says in there will be the maximum weight you can tow.
Now that you know what your weight limitation is, you can go shopping to see what is available in your weight range.
An important note about weights here: Sometimes a salesperson who is eager to sell an RV will tell you anything to get the sale. Don't believe that salesman who tells you your Ford F150 will tow a 15,000-pound RV. If your owner's manual says 10,000 pounds, that is all you can tow, fully loaded, with clothing, pots and pans, TV, water, propane, and trash can. Do not overload your truck!
Consider Your Hobbies & Activities

The third thing we did was to sit down together and make a list of all the things we do that make us happy.
Our hobbies and activities that we enjoy doing in the house are the same things we enjoy doing in an RV. We had to know what equipment we would need to store in a smaller space, so we could shop with confidence and know that we would have a place to keep it all.
We came up with fishing, sewing, quilting, listening to music, watching movies, reading, making jewelry, making soap, hiking, and cooking. All these things give us enjoyment, and what is life if you don't enjoy it? So, we knew we needed to look for an RV within a certain weight that would have storage spaces for the things we liked to do.
RV Floorplans: Decisions, Decisions!
In the beginning, we had planned to buy a 24-26 ft. trailer, and confined our search to just those models. But the first time we walked into a 30 ft. trailer with a slide-out room, we never looked at the smaller ones again!
When we were shopping, we would get into the shower and move around like we would if we were taking a shower. We would lie down together on the bed, to make sure it was a fit for us. We measured storage areas with a tape measure and took notes.
After we found the floor plan we liked, we looked at that same floor plan in several brands. Finally, we chose a trailer that both of us could be happy with. Our search took 2 years, but the time spent looking was time well spent.
Our RV Home: A Travel Trailer
We lived in our first trailer, a 32 ft. Starcraft with one slideout room, for more than 6 years. We had plenty of room to store our toys, plenty of counter space in the kitchen, and a built-in spice rack (sweet!), all within the weight limitations of a Ford F250 truck to tow it with.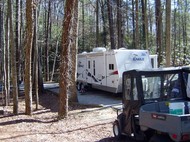 While not many fulltimers choose a travel trailer, we have been so happy with our choice that we bought a new one last year. It's another travel trailer (a Jayco 34 ft. with two slideouts) with the same floorplan as the first one.
Whether you choose a mini pop-up or the largest motor home on the market, hopefully these suggestions will help you choose what is right for you.
More Tips For Fulltime RVing
My hubby and I have been living in a travel trailer and working at campgrounds and resorts for the past several years. We decide where we want to go, and look for a job there.