This post may contain affiliate links. If you buy thru these links, we may earn a commission at no additional cost to you.
---
One of hardest decisions to make when RV buying is which type of RV will best suit your needs.
Trying to choose between a 5th wheel trailer and a Class A motorhome can have you going back and forth endlessly.  With this much money involved, you definitely want to get it right the first time.
My wife and I struggled with this dilemma when we became full time RVers.
We learned the hard way (actually, it was the expensive way!) just how different life aboard a Class A motorhome is, compared to living fulltime in a large 5th wheel RV trailer.
With over 3 years living full time in motorhomes and 5th wheel RVs, what we learned along the way may help you decide which type of RV best suits your needs.
View Of The Road Ahead

Nothing matches the panoramic view you get while driving down the open highway in a Class A motorhome.
Sitting high above all the cars, you have a better view of traffic ahead of you. This is helpful in spotting trouble earlier, choosing when to take an exit, or spotting a sought-after destination.
It's just easier to see when you're taller than everyone around you.
Driving Characteristics
At highway speeds, both motorhomes and 5th wheels rate very well. Because the hitch point is over the rear axle, 5th wheel RVs have all but eliminated any sway issues. You can truly relax towing a large 5th wheel trailer.
Motorhomes, even when towing a car behind them, handle very well too. In most instances, you won't even notice the car attached by a towbar because there is adequate power to maintain your speed.
The one issue with a car on a towbar behind a motorhome is you can't back up. You will damage the car's steering components if you try. You must unhook the car before backing up the motorhome.
Maneuvering a 5th wheel RV in reverse is just a matter of practice. With experience and a good set of mirrors, you can back a 5th wheel around corners and into some pretty tight spots.
Living Space
With slideouts, both styles of RVs can be very spacious when opened up. Generally, motorhomes are designed to be usable — even when the walls are sucked in for travel. You can still get to the bathroom, use the dinette, and prepare a meal in the kitchen.
Fifth wheel RV trailers are a different matter. Many are designed with slideouts on both sides that meet in the middle when the walls are pulled in for travel.
Access to the living room and kitchen area may be impractical, and the queen bed in the bedroom may actually tuck under a dressing/makeup table when the slideout is stored for travel.
You will lose precious square footage with a motorhome, because a driving compartment is not the best use of space when you're sitting still.
Fifth wheel RVs have a more apartment-like feel to them just because of this issue. Plus, without that big windshield, they are easier to heat and cozier for cold weather living.
On-Board Storage
Both motorhomes and 5th wheels are loaded with storage space. Interior space is similar between the two. The difference lies in the outside or basement storage space.
Motorhomes have their storage space divided into smaller side compartments. There may be one compartment that is a pass-through to the other side, but that is usually in larger coach models.
Fifth wheel RVs have the lion's share of the storage in one large compartment located below the bathroom area.
You can store an amazing amount of stuff in plastic storage boxes there, but access to a particular item can take some effort. You may have to set out lots of stuff in order to get far enough back to reach what you're going after.
Initial Cost And Operating Expense
Mileage is similar in both — not very good.
A motorhome costs more than a 5th wheel. But with a fifth wheel RV, you have to buy a truck too. This makes the score about even. Of course, a top-of-the-line luxury coach can cost much more than a 5th wheel RV.
Maintenance will be more costly with motorhomes, especially diesel pushers.  Everything from tires to oil changes will be higher. With a 5th wheel RV, tires are about the only wear item beyond packing the wheel bearings every few years. Your pickup truck can go to Jiffy Lube for less than $50 for service.  Your diesel pusher motorhome needs to go to a truck shop with the cost being over $200 for oil and multiple filters.
How To Decide
There is no one-size-fits-all answer. After a total of 3 years actual year-round living time, my experience leads me to believe the following:
If your RV lifestyle will have you spending the majority of your time actually traveling, then a Class A motorhome is the better choice. It's all about convenience while driving. The better view, the refrigerator within reach, bathroom access, being able to leave an unsafe spot without getting out of the RV, these are all big issues worth considering if you're driving all day.
If your RV lifestyle has you parked for extended periods, then a 5th wheel RV is the better choice. Once parked and set up, the comfortable complete apartment feeling makes you feel like you're home.
Other Choices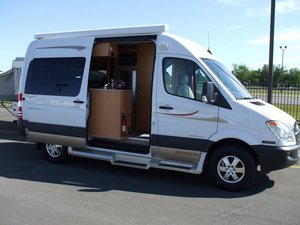 There are other choices beyond 5th wheel RVs and motorhomes to consider too.
Smaller fully appointed motorhomes like those based on the Sprinter van can be more cost-effective than a large Class A.
Though more maneuverable, the compact size means considerably less living space.
These videos walk you through the Airstream Sprinter based RV — inside and out:
RV travel trailers can be a good answer for those who find stairs a problem. With the complete living space all on one level, it's easier to get around. Do be aware that long travel trailers can be a chore to drive all day. There will be no relaxing; it's both hands on the wheel at all times!
All of these these issues make 5th wheel RVs and Class A motorhomes the top choices when it comes to RV buying — especially if you will be RVing full time.
Here's a great RV Buyers Guide filled with tips to help you make the right decision.
I've been involved in RVing for over 50 years — including camping, building, repairing, and even selling RVs and motorhomes. I've owned, used, and repaired almost every class and style of RV ever made. I do all of my own repair work. My other interests include cooking, living with an aging dog, and dealing with diabetic issues. If you can combine a grease monkey with a computer geek, throw in a touch of information nut and organization freak, combined with a little bit of storyteller… you've got a good idea of who I am. To date, I've shared my RV knowledge in over 300 articles here at The Fun Times Guide! Many of them have over 25K shares.