This post may contain affiliate links. If you buy thru these links, we may earn a commission at no additional cost to you.
---
The price of gas and economic backsliding has opened up one bright spot in the RV world.  Van-based, Class B RVs have become more and more popular.
With only one brand having made the transition to a full stand-up interior height, the Dodge Sprinter Van is taking over the market.
Powered by Mercedes-Benz, and manufactured by both Freightliner and Dodge, the Sprinter Van offers fuel economy the others can only dream about.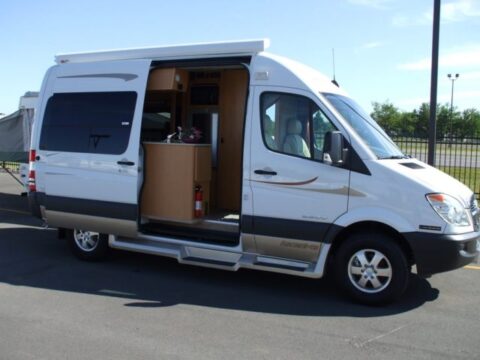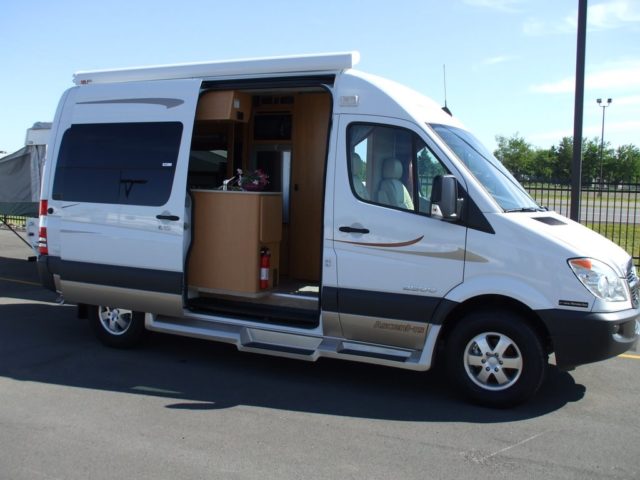 Without extreme body modifications (which is always good from a safety point-of-view), the Sprinter Van provides full stand-up headroom.
All this makes for an excellent base vehicle readily adapted to a fully appointed Class B motorhome.
Manufacturers have taken notice, because sales of large ocean liner like Class A motorhomes have dropped off considerably.
Many people are looking for something easier to drive and that takes up less space.
RV travel is still a big business, but the consuming public is looking to do it in a more cost-effective way.
A fully decked out Sprinter Van is one way you can travel in style and comfort, with all the amenities of a much larger RV.
Roadtrek Adventurous RV
Dodge Sprinter has become the base vehicle that many new Class B RVs are built from.
By taking fuel economy to new heights while providing full stand up interior headroom, the Dodge Sprinter is likely to become a very popular RV.
RV companies like Roadtrek, a well-known Canadian  manufacturer, now offer RVs that get as much as 24 mpg (imperial) while still maintaining a full range of amenities and comfort items.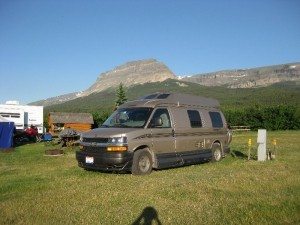 Though the Sprinter is priced well above the standard American-made cargo van, the longevity provided from the 154 hp diesel engine under the hood will offset much of that expense.
The Roadtrek Adventurous, sure beats living in a van down by the river.
I've been involved in RVing for over 50 years — including camping, building, repairing, and even selling RVs and motorhomes. I've owned, used, and repaired almost every class and style of RV ever made. I do all of my own repair work. My other interests include cooking, living with an aging dog, and dealing with diabetic issues. If you can combine a grease monkey with a computer geek, throw in a touch of information nut and organization freak, combined with a little bit of storyteller… you've got a good idea of who I am. To date, I've shared my RV knowledge in over 300 articles here at The Fun Times Guide! Many of them have over 25K shares.