This post may contain affiliate links. If you buy thru these links, we may earn a commission at no additional cost to you.
---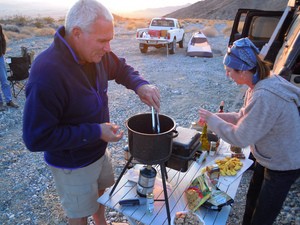 Beyond driving, sightseeing, and relaxing, RV cooking is just about the most important part of the RV lifestyle.
What's the first thing you hear as soon as the RV is parked, the awning is run out, and the campfire is lit?
…"What's for dinner?"
Whether you're RVing with the entire family or it's just the 2 of you, the first thing on everyone's mind is usually when do we eat.
Simple RV Cooking
For some, campfire cuisine is nothing fancier then hot dogs on the grill, beans out of the can, and maybe a bag of potato chips on the side.
For dessert it might be roasted marshmallows, or if you're lucky, Smores!
The rest of us prefer a little more imagination and maybe a somewhat healthier diet when we're doing the RV cooking.
Whether your evening meal is being prepared in a Walmart parking lot or at a luxury RV resort where you've set up camp, there's no reason you can't cook up good healthy meals when you're RVing.
Cast Iron For RV Cooking
I tend to lean toward outdoor cooking when we're RVing — sometimes over the campfire, other times with the propane stove or portable BBQ.
One-pot cooking makes RV cooking outdoors all that much easier, and the best pot you can use is a good old-fashioned cast iron dutch oven.
When combined with a cast iron skillet and some other cast iron cookware, you will have a cooking set that will last 2 or 3 lifetimes without any indication of wear.
Here's why I like cast iron cookware for RV cooking:
This very versatile piece of cookware can be used over almost any heat source.
While being rugged and virtually indestructible, its cooking characteristics truly make it one of the best performing cooking implements ever made.
Cast iron cookware is very easy to maintain, and food seldom sticks (as long as the pan is seasoned properly).
Cleaning is easy, and you don't need to worry about damaging the non-stick surface. (There are no man-made chemicals or coatings on new cast iron cookware.)
The worst burnt-on mistake can easily be cleaned up simply by putting some soapy water in the pan and heating it up. Like a simmering stew, it will lift and loosen all of the burnt particles. In a few short minutes the pot can easily be cleaned.
Once clean, simply wipe your cast iron cookware with some vegetable oil in order to renew the seasoned surface.
If you're lucky enough to find a neglected cast iron skillet at a garage sale, don't be discouraged if it has a coating of light rust. Take it home and clean it up! Then, give it a good oiling with vegetable oil and it will be good as new.
Best RV Cooking Recipes

With all these great ways to cook up some fantastic meals, the next thing you'll need is some recipes that are especially designed for outdoor cooking. These will enable you to take full advantage of your open air kitchen.
Here are my favorite websites with recipes for RV cooking.
I like to experiment with new recipes to keep my RV cooking new and exciting. This video will help you start doing some RV cooking with cast iron cookware:
How To Cook With Cast Iron
I've been involved in RVing for over 50 years — including camping, building, repairing, and even selling RVs and motorhomes. I've owned, used, and repaired almost every class and style of RV ever made. I do all of my own repair work. My other interests include cooking, living with an aging dog, and dealing with diabetic issues. If you can combine a grease monkey with a computer geek, throw in a touch of information nut and organization freak, combined with a little bit of storyteller… you've got a good idea of who I am. To date, I've shared my RV knowledge in over 300 articles here at The Fun Times Guide! Many of them have over 25K shares.