This post may contain affiliate links. If you buy thru these links, we may earn a commission at no additional cost to you.
---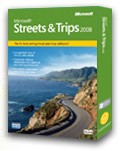 When Jim and I get ready to go to a new place, I am the one who goes to the computer to plan a route for us.
I have the 2005 version of Microsoft Trips and Streets software, but there is a newer version published in 2008.
Here's why I like Microsoft Streets and Trips…
The Microsoft website description of Streets and Trips says:
Every trip is a good one with Microsoft Streets & Trips 2008! With tools and features to help you create custom routes, set driving preferences, plan breaks, and calculate travel costs, this trip planning software makes travel easier, whether you're going around town or anywhere across the U.S. and Canada. As the #1 best-selling travel and map software, it gets you where you're going quickly, easily, and without all the guesswork.
My Favorite Features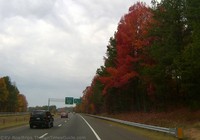 I have found this program to be very accurate and easy to use. I can input the address of the starting location, the address of the ending location, and get a printable map of the most direct route to get there. I can choose whether I want to take interstate highways, state highways, or the scenic route.
If I want to take a side trip to a particular place, all I have to do is click on any part of the route, and drag it over to include the place I want to go. It is easy to force the route to a particular road, too, if you would rather go a different way than what the software comes up with.
A feature of this software that I particularly like is the Route: Options. I can input the average miles per gallon we get while towing, and the average price we pay for fuel. When I plan my route, I will then get driving directions, and an approximate total cost of fuel to complete the trip.
Another thing I like is the Nearby Places function. I can instruct the program to find a city. Once the name of the city is highlighted on a map, I can right click on the name of that city, then choose Find Nearby Places. A list of nearby places — that includes a list of campgrounds in the area — will then pop up. I can tell the software to find places from 1 to 50 miles around that city. The information for campgrounds includes the name, address, and telephone number, so calling to make reservations is a breeze.
Microsoft Mapping Software Gets High Marks
Microsoft Streets and Trips is not the only mapping program available, but at $39.95 it is in the same price range as most other comparable software. And with the 2008 Connected version, you get a free 1-year subscription to MSN Direct for traffic updates and gas prices, plus a compact GPS Locator and MSN Direct Receiver.
So, if you are the navigator on your RV trips, and you need a good map program, try the Microsoft Streets and Trips.
My hubby and I have been living in a travel trailer and working at campgrounds and resorts for the past several years. We decide where we want to go, and look for a job there.