This post may contain affiliate links. If you buy thru these links, we may earn a commission at no additional cost to you.
---
Making the decision to live fulltime in an RV was the easy part.
Getting ready to go was an entirely different story.
While we knew we wanted to go on the ultimate roadtrip, we found out in a hurry just how hard letting go would be.
Getting Rid Of Stuff
After taking 3 years to make the decision, then telling everyone we were going to do it, the next thing we had to do was to get rid of "stuff". You know, all the things we collected over the years:
the house
the extra car
the memorabilia of our lives
I had one closet in my house where I kept photographs, my party dishes, and Christmas ornaments. Going through that one closet took me 6 weeks.
I cried a lot, smiled a lot — and finally, let go of a lot. I picked the best few photographs, a couple of Christmas ornaments, and 2 small platters to keep for myself. I gave the rest away.
We hired an estate sale company to do the rest. They came to our house, pulled everything out of closets and drawers, did the pricing, took care of advertising, and handled the sale.
It was amazing what people bought: open boxes of food from the kitchen pantry, scraps of fabric and trims from old sewing projects, old stained sheets, and bath towels.
At the end of 2 days, we had an almost empty house!
Selling The House
We put the house on the market to sell it, but after 6 months there were no buyers.
We had a heart to heart discussion with the real estate agent, who told us we needed to paint inside and out, put in a new dishwasher, and replace all the windows on the front of the house.
It was an enormous job for us. But a year later, we put a For Sale sign in the yard again, and 10 days later were sitting at the closing table. The rest is history.
During the year and a half between the estate sale and the sale of our home, the house was furnished with 2 LaFuma recliners, a 13-inch TV, our bed, a refrigerator, and not much else. We lived out of cardboard boxes and pretended we were camping in our living room.
Do I regret it? No way! I look forward every day to a new RV adventure.
Our first RV home…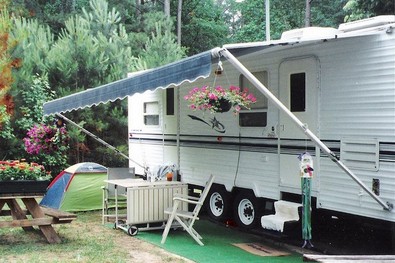 My hubby and I have been living in a travel trailer and working at campgrounds and resorts for the past several years. We decide where we want to go, and look for a job there.