This post may contain affiliate links. If you buy thru these links, we may earn a commission at no additional cost to you.
---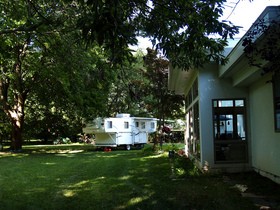 Nothing is more exciting than going to visit your relatives.  When I was growing up, my cousins, aunt and uncle lived in Canada. It was an annual get-together that everybody looked forward to.
With a family of 7, when we arrived, my family took up a lot of space.  My uncle's family numbered almost as high, so finding a way to squeeze all these people into a modest suburban house was hard to do — even when we were young.  By the time we became teenagers, there just wasn't enough space.
No matter what type of RV you own, the additional bed space will be priceless when the sun goes down and you start playing musical beds to find a spot to get some shut eye.

Before you pack up the family and stash the extra bedding, here are a few things to keep in mind…
#1 – Family Matters
First and foremost, you should talk with the receiving relatives and make sure your plan is acceptable with them.
Unless they are completely on board with this idea, then you'll want to make other arrangements.
When I was young, my family camped in an old converted school bus.  It was a clean, well-built rig with a nice 2-tone paint job.  There was nothing crude about it, as Dad was a cabinet maker and used top-of-the-line walnut to build the fixtures in our home-built motorhome.
However, traveling across the country to introduce the family to relatives for the first time, the reception was somewhat cold.  They made it pointedly clear they didn't like the idea of that "gypsy wagon" being parked in their driveway.
To avoid this kind of welcome, make sure that all parties are on the same page first. It's the polite thing to do.
#2 – Local Codes & Ordinances
Some neighborhoods have ordinances that will prevent you from parking your RV in relatives' driveways altogether.
I've heard of places where you can't even park a pickup truck with a cap (or topper) within view of the streets, as they don't want it to look like a construction zone.
Must read: 10 Commandments of RV Etiquette
#3 – RV Weight Issues

If everything's a go, and you know your RV will be welcome, you still have some obligations that the polite RVer will want to remember.
When you pull onto the relative's blacktop driveway with your oversized motorhome, do not lower the hydraulic leveling jacks.
Suburban driveways are constructed to accommodate a car or a pickup, at the most.  That heavyweight RV of yours may be more weight load than the driveway was intended to bear!
When the total weight of the RV is concentrated on those 4 little round pads of the hydraulic levelers, you will definitely leave permanent depressions in the blacktop.  I was guilty of this myself.  Though my sister never said anything, I felt badly for leaving that permanent reminder of our visit.

#4 – Keep Off The Grass
Even if your host tells you to pull around back into the yard, think twice.
Big RVs are heavy. Taking them off road — even parking on the grass for long periods — can quickly lead to disastrous results.
It's highly recommended that you stay on the driveway, or you may be paying to have a pallet of Kentucky Blue Grass delivered and installed to repair damage caused when your RV sank into the sod.
Must read: RV Driveway Camping Etiquette
#5 – Your RV Will Be Popular, So Have A Plan
When you bring your rolling bunkhouse to visit, expect to share.  If your relatives aren't familiar with RVing, you can bet that their kids are going to want to camp out in the RV!  Maybe you can set up your rig as the camp out spot for the kids, while the adults take over the bedrooms inside the house.
Be sure to keep the breakable knick knacks stored away.  Kids will be kids. You need to be prepared for it.
If any of these issues are red flags for you, then by all means, make reservations at a nearby RV campground or resort.  You have all the right in the world to prefer staying in your own RV, setting your own time schedule, and enjoying your stay without the fear of someone else's kids destroying your cozy traveling abode.
I know my wife and I both get nervous and edgy when confronted by a hoard of rambunctious kids.  Our lifestyle just doesn't blend well with that situation.  We retire early, and I'm an early riser… imposing our way of living on others wouldn't be fair or enjoyable for any of us.
Must read: How To Childproof Your RV
#6 – Try To Be Accommodating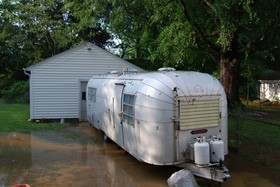 One thing's for sure, your relatives are going to want to see your RV inside and out — whether it's your fulltime residence or your weekend portable cabin.  If you set up camp at a separate location, be sure to have them over for a tour.
Sit out under the awning, and help them get a feel for your lifestyle.  The best way to get curious onlookers into the fold is to let them see how comfortable and convenient RV living can be.  Make them dinner onboard your RV; show them that you're not used to shopping at McDonalds when you're on the road.
If you're staying in your relative's driveway for more than a day or so, all the while plugged into their utilities, be sure to offer payment to cover that added expense.  If they decline, then take them out for dinner.  Even hosts deserve a break from the day-to-day routine.  But make sure they realize you're saving money by not being at a RV resort, and it's your wish to thank them in this way.
Try to be accommodating.  If you're visiting relatives for longer than a weekend, consider arranging at least one or two activities that would take the crowd away from your host's house.  For example, if they have children, make plans that would give their parents an afternoon off to catch their breath from all the commotion of a house full of guests.
There are lots of ways to make your visit a happy experience for everyone.  The best way to ensure that your visit won't be an imposition is simply to communicate.  Set the ground rules well before you pack the motorhome.  If everyone knows what to expect, you're much less likely to offend anyone, and all can relax and have a good time.
I've been involved in RVing for over 50 years — including camping, building, repairing, and even selling RVs and motorhomes. I've owned, used, and repaired almost every class and style of RV ever made. I do all of my own repair work. My other interests include cooking, living with an aging dog, and dealing with diabetic issues. If you can combine a grease monkey with a computer geek, throw in a touch of information nut and organization freak, combined with a little bit of storyteller… you've got a good idea of who I am. To date, I've shared my RV knowledge in over 300 articles here at The Fun Times Guide! Many of them have over 25K shares.