This post may contain affiliate links. If you buy thru these links, we may earn a commission at no additional cost to you.
---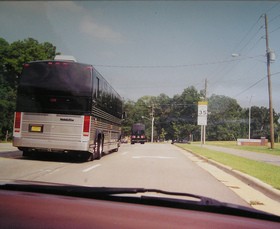 Your Class A motorhome is probably loaded with some really nice features.
I bet the salesman was eager to point out how wide and spacious it is, too.  With a body width of 102 inches, there's no more knocking knees with the person sitting across from you — even when the slideouts are retracted and you're traveling down the road.
The same thing can be said for RV trailers these days as well. Many large luxury units are also built on a 102-inch wide platform.
One thing the salesman probably failed to mention is the fact that in many states your motorhome or RV trailer exceeds the maximum width limit for motor vehicles.  That's right, in most states, anything over 8-1/2 feet wide requires a special oversized load permit every time it will be moved.  That is, unless you live very close to a qualifying interstate highway.  Some states limit an RV's width to only 8 feet wide!
The interstate highway system falls under the control of the U.S. Federal Government.
A number of years ago, it was decided to increase the width limitations on these federally-controlled roads from 8 feet to 8-1/2 feet (or 102 inches).
The reasoning was that divided high-speed roadways are safer, and increasing the width of vehicles would have little impact on accident rates while increasing the flow of materials around the country.
Here's some more interesting U.S. highway history.
The RV industry saw this as an opportunity to make more spacious recreational vehicles and quickly jumped on the bandwagon.  Starting with a few models here and there, eventually it has come to the point where the vast majority of RVs manufactured today are 102 inches in width.
Of course, this is nice for livability, but there still remains the fact that quite a few states legally require these units to only be driven on interstate highways, and to a very minor degree, a short distance on local roads so that they can gain access to the legal interstate.
Difference Laws In Different States
The following states all restrict 102-inch wide vehicles to interstate highways and other designated routes only:
Alabama
Arizona
Delaware
D.C.
Florida
Georgia
Illinois
Kentucky
Louisiana
Maryland
Michigan
North Carolina
West Virginia
This is the most lenient arrangement with states that don't allow full access to the wider platform.  The designated routes are usually those with lanes of at least 12-feet in width.
New Jersey is similar, although they restrict 8-1/2-foot RVs to roads with at least an 11-foot lane width.  New York and Pennsylvania increase your options with lane widths of over 10 feet being legal.  Nebraska states 8-feet wide where posted, with all others roads 102 inches is ok.
Massachusetts and Hew Hampshire add a new twist.  102 inches is legal, but that must include your side mirrors too.  Wide body motorhomes have the body being 102 inches and the mirrors can stick out at least another foot on each side.
How far you can stray from the interstate varies by state.  Louisiana allows a 10-mile radius, while Maryland limits your freedom to 1 mile.  Some states even require you to make personal contact with each individual county to obtain up-to-date width limitations as you venture away from the interstate.
Can You Really Get A Ticket?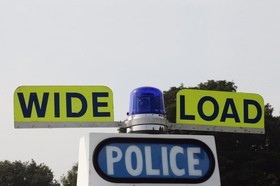 Of course, you might want to take all of this with a grain of salt.  Wide body RVs have been around for over 10 years now, and I've never heard of anyone being cited for an over-width situation with an RV.
Mostly, you should just keep these figures in mind when driving your RV down scenic byways — because your RV is likely to be quite a bit wider than the road was designed to handle.  And if you meet an oncoming vehicle of your size, just be cautious and give the other guy as much room as possible.
To be sure where you stand on the legality of driving your RV in your state, contact your state's Department of Transportation.  Once you make it to the interstate, you're completely legal. And when traveling, if you're west of the Mississippi River, you're legal almost everywhere.
The accuracy of the above info is dependent on ever-changing laws and regulations.  It's your responsibility to verify your local laws.
I've been involved in RVing for over 50 years — including camping, building, repairing, and even selling RVs and motorhomes. I've owned, used, and repaired almost every class and style of RV ever made. I do all of my own repair work. My other interests include cooking, living with an aging dog, and dealing with diabetic issues. If you can combine a grease monkey with a computer geek, throw in a touch of information nut and organization freak, combined with a little bit of storyteller… you've got a good idea of who I am. To date, I've shared my RV knowledge in over 300 articles here at The Fun Times Guide! Many of them have over 25K shares.