This post may contain affiliate links. If you buy thru these links, we may earn a commission at no additional cost to you.
---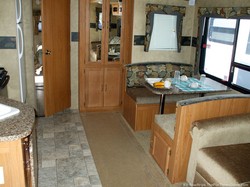 Nothing makes an RV look tacky faster than dirty or stained carpeting does.
Your carpeted floors pay the price for repeated foot traffic form kids, pets, and adults who are constantly bringing in debris and dirt from the outdoors.
While you could enforce the "no shoes" rule whenever someone enters the RV, it's sometimes easier said than done. Plus, being overly-protective of your RV flooring won't make you the most enjoyable person to be around either.
Fortunately, there are plenty of protective items that can make it much easier to keep the outdoor grit & grime from getting tracked through your RV.
The first place to set up your dirt blockade is outside the RV's front door.
Most RV awnings are installed so that the entry door itself is within the shade and protection of the awning.
To further enhance and define your outdoor living room, a good-sized piece of artificial turf carpet will serve 2 purposes:
It will provide a nice place to set up your lawn chairs and get comfortable.
It will also stop most of the dirt from being tracked into your RV.
The next area to address is the steps leading into the RV.
There are lots of different RV step rugs available that will add that extra measure of protection.
A decorative door mat can be added as well.
When it comes to the inside of the RV itself, keep in mind that it's always easier to shake out a throw rug than clean the carpeting.
Many RVers don't travel with a vacuum cleaner on board.  However, when we were full timing, that's exactly what we did.
Rug runners and throw rugs serve double duty by protecting your RV carpeting and keeping your feet warm on a cold vinyl or tile floor in the morning.
Carpet savers and vinyl carpet protectors both do a good job of protecting high-traffic carpet areas from excessive wear and tear. They come in various lengths and can also be cut to size. The best part is you can take it outside, scrub it down, and hose it off repeatedly without any damage. On the downside, it's slippery. So if you're wearing socks (or even barefoot), the possibility of falling is always there. This type of material is especially dangerous when installed on stairs.
Carpet film (or carpet mask) comes on a roll. It has adhesive on one side, so when you lay down a layer of this thin plastic it sticks to your carpet and provides a heavy-duty protective covering day in and day out. Many RV dealers use carpet film or mask to protect the new carpeting in the RVs inside their showroom. With hundreds of people constantly walking through the display models, the carpeting would quickly become stained and dirty without it. Instead, the RV carpet appears fresh and new when the unit is actually sold and delivered to its new owner.
With all of the products available to protect your carpeting, it's easier than ever to keep the inside of your RV looking like new.
I know from experience that replacing the carpeting in an RV can be a real chore — especially if there are slideouts involved. It's to your benefit to make sure the carpeting inside your RV stays as clean as possible, both for your personal enjoyment and for resale value!
I've been involved in RVing for over 50 years — including camping, building, repairing, and even selling RVs and motorhomes. I've owned, used, and repaired almost every class and style of RV ever made. I do all of my own repair work. My other interests include cooking, living with an aging dog, and dealing with diabetic issues. If you can combine a grease monkey with a computer geek, throw in a touch of information nut and organization freak, combined with a little bit of storyteller… you've got a good idea of who I am. To date, I've shared my RV knowledge in over 300 articles here at The Fun Times Guide! Many of them have over 25K shares.