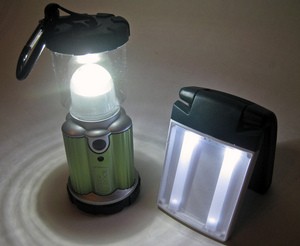 As a fan of outback wilderness camping (often referred to as boondocking), the notion of running a noisy generator all evening just rubs me the wrong way.
RV LED lights will extend your battery life, while providing more than enough light for you to eat supper, read a book, or play a board game.
Why close up shop and go to bed just because darkness has arrived?
LED (light emitting diode) lights produce no heat. They also use far less power to shine.
So, instead of waking up to dead batteries in the morning, just replace your standard incandescent light fixtures with LEDs.  That way, you can go for days (instead of hours) without recharging your batteries!
Here are some sources and different ways to conserve your battery power by making use of LED technology:
It won't take much shopping around to realize this power-saving form of light comes at a price.  Being the latest and greatest innovation, prices for LED replacement bulbs and light fixtures are generally a good bit more expensive than the old automotive bulbs you may be used to.
Are LED lights really worth the expense?  When you consider their increased longevity and the fact that you get almost 10 times the power savings, yes RV LED lights are definitely worth the added expense!
This short video dramatically demonstrates how much brighter and more visible LED taillight assemblies are, when compared to standard equipment taillights:
...