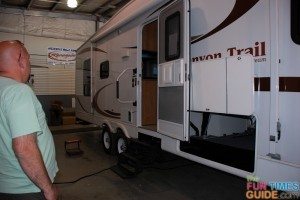 Are you new to the world of RVs and still shopping for the best RV camper, travel trailer, or motorhome that meets your needs?
Or are you a seasoned RVer who enjoys learning everything there is to know about RVs, including how they are manufactured?
Regardless of which one of those best describes you, you probably have a lot of questions about the RV industry and how RVs are made.
By touring an RV manufacturing facility you will find answers to many of your questions.
RV factory tours take you behind the scenes in the RV industry.
There's no better way to see firsthand how an RV is built — from start to finish. You get to watch as an RV is transformed from a bare frame to a finished product.
Free RV Factory Tours
Many RV manufacturers offer factory tours, since it's the best way for them to show you how their RVs are different and why they're better than the others.
The following list shows which RV manufacturers offer FREE plant tours to the general public, along with some links to others' reviews and photos from these factory tours:
Airstream  –  Jackson Center, Ohio
American Coach – Decatur, Indiana
Born Free Motorcoach – Humboldt, Iowa
Country Coach  –  Junction City, Oregan
Crossroads RV – Topeka, Indiana
Excel RVs – Smith Center, Kansas
Fleetwood – Decatur, Indiana
Heartland Recreational Vehicles – Elkhart, Indiana
Jayco – Middlebury, Indiana
Keystone – Goshen, Indiana
Marathon Coach – Coburg, Oregon
Monaco – Coburg, Oregan
New Horizons – Junction City, Kansas
Newmar – Nappanee, Indiana
NuWa Industries – Chanute, Kansas
Redwood RV – Syracuse, Indiana
Roadtrek – Kitchener, Ontario
Thor Motor Coach – Elkhart, Indiana
Tiffin Motorhomes – Red Bay, Alabama
Winnebago – Forest City, Iowa
Before You Go…
Before you head to an RV manufacturing plant to experience a factory tour, check their website first. Some RV facilities only offer tours on certain days or during certain times.
Try to make a reservation whenever possible. That way, you're guaranteed a spot on the tour and can take your time traveling to the factory.
Don't see a particular brand of RV listed above?
That doesn't necessarily mean that they don't over free public tours of the factory. You'll need to contact the manufacturer directly to see if they can give you a tour of their factory. Many offer private tours by appointment only.
Another reason you might not see a particular brand of RV listed here is due to the fact that they're manufactured by someone else. Yes, some RV plants make more than one brand of recreational vehicle. Often, with large RV corporations, you will find several different RV brand names that are all members of that RV family being constructed at the same location. Thor is one example of an RV manufacturer with several brands constructed under its roof.
Finally, there are a number of RV manufacturers that provide virtual tours of the facility online. Some do this instead of opening their doors for public tours, others do so in order to complement their offerings. If the brand you're interested in isn't listed above, check out these virtual RV plant tours. You may find a suitable replacement for a physical tour of the plant. (Hey, a video tour is better than nothing!)
More About RV Factory Tours