This post may contain affiliate links. If you buy thru these links, we may earn a commission at no additional cost to you.
---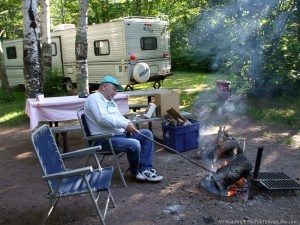 We recently went camping in the Nemadji State Forest.  It's a hot spot in northern Minnesota for RVers who happen to also be ATVers.
Our destination was Garfvert Campground on Pickerel Lake just outside of Nickerson, Minnesota.  It's a campground that is smack in the middle of 143 miles of multipurpose off-road trails provided and maintained by the Minnesota Department of Natural Resources.
Most people are aware of the popularity of ATVs (All Terrain Vehicles) in the desert states where lots of areas have been designated for ATV and offroad recreational use.   Used for running sand dunes or exploring, ATVs provide a fun way to get into many remote areas that would otherwise be inaccessible.
ATVs are allowed in many Bureau of Land Management areas in Arizona and California.  Prospectors and rock hounds often use ATVs in conjunction with their RVs when on the hunt for their next treasure.
In northern Minnesota, and even moreso in northwest Wisconsin, the states have set up trail systems granting access to many thousands of acres of forest land to the public for use by offroad vehicles.
Here are tips for OHV riding in Minnesota.
These days, most states have established ATV trails for public use:
With the popularity of toy hauler RVs, ATVing is growing rapidly among RVers.  People of all ages can bring their toys with them, and ride all weekend long!
ATVing At Nemadjii State Forest
The Nemadji State Forest where we stayed consists of 96,270 acres. It was created in 1935. The ATV trail system is complete with road signs, warnings for hazardous areas, and there are even shelters provided in numerous places throughout the trail system.
Not all trails are open to all types of vehicles. Each trail is marked indicating which class of off-road vehicles are permitted.
Even better, maps are provided at no charge that detail where the trails lead and what's allowed on each trail.  These maps can be found at the registration booth for the campground.
During our weekend stay, we saw standard sized ATVs, large 2-passenger side-by-side ATVs like the Polaris Ranger, and many 2-wheeled offroad motorcycles.
The one thing they all had in common is family involvement.  We saw machines sized to fit each member of the family.  Dad and mom got the big one, while the teens rode middle sized ATVs.  The youngsters of the group had even smaller machines.
Riders made every effort to go slowly through the campground area and the large group of ATVers that was camped across the road from us even pushed their machines by hand from their camping spot out onto the road.  When they did start their ATVs, they immediately left the area — which helped to minimize  the noise and the dust.  They were a very thoughtful group of young people that took other campers' comfort into consideration.  A big thumbs up to them.
Although Minnesota only has a few places that cater to ATVing RVers, they do a good job of covering both parts of the experience in those locations.
Here's what ATVing in Nemadji State Forest is like.
Camping In Nemadjii State Forest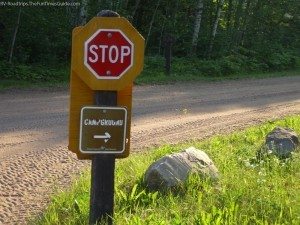 The Garfvert campground is primitive, private, and very woodsy.  Camping is limited to only 18 sites.  The amenities include outhouse toilets and potable water provided through old-fashioned hand pumps.  Generators are allowed since no electricity is available.
With rules in place to reduce both dust and noise, it's an enjoyable place to camp even for those who aren't here for the ATV activities. The area is well patrolled by park rangers throughout the day.  They're doing their part to ensure that the posted rules are observed.
This particular campground has few empty sites on most weekends.  Since it's first come, first served, it pays to arrive early in order to secure your spot.
The campers we saw included everything from tents and mini-homes to Class A motorhomes and travel trailers.  Our immediate neighbors were a middle-aged couple in a 36-foot travel trailer.  Yes, you'll find campsites capable of handling good sized rigs here.
An RV Toy Hauler Is A Necessity
If you have an RV and an ATV, then you'll need an ATV hauler or a toy hauler.
Rigs that would work well for this kind of weekend activity would be toy haulers, cargo/camping trailers, and even fifth wheels pulling ATVs on a second trailer behind them.  That's legal in Minnesota, though it isn't allowed in all states.
Many RVers have pickup campers, allowing them to easily pull a toy trailer or boat behind them.
Some of the most popular toy haulers:
Multi-use parks and campgrounds are a great way to bring people with varied interests and hobbies together.  Say hi to your neighbor and learn something new at the same time!
I've been involved in RVing for over 50 years — including camping, building, repairing, and even selling RVs and motorhomes. I've owned, used, and repaired almost every class and style of RV ever made. I do all of my own repair work. My other interests include cooking, living with an aging dog, and dealing with diabetic issues. If you can combine a grease monkey with a computer geek, throw in a touch of information nut and organization freak, combined with a little bit of storyteller… you've got a good idea of who I am. To date, I've shared my RV knowledge in over 300 articles here at The Fun Times Guide! Many of them have over 25K shares.