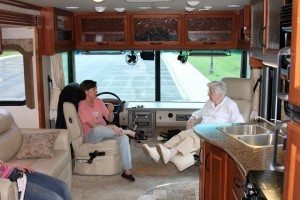 Direct sunlight will fade a set of RV captain's chairs quicker than anything.
That beautiful panoramic RV windshield distributes the sun's ultraviolet rays directly where you sit.
Believe it or not, RV windshield covers and sun shields actually do work.
By neglecting to use a window shade of some sort, you're letting the sun do irreparable damage to your RV seats. And trust me, it will happen in a surprisingly short period of time!
Does this mean you're stuck, dealing with a tacky looking driver's compartment?
No. You have a number of options to make your RV interior look fresh and new again.
Here are some good options…
Seat Covers For RV Captain's Chairs
Captain's chair seat covers are widely available. There are a variety of automotive seat covers to choose from — ranging from something close to what was originally installed on your RV seats to a variety of decorator styles.
Sheepskin RV seat covers are a popular option for frequent travelers and fulltime RVers.  In hot weather, not sticking to a vinyl seat is a big plus!
Low-cost RV seat covers can also be found at a variety of aftermarket sources, if you want to dress up an older RV at a very reasonable price.
RV Seat Enhancements
Being comfortable while you travel is what it's all about.  Being stylish at the same time is an equally important part of the package.
Fortunately, there are lots of different options available for you to choose from!