This post may contain affiliate links. If you buy thru these links, we may earn a commission at no additional cost to you.
---
If I had worked from a fall RV maintenance checklist when I winterized my RV, I wouldn't have needed a new fitting for the outdoor shower faucet this spring!  (I forgot to drain it — because it was out of site, out of mind.)
How often have you overlooked something that came back to bite you in the backside, when it comes to breaking camp or working on your RV?
All it takes to eliminate any chance of forgetting something, is a simple checklist.
The Best RV Checklists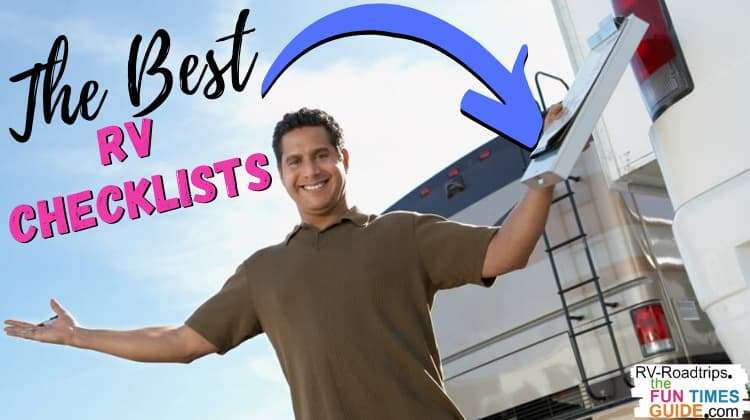 Check out All The Best Checklists For RVers.  It includes everything from campsite departure checklists to inventory checklists — so you don't leave home with only 1 roll of toilet paper!
The one I needed was the winterization checklist.  Relying on my memory is always a mistake.  I got off lucky since a new fitting was only a couple dollars.
However, without a checklist, you could be out much more than that!  Say, if you forget to lower the TV antenna before driving off from from your secluded campsite in the woods… you'll spend closer to $200 to replace that antenna!
Next fall I will have my maintenance checklist in hand.  I know how to winterize my RV water system, I just don't want to forget anything.
By the way, this video takes you through the process of winterizing your RV.  You can use it to make up your own maintenance checklist so you don't forget the outdoor shower like I did:
How to Winterize a Class C Motorhome
RELATED: How To Winterize An RV Better Than An RV Dealer Would!
RELATED: The Ultimate RV Maintenance Checklist For Spring
I hope that you find these RV checklists helpful!
I've been involved in RVing for over 50 years — including camping, building, repairing, and even selling RVs and motorhomes. I've owned, used, and repaired almost every class and style of RV ever made. I do all of my own repair work. My other interests include cooking, living with an aging dog, and dealing with diabetic issues. If you can combine a grease monkey with a computer geek, throw in a touch of information nut and organization freak, combined with a little bit of storyteller… you've got a good idea of who I am. To date, I've shared my RV knowledge in over 300 articles here at The Fun Times Guide! Many of them have over 25K shares.