This post may contain affiliate links. If you buy thru these links, we may earn a commission at no additional cost to you.
---
Ah, the multicolored splendor of the changing seasons… what a great time to explore some new territory!
Fall — when the leaves turn to gold, orange, and red — is a short window of opportunity that only comes once a year.  With leaves drifting in the cool breeze, this is when you want to be outside enjoying nature's beauty.
The colors are at their most vibrant from September all the way to November — starting in New England and Minnesota first toward the end of September, and proceeding down throughout the Southeast by mid-November.
The Weather Channel maintains a map of current foliage conditions, making it easy to plot your course through some pretty terrific parts of the country — by RV.
Right now Minnesota, along the North Shore of Lake Superior is getting ready to come into full color.  The circle route around the big lake is a 3-day tour with lots to see and do.
All along the way, you'll find plenty of quality campgrounds and lodges, you may even run into a festival or two as you go. The Bayfield Apple Festival in Wisconsin takes place early October. Anything and everything apple will be served up in style.
The Skyline Drive through the Shenandoah National Park in Virginia is a 2-day journey that should be on everybody's must-see list.  The Blue Ridge Mountains are steeped in the history of our country.
You could even continue on down through the Appalachian Mountains and the Great Smoky Mountains through North Carolina and Tennessee as long as you're headed that way.
It's been 30 some years since I've been through those mountains and small towns of Virginia.  Big Stone Gap, a small mining town back in the hills, is home to a good friend and I really enjoyed trips back to his small hometown when we were in the service together.
In New York state, the Adirondack Mountains are a great place to visit to see gorgeous Fall colors.  With 46 high peaks, and over 6 million acres, you can find all kinds of activities and places to see in your RV.
Early October is prime time in the Rocky Mountain states for enjoying the Fall foliage. I-70 from Grand Junction heading east to Grand Mesa, following the Colorado River, is bright gold as the Aspen trees change.  It's a short but splendid window of opportunity to see Aspen and the Rocky Mountains before they become the winter ski capital of the world.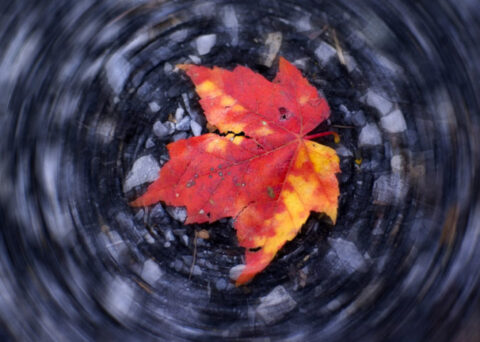 So, before you encase your RV in its winter storage, and before you head for the deserts of the Southwest for the winter… now is the time to take advantage of the most beautiful time of year.
Drive somewhere fun — like down a narrow country lane.  Experience the crunching of leaves under your tires as you drive through a multicolored storm of foliage as the leaves drift down to earth in the cool breeze of autumn, letting us know that winter is soon to follow.


More Fall Foliage Tours & Tips
I've been involved in RVing for over 50 years — including camping, building, repairing, and even selling RVs and motorhomes. I've owned, used, and repaired almost every class and style of RV ever made. I do all of my own repair work. My other interests include cooking, living with an aging dog, and dealing with diabetic issues. If you can combine a grease monkey with a computer geek, throw in a touch of information nut and organization freak, combined with a little bit of storyteller… you've got a good idea of who I am. To date, I've shared my RV knowledge in over 300 articles here at The Fun Times Guide! Many of them have over 25K shares.