This post may contain affiliate links. If you buy thru these links, we may earn a commission at no additional cost to you.
---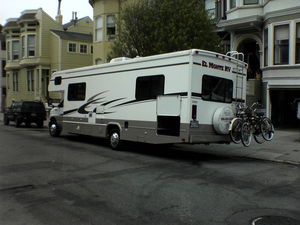 Are you planning your next RV outing?
Have you taken into consideration your RV weight limitations?
The excitement of planning an RV trip often overshadows any overload concern.
This frequently becomes an issue when you start trying to take everything including the kitchen sink with you!
Unfortunately, there are huge safety issues when you're driving around in an overloaded RV.
Here's what you need to know about RV weight issues, plus how to find a truck scale near you…
Too Much Stuff
Packing too much stuff is completely understandable.  We've all done it.
Making sure that you have the kids' bicycles, swimming toys, outdoor cook stoves, gas grills, and lawn chairs for everyone can easily seem more important than what all that stuff weighs.
However, for the safety of your family, you really need to limit the number of things that are brought onboard your RV for each trip.
Paring down your possessions is even harder for full time RVers than it is for the occasional RV traveler.  I know, because my shed out back is still filled with stuff I hauled all over the country and never used.
RV Weight Issues Are Serious
Unfortunately, most RVs (especially travel trailers) are engineered right to the fine line when it comes to weight.
By the time your waste tanks are filled, there may be very little capacity left for personal possessions like clothes and kitchen items — without your RV technically being overweight.
That's right.  Depending on your RV, you may be restricted to a just few hundred pounds of cargo.  Going beyond the gross combined weight rating (GCWR) can lead to mechanical failure, or worse: accidents!
An overweight RV doesn't turn properly, doesn't take bumps properly, doesn't stop properly, and is more susceptible to crosswinds and swaying.
How To Weigh Your RV
The only true way to know your actual RV weight is to go to the nearest truck scale and have it weighed.  Truck scales are found at most truck stops and travel centers.
It will only cost you a couple bucks, but the peace of mind will be priceless.
This video shows how easy it is to weigh your RV (or commercial truck) on a Cat Scale:
https://www.youtube.com/watch?v=TrIz9tlDiQQ
This video shows the weigh-in process from the point-of-view- of driver:
I've been involved in RVing for over 50 years — including camping, building, repairing, and even selling RVs and motorhomes. I've owned, used, and repaired almost every class and style of RV ever made. I do all of my own repair work. My other interests include cooking, living with an aging dog, and dealing with diabetic issues. If you can combine a grease monkey with a computer geek, throw in a touch of information nut and organization freak, combined with a little bit of storyteller… you've got a good idea of who I am. To date, I've shared my RV knowledge in over 300 articles here at The Fun Times Guide! Many of them have over 25K shares.