This post may contain affiliate links. If you buy thru these links, we may earn a commission at no additional cost to you.
---
Nothing would ruin your day faster than the instant you realized that your RV was too tall to fit below the bridge you just went under.
Every state is different as to whether they mark the height of bridges or not.
Some clearly label their bridges and low overpasses well in advance — so you have the opportunity to take an alternate route around.  However, not all states are this thoughtful. Some give no indication at all that the bridge you're approaching is 6 inches too low to clear your RV's rooftop!
When it comes to interstate bridges, they are designed to clear semi trucks which are limited in height to be under 13'- 6".  But here again, each state may be different:
Most states don't require Oversize Load permits for vehicles and loads that are under 13'-6".
The interstate bridges in some states are higher at 14'.
A few states allow loads up to 15' to run their highways.
RV Bridge Heights
There is one common factor in all states.  You, the driver, are responsible for making sure you will fit under the bridge.
The low clearance height that is posted on the sign is not written in stone.  Many times, the road has been repaved, lowering the clearance by 2 inches or more!  And if you hit the bridge, it's still your fault, even if the sign is inaccurate.  When this Texas truck hit a bridge in Manhattan, you can bet the driver's day was pretty much ruined.
Once you get off the interstate system, all rules go away.  I've seen small city bridges as low as 10' — easily low enough to take the air conditioner off most RV travel trailers!
When it comes to most gas station canopies, they usually have at least 14' of height to their canopies.  However, banks, fast food restaurants, and many other businesses usually didn't get the memo about providing enough clearance for large RVs.
Bank ATMs Are Off Limits

Don't even think about pulling up to a bank's ATM machine!
You could easily end up like this guy who brought his fifth wheel to the bank.  Unfortunately, the RV trailer was too tall… and all came tumbling down.
Here's a video of the accident as it happened:
Bank low clearance for fifth wheel
Now, check out photos of the damage afterwards:
How Not To Use The Drive Through ATM PHOTOS!
Who's At Fault?
The most important thing to remember is:
Regardless of how it came to be that you hit something you were going under with your RV, it is automatically your fault.
You will be responsible for the damage you create, as well as the damage to your RV.  Typically, the damage will be extensive.
11Foot8 Bridge 2018 Crash Compilation
What's Your RV's Clearance Level?
Here's one way to help you remember to watch for low clearance areas:
1. Get on top of your RV and measure from the highest rooftop item to the ground.

2. Take a blank label and record this measurement.

3. Stick the label in the top left corner of your windshield (on the inside).
That way, you won't have to rely on memory when you notice an unusually low bridge ahead of you, because your RV's height is right there in front of you.
Keep in mind, if later on you add that self-searching satellite dish to your RV's rooftop, it may very well become the new highest item on the roof.  In that case, be sure you take a new measurement!
A Word Of Advice…
Don't rely on the heights that are listed in your RV's user manual.  For that matter, you can't rely on information provided on RV manufacturer websites which provide vehicle specification charts either.  Why not?  Because they don't take accessories into consideration.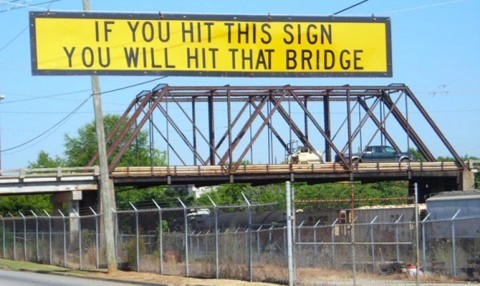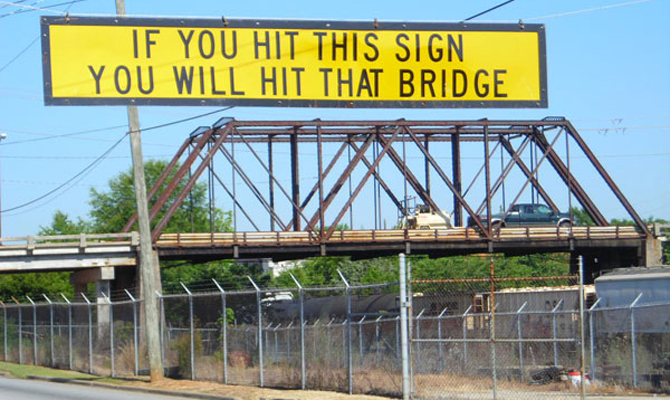 The only true measurement is the one you take yourself.
When I was hauling freight cross country, I actually came to a complete stop on a freeway in Texas.  The bridge was labeled within an inch of my load.  I cleared it okay, but I needed to very slowly inch my way under it with the 15' high load I was hauling.
So, if you must go under a questionable bridge, do it at an absolute crawl — ideally, with someone in a position to see exactly whether you'll clear it or not.  If you can't do it safely, just go a different route — no matter how many miles out of your way it takes you.
For the record, there are some RV width issues as well.
I've been involved in RVing for over 50 years — including camping, building, repairing, and even selling RVs and motorhomes. I've owned, used, and repaired almost every class and style of RV ever made. I do all of my own repair work. My other interests include cooking, living with an aging dog, and dealing with diabetic issues. If you can combine a grease monkey with a computer geek, throw in a touch of information nut and organization freak, combined with a little bit of storyteller… you've got a good idea of who I am. To date, I've shared my RV knowledge in over 300 articles here at The Fun Times Guide! Many of them have over 25K shares.