This post may contain affiliate links. If you buy thru these links, we may earn a commission at no additional cost to you.
---
One of the biggest concerns these days when shopping for an RV is what the cost of fuel is going to do to your travel budget.
This past summer I learned the hard way that attempts to reduce the cost of RV travel can backfire, resulting in less comfort and a much less enjoyable RV experience.
First, I will explain that I am retired. I can travel any time… for as long as I wish. These things will impact what is the most practical RV for my situation.
Your situation may be totally different, limiting what kind of RV is most practical for you.
The Goal: To Improve RV Gas Mileage
I started the summer with a 30-foot motorhome.
In reasonably good condition, it was comfortable enough to travel in. The downside was that it averaged about 9 to 10 MPG, at best.
Making a long cross-country journey was something I had to save and plan for, because filling that 65-gallon fuel tank cost well over $200 and only got me about 600 miles down the road.
Due to this expense, my motorhome got very little use over the past 3 years.
It was time for it to go. It sold quickly, and the replacement RV was soon chosen.
I decided to reduce the luxury in hopes of improving fuel economy.
My Gas Mileage Experience With A Smaller RV
I chose a small 13-foot travel trailer that, though small, had all the creature comforts of larger RVs.
At the time, I had a new Dodge Caravan that, as per the owner's manual, should have been adequate to handle the 2,300-pound load of the small travel trailer.
It took only one trip of 50 miles to realize the load of this little trailer was too much for the Dodge. The mileage dropped from about 25 (solo) down to the very low teens (with the trailer). The performance was so poor, I knew it would severely affect the longevity of the Dodge's running gear.
After careful consideration, and checking all manufacturers' tow ratings, I bought a used Jeep Cherokee with a slightly larger engine and a factory tow package. Solo it averaged in the mid-20's for mileage, so I expected it to handle the small RV trailer with ease.
We headed off on a week-long vacation with our new, much smaller, RV. It was crowded for 2 people and a couple of small dogs. Comfort had taken a hard hit in our downsizing. Yes, it had all the normal amenities, but you could run into yourself just turning around in such a small space.
The real story was told after just a few tanks of gas.
My effort to save money had been for naught. This supposed economy RV combination only achieved about 10 MPG. The exact same cost as the 30-foot, more comfortable, motorhome I had just sold.
Making matters worse, during periods of any kind of wind I had to lock out overdrive, reducing my effected speed to a max of about 60 MPH. Freeway travel just didn't feel comfortable — both for the amount of effort required to maintain speed and overall handling.
Finding we had lost way more than we expected and gained nothing in terms of economy, our little RV trailer made one trip and was sent packing.
My Gas Mileage Experience With A Larger RV
Late this fall, I stumbled upon another motorhome within my modest budget.
This time, we upgraded to complete luxury.
It's 37 feet in length, and constructed to last a lifetime. It's a big diesel pusher with low mileage and a chassis constructed to last a million miles.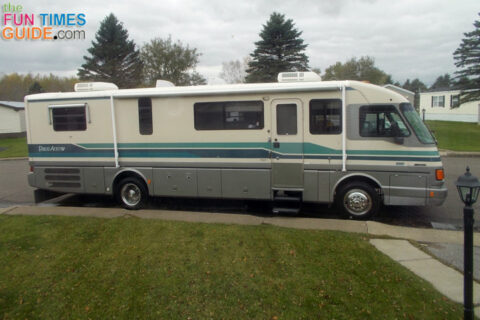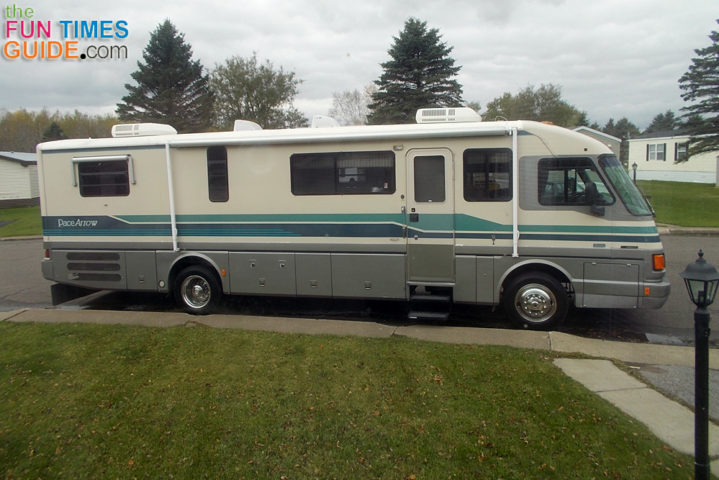 I've had more expensive motorhomes, but none built to this level of quality and luxury. Sure it's 20 years old, but its history and good maintenance — combined with its low mileage — means I'll never come close to wearing this RV out.
So back to square one. This diesel motorhome is much larger, much heavier, and diesel fuel is more expensive.
The surprising fact that makes it work is that it still gets about 10 MPG running down the highway.
Balancing RV Gas Mileage With Comfort & Luxury
In the end, I've upgraded in comfort and will be no worse off in terms of fuel economy. I will just change my travel tactics to adjust to the expense.
Since I don't have to be anywhere within a specific period of time, if my budget can only accommodate $500 a month for fuel, I will go slower, stop more often, and stop longer.
I usually spend the night wherever I can park for free. I will just stay longer, so that I can stretch the time period between fuel stops. When the Social Security check comes, top off the tank and off I go! A long RV trip may cost me most of $2,000, but if it takes 4 months to do it, it still only amounts to $500 a month for fuel.
At least for me, the trade-off between luxury and fuel economy just wasn't worth the effort. RV travel is only fun when it's done in an expectable level of comfort.
Must Read: Tips For Stretching Your RV Fuel Dollars
I've been involved in RVing for over 50 years — including camping, building, repairing, and even selling RVs and motorhomes. I've owned, used, and repaired almost every class and style of RV ever made. I do all of my own repair work. My other interests include cooking, living with an aging dog, and dealing with diabetic issues. If you can combine a grease monkey with a computer geek, throw in a touch of information nut and organization freak, combined with a little bit of storyteller… you've got a good idea of who I am. To date, I've shared my RV knowledge in over 300 articles here at The Fun Times Guide! Many of them have over 25K shares.