This post may contain affiliate links. If you buy thru these links, we may earn a commission at no additional cost to you.
---
Want more RV awning shade?
In my case, having 400 watts of solar on the roof of the RV gives you plenty of electricity. But the downside is you need to park in full sunlight to make the best use of your solar power.
The RV awning will help some. But as the sun shifts throughout the day, you have to constantly move your chairs to keep within the confines of that small patch of shade from the awning.
Adding a shade tarp to expand your awning will:
Greatly improve the livability of your outdoor space.
Reinforce the awning a bit, should modest amounts of wind or rain suddenly appear.
By using a 90% sun blocking shade tarp, a few spring clamps, a handful of tent stakes, and some rope, you can create a private living space much greater in size than your awning!
Here's how to do it…
Choose The Right Shade Tarp
Sun shade tarps come in a number of sizes and qualities.
Always choose 90% sun blocking tarps. Anything less will not create the desired shade space. Sunlight will go through a 60% to 70% shade tarp like it isn't even there!
TIP: If you don't have access to a 90% sun shade tarp, you can use an inexpensive canvas tarp. However, I don't recommend a canvas tarp — because the weight of the tarp may be too much for the awning, in the event of wind.
You also want a shade tarp with reinforced grommets along one side, for the reasons below.
How To Make Your Own RV Awning Room
Use spring clamps to secure the tarp to the RV awning.
Use rope down to tent stakes to secure the corners of the awning.
Use additional tent stakes to secure the shade tarp to the ground.
Once you have the shade tarp in place and staked down, run a length of rope across the RV awning — attaching it so that it crosses the awning twice.
Secure the rope — just snug enough to prevent the awning fabric from whipping in the wind. Too much tension may damage the fabric or distort the awning framework (so it won't store properly when retracted).
After you've set up your RV awning room for additional shade once or twice, you will be able to do it with ease in about 10 minutes.
In the event of sudden bad weather, removing the shade tarp from the awning takes only about 3 minutes.
In this video, I'm showing the steps involved to make your own RV awning room using a 90% sun blocking shade tarp:
An Easy Way To Double The Amount Of Shade Your RV Awning Provides... Make Your Own RV Awning Room!
The Bottom Line
Outdoor living is all about comfort.
The additional shaded space that a sun shade tarp creates will almost double the shade provided by your awning alone.
And usually there's a nice cross-breeze, keeping the space comfortable when sitting out in the direct sunlight just isn't an option.
TIP: Any time you use your RV awning, caution is the rule — because an awning is a rather fragile apparatus. You should never leave an extended awning unattended. Why not? That surprise hail storm that passes by while you're in town could have you in the same fix that a good friend of mine experienced earlier this summer in Oregon. He was only gone for an hour or so. When he arrived back at his trailer, he found the weight of the hail collapsed and destroyed his RV awning!
Remember to err on the side of safety and never leave your extended awning unattended.
Like this post? Save it to read again later… or share with others on Pinterest!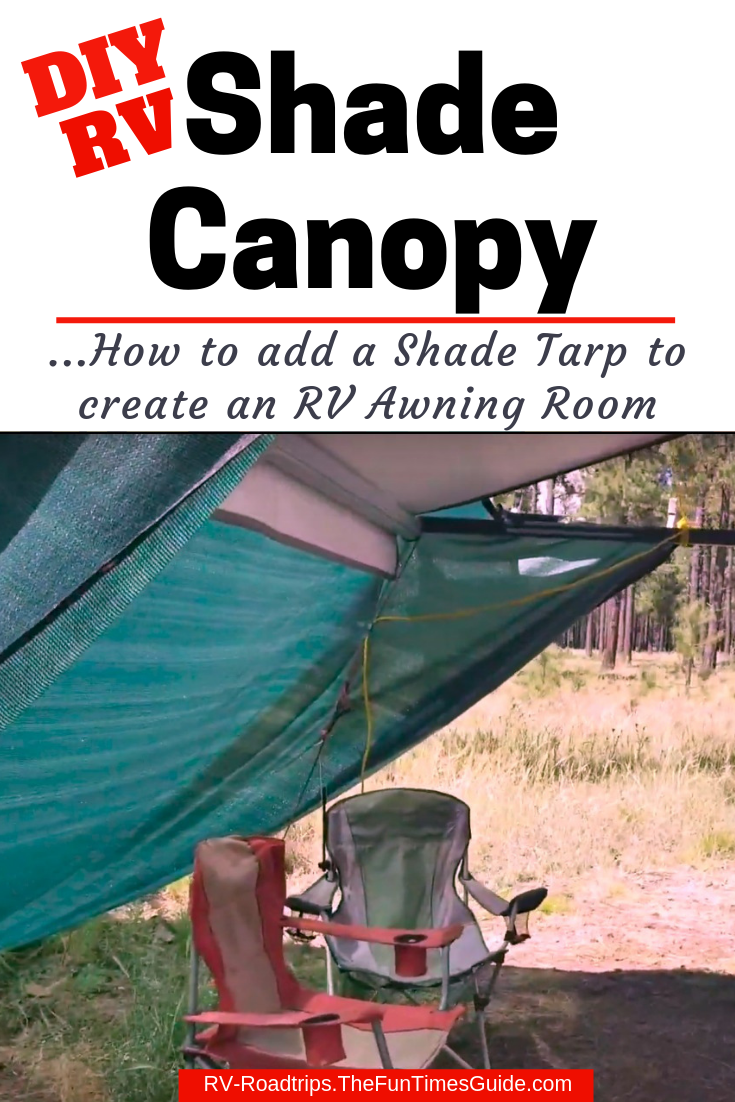 I've been involved in RVing for over 50 years — including camping, building, repairing, and even selling RVs and motorhomes. I've owned, used, and repaired almost every class and style of RV ever made. I do all of my own repair work. My other interests include cooking, living with an aging dog, and dealing with diabetic issues. If you can combine a grease monkey with a computer geek, throw in a touch of information nut and organization freak, combined with a little bit of storyteller… you've got a good idea of who I am. To date, I've shared my RV knowledge in over 300 articles here at The Fun Times Guide! Many of them have over 25K shares.