This post may contain affiliate links. If you buy thru these links, we may earn a commission at no additional cost to you.
---
Do you know the top 10 must-have RV tools that you should carry with you at all times?
Breakdowns on the road with an RV of any style can ruin your trip in a big hurry. The simplest thing can leave you stranded and searching for answers in the middle of the night.
However, if you have just a few simple tools (and a smidgen of mechanical ability), then you can quickly overcome most mechanical issues and continue on your way!
Recommending the perfect tools for every situation is difficult, because your rig is ultimately the determining factor for which tools you need in your RV tool box.
At a bare minimum, these must-have RV tools should be in every RV tool kit!
10 Must-Have RV Tools
These are the basic tools that you should always keep inside your RV:
#1 – A multimeter for electrical problems
This is the most important tool you can have!
Looking at fuses just isn't good enough. You need to know if current can actually pass through the fuse, and (most importantly) if voltage is really present.
Even in the heat of a summer camping trip, the temperatures can drop drastically when the sun sets. Keeping you and your loved ones warm in the tent overnight can be done with the proper sleeping bags, blankets, insulated tents, and even portable heaters. Any electrical problem can be traced with a good multimeter. Anything less is just guessing — and could lead to the expensive mistake of changing perfectly good parts.
These will satisfy the needs of most RVs. However, large diesel pusher coaches have commercial truck running gear — so to manually change a tire on one will require a torque multiplying lug wrench.
While you may think that you will never be changing an RV tire because you have Roadside Assistance, keep in mind that there are areas where you may have to wait many long hours for assistance to arrive!
And if you like to boondock, most Roadside Assistance plans limit their services to the actual paved roadside. So being 5 miles in on a Forest Road may leave you spending some really big bucks for Off Road Recovery Services — if you don't have the tools to change an RV tire yourself!
#3 – A good basic set of socket wrenches — both ⅜" drive and ½" drive
It would be smart to include a couple socket extensions and deep sockets, too.
You will need both metric and SAE sets — because most RVs have a mixture of both styles of fittings and bolts.
Water fittings will require 2 tools to tighten:
One to hold
The other to turn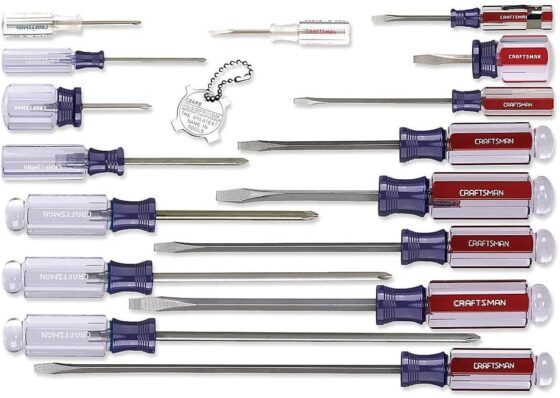 Screw drivers are not only used to tighten screws, you know. They can also be used as a pry bar, or even a wedge at times.
Trust me, a large flat screwdriver used as a pry bar will likely save the day at some point!
You might be surprised to see this on a list of must-have RV tools — but something as simple as a tiny loose screw on your eyeglasses can be a real big problem when you're out in the wilderness!
Again, both metric and SAE are recommended.
#9 – A strong nylon tow strap (sized big enough to match the weight of your RV)
A tow chain would be a second choice — because a nylon strap will stretch and have a "snatching" action that can get you out of places where a chain may not do the job.
Got a taillight out, or a clearance light that lost its connection?
Wire crimpers and a butt splice can get you all lit up in no time!
The Bottom Line
These are just the basics for an RV tool kit. But if you're like me, then going overboard is a good thing when it comes to tools!
Granted, you can't bring the whole garage with you — but having enough tools to take care of most easy issues that could pop up just makes good sense.
If there was one other tool that I haven't mentioned I guess it would be a good stout hammer — because everything needs a little "persuasion" at some point. Whether you're staking down your canopy, or just throwing in a fit of rage, nothing beats the heft of a good-sized hammer!
6 RV Tool Boxes In Various Styles
Need some RV tool box ideas to round out your full time RV tool list? Start here:
#1) Under Step RV Storage Box – super easy to install under your RV stairs.
#2) Aluminum RV Tool Box – available in black or silver, with a rubber weather-tight seal to resist dust and water.
#3) Under Body Flatbox Tool Box – has a weathertight seal and drop down door, giving you full access to the box.
#4) Diamond Plate Trailer Tongue Storage Box – available in black or silver, it's easy to assemble and can be carried from one place to another.
#5) Poly Plastic Triangle Trailer Box – the perfect fit for trailer tongues.
#6) Dewalt Deep Tool Box – includes removable interior tray and heavy-duty metal latches & hinges.
Here's a checklist to get your RV unstuck… in case the RV gets stuck in mud, sand, grass, or ruts!
Like this post? Save it to read again later… or share with others on Pinterest!
I've been involved in RVing for over 50 years — including camping, building, repairing, and even selling RVs and motorhomes. I've owned, used, and repaired almost every class and style of RV ever made. I do all of my own repair work. My other interests include cooking, living with an aging dog, and dealing with diabetic issues. If you can combine a grease monkey with a computer geek, throw in a touch of information nut and organization freak, combined with a little bit of storyteller… you've got a good idea of who I am. To date, I've shared my RV knowledge in over 300 articles here at The Fun Times Guide! Many of them have over 25K shares.