This post may contain affiliate links. If you buy thru these links, we may earn a commission at no additional cost to you.
---
So, if you're a fulltime RVer, where do you vote?
In the state where I live (Tennessee), this is a very hot topic right now.
As you know, you have to claim a permanent place of residence in order to obtain a valid drivers license to drive an RV.
However, despite the fact that many RVers hold a driver's license and register their vehicles in a particular state, they otherwise have no permanent presence in that state.
Therein lies the controversy.
Mail forwarding companies act as both a legal address for use on driver's license, federal & local taxes, vehicle registration, voting, insurance and more. Source
RV Voters' Rights
In Cleveland, Tennessee full time RVrs were kicked off the voting rolls.
That's because people are registering with 3rd party companies to forward their mail to them — yet the RVer doesn't even have to step foot in the state.
A total of 286 people who live full-time in their recreational vehicles were dropped from the voter rolls in one Tennessee county over the past 2 years because they did not have a genuine home address, only a mailbox. That has left them unable to vote in national or local elections.Source
Listen to the full story on NPR.
A similar controversy arose in New Hampshire. Here's some of the discussion: Should Non-Resident Taxpayers Get To Vote?
UPDATE: RVer's right to vote restored in Tennesse!
As summarized by Technomadia, "Giving up your physical home in no way takes away your government representation – you still get to vote!  Your legal domicile address now serves as your address to register to vote if you choose to. Of course, you likely won't be showing up in person, so you'll need to make arrangements in advance to get registered, and get an absentee ballot in plenty of time for any elections you want to participate in."
If you think this isn't all that big of a deal or a very important issue, check out how the RV vote affected the 2004 Senate race.
Okay, so a few related questions come to mind next:
Choosing A Permanent Address
There are number of things to consider when choosing a permanent (legal) address that you will use while traveling fulltime in an RV:
Once you decide on the state that's best for you, you need to pick an RV mail forwarding service to handle all of the correspondence you receive while you're traveling.
Following are some of the most popular mail forwarding companies that cater to RVers.
Take the time to read their helpful FAQs — because you'll learn a lot about the nuances of registering in those respective states.
RV Mail Forwarding Companies
Mail Forwarding Companies… With A Twist!
There are a handful of RV mail forwarding companies that offer a rather unique service to RVers.
They will open your mail, scan it, and email it to you as a PDF. You pay a nominal fee for the specific pieces of mail that you want them to physically mail to you.
 Here's a simple comparison of RV mail forwarding companies.
More About RV Voting & Mail Forwarding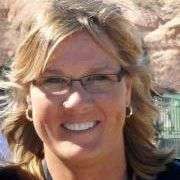 Over the past several years, I've been involved with transporting RVs, renting RVs, and fulltime RVing (months at a time). I'm fortunate to have had a number of different RVs available to me to try out — which has enabled me to experience the nuances of RVing firsthand. When I'm not RVing, you can find me at the corner of Good News & Fun Times as publisher of The Fun Times Guide (32 fun & helpful websites).