---
This post may contain affiliate links. If you purchase through these links, we may earn a small commission at no additional cost to yourself.
---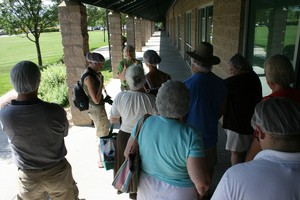 So you've been to the Grand Canyon, experienced Yellowstone, driven the Smokey Mountains, what's next?
Traveling by RV is definitely a great way to see the natural beauty of the country.  Along the way to these scenic wonders, you're also passing many interesting and educational opportunities that you may not have noticed.
Dotting the highways across the USA are factories and processing plants that are worth their weight in gold.  If you ever get the chance to stop and visit, you should!
Here's a list of RV factory tours.
Manufacturing, agriculture, and food production factories are what make our economy grow and prosper.  Many of these fascinating operations provide public tours that allow you to see just how things are made and eventually sold in neighborhood stores.  Just as interesting are Visitor Centers, Hall of Fame locations, and other national museums.

Here are some factory tours and museums worth considering for your next RV road trip…
Maybe you're wondering where your next RV vacation or road trip might take you.  Why not get a little hands-on by taking in a factory tour or visiting a museum or two?
With today's fuel costs, making the most of the miles you drive by planning activities along the way just makes good sense.
All it takes is a little advanced planning and you can set up your RV travels to include a number of interesting factory tours, hall of fame centers, and museums along the way.
The whole family will enjoy learning about the wide variety of products and activities taking place across this beautiful country of ours!
What To Expect On Factory Tours
Factory tours are usually free and can provide a learning experience that will take you on a trip down memory lane, while inspiring our future generations as to the possibility the world presents for them.
At some factory tours, you walk the entire way. At others, you ride a tram or trolley through the facility or its grounds — great for kids and those who cannot walk long distances. At some factory tours, there is a tour guide who leads you through the facility. At others, you're completely on your own to embark on a walking tour with the provided guidebook or personal audio headset.
You will be expected to abide by certain precautions when touring factories. For example, many will require you to wear safety glasses or hard heats to protect you from possible injury.  Food processing plants may require hair nets to prevent contamination to the products being produced that day. Sometimes, cameras are allowed, sometimes they're not.
At some factory tours, you get to walk right up to the product being made (like at the Jack Daniels Distillery in Lynchburg, Tennessee). At others, you're given a unique behind-the-scenes view of the processing plant from behind Plexiglas walls.
For instance, a cheese factory my wife and I toured in Wisconsin had Plexiglas panels erected to separate visitors from the actual processing area, yet we could see almost everything there was to see!
Factory tours can range from the expected to the bizarre.  I mean, who would think that you could tour a pet casket manufacturing plant in Gladstone Michigan?
Before You Go…
Factory Tours U.S.A. is the best website for scoping out factory tours that are truly worth visiting. It includes the complete details for most factory tours across the country — all in one convenient location.
It's definitely in your best interest to check a website like Factory Tours USA first, or visit the specific company's website directly for details, or even learn about a wide variety of factory tours in books ahead of time.
Try to find out all the specifics
before
you plan your trip, like:
Are cameras allowed?
What about video cameras?
Is the tour geared toward children in any way?
How much walking is involved?
How long will the entire tour take?
Knowing these things ahead of time will ensure that you've chosen a factory tour that will accommodate (and entertain) everyone in your party. Plus, it will save you the embarrassment of being turned away at the gate if you happen to arrive on a day that they're closed, or after the tours have been completed for the day. Not to mention the fact that factories sometimes close and/or stop tours altogether during different times of the year.
Free Samples!
One nice thing about factory tours is the fact that
many provide free samples
at some point in the tour. This is especially enjoyable when you're touring a food plant! (Who doesn't love free food?!)
This was the case when my wife and I toured a chocolate candy plant outside of Las Vegas, Nevada.
Factory gift shops are another great place to pick up some of the products you've just seen being made. It's a great way to relive the tour when sharing the highlights with others later.
Here's a great list of food factory tours.
Visitor Centers & Museums
Some manufacturing companies prefer to maintain Visitor Centers rather than give actual plant tours.  This is mostly for safety and privacy concerns. Plus, heavy equipment assembly makes for a dangerous environment — especially for children.
Another way that some corporations give you a behind-the-scenes look at their company and products is by way of a company museum.  These museums typically chronicle the progress of the brand from the beginning to present day, and even into the future if they have plans for expansion or other changes.
Hall of Fame museums can also be an interesting stop in your RV travels.  Pick almost any sport or activity and do a search on the name followed by the words Hall of Fame and you'll easily find places like:
Of course, there's also an RV Hall of Fame in Elkhart, Indiana!
Farm tours are another great excursion.  What better way for your kids to learn where milk comes from or what horses are all about than to take a hands-on tour of a working farm?  The sights and smells of where our food comes from is something everyone should experience at least once in their lifetime.
I've been involved in RVing for over 50 years — including camping, building, repairing, and even selling RVs and motorhomes. I've owned, used, and repaired almost every class and style of RV ever made. I do all of my own repair work. My other interests include cooking, living with an aging dog, and dealing with diabetic issues. If you can combine a grease monkey with a computer geek, throw in a touch of information nut and organization freak, combined with a little bit of storyteller… you've got a good idea of who I am. To date, I've shared my RV knowledge in over 300 articles here at The Fun Times Guide! Many of them have over 25K shares.