This post may contain affiliate links. If you buy thru these links, we may earn a commission at no additional cost to you.
---
Spring clamps are handy, but I never made a point to keep some inside my RV — until now!
Recently, I was trying to position a 12-volt fan so that it would blow directly on me while inside my RV.
It wasn't hot enough to warrant running the RV generator and air conditioner.
A little well-directed breeze would be enough to make sleeping comfortable.
The problem: My 12-volt power sockets were at the other end of my little Runaway Rangerunner camper! And sleeping with the power cord laying across the bed just wasn't a workable plan.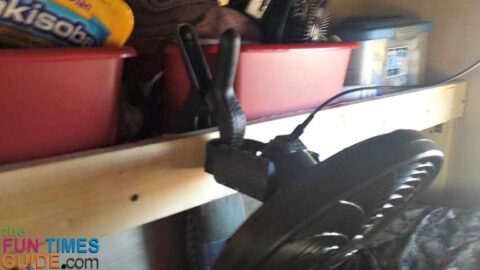 So, I headed into Walmart to look for a couple of small spring clamps to secure the power cord overhead to the bars that run across the ceiling of the camper.
Suddenly, the true value of some simple spring clamps jumped right out at me!
Spring Clamps Are An RVer's Swiss Army Knife
In Walmart, all I could find was a package of assorted spring clamps in sizes ranging from about 1" to 6" in spread.
It seemed a waste to purchase so many assorted spring clamps for this one small issue. But for less than $10 it was worth the expense just to secure the fan's power cord — especially since I started thinking of lots of other ways that I could use spring clamps in and around the RV.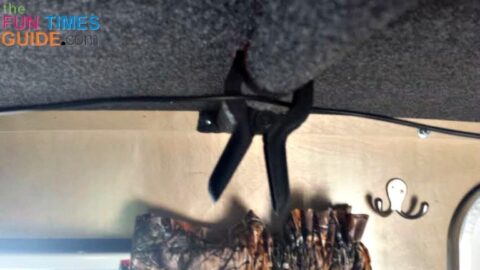 Let me count the ways that a simple spring clamp can be used while RVing…
Clever Uses For Spring Clamps While RVing
Why Spring Clamps Work So Well
The work so well because they hold so great!
BONUS: There's absolutely no ripping of the grommets out of the tarp when the wind kicks up — because the pads on the spring clamps are big enough to distribute the grip, preventing the tarp from tearing in the wind.
Another reason spring clamps are great for RVing is the fact that they can be applied with one hand in a snap wherever you need them.
Sometimes going elaborate just isn't worth the effort — or expense. Something as simple as a spring clamp can do the job of much fancier tools, and they cost next to nothing.
The Bottom Line…
These ideas are only a small example of the many uses for spring clamps while RVing and camping.
I'm definitely convinced that a bag of these handy spring clamps should be in every RVer's tool bag!
I'm sure you will agree that they are better than a Swiss Army Knife — and you will probably find even more uses for them.
I've only had my bag of spring clamps for a couple weeks, and already I'm thinking of buying a second bag because they have proven to be so versatile and handy in and around my RV.
I've been involved in RVing for over 50 years — including camping, building, repairing, and even selling RVs and motorhomes. I've owned, used, and repaired almost every class and style of RV ever made. I do all of my own repair work. My other interests include cooking, living with an aging dog, and dealing with diabetic issues. If you can combine a grease monkey with a computer geek, throw in a touch of information nut and organization freak, combined with a little bit of storyteller… you've got a good idea of who I am. To date, I've shared my RV knowledge in over 300 articles here at The Fun Times Guide! Many of them have over 25K shares.