---
This post may contain affiliate links. If you purchase through these links, we may earn a small commission at no additional cost to yourself.
---
Ultraviolet rays can wreak havoc on your RV's interior. Sadly, the sun's rays also take their toll on the exterior of your RV as well.
You may have noticed while walking through any RV dealer's lot, as soon as you get to the second row — where the 5 to 10 year old RVs are displayed — they all seem to have one thing in common. The exterior finish has faded or become chalky. It may have even yellowed to a rather distasteful color that is far removed from the original white or almond finish that came from the factory.
Most RVs spend a good portion of their time sitting still. Down south, this can mean the sun has direct access to your RV's finish. Over time, the damage will become very apparent.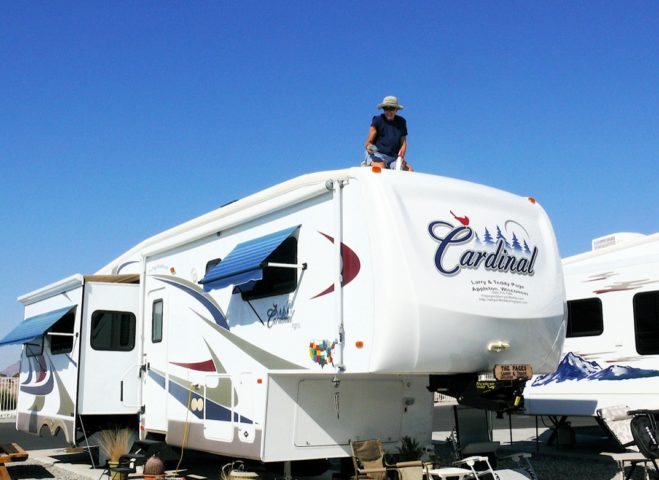 Washing the exterior of your RV with a mild detergent may keep it clean, but it will do little to protect the finish from the damage that direct sunlight will do.
Here's how to protect the finish of your RV and keep it looking like new…
Best RV Cleaners & Protectants
Using a wash and wax product that is designed to protect the finish of your fiberglass exterior like Gel-Gloss Heavy Duty RV Wash & Wax will go beyond just cleaning your RV. It will help protect your RV's finish with a wax coating too.
Even better protection can be obtained by applying an annual coating of an ultraviolet protectant like 303 Aerospace Protectant. The exterior of your RV will remain free of chalky buildup this way.
Most RVs today have rubber membrane roofs.  As they age, a chalky film will develop there as well. Though this doesn't increase the risk of your roof failing, the chalky buildup will wash down the sides of your RV when it rains. Over time, this will leave streak like stains where the water runs off the roof. By using a rubber roof cleaner like Thetford Premium Rubber Roof Cleaner, you can prevent this from happening. Of course, if the streaks have already appeared, you should use streak remover like Thetford Premium Black Streak Remover to clean off this unsightly buildup.
Prevention is a great plan, but let's face it, many times the elements get a jump on us and curing the problem becomes more important than preventing it. Restoring that new shine to a faded RV exterior may take a bit of elbow grease, but the results will be well worth the effort!
An oxidation remover like Protect All Fiberglass Oxidation Remover And Color Restorer can get rid of that chalky look in no time. Restoring the faded color will brighten  up your RV like a shiny penny.
Once polished up, a good protective wax like Thetford Premium RV Wax can keep that new RV look in place.
Don't forget the foundation of your RV!
By applying  a tire protectant like Protect All RV Wheel & Tire Cleaner to your RV tires, you will reduce the likelihood of UV rays prematurely aging your tires. Not only does that create an unsightly condition, but also an unsafe one. Dry rot is the leading cause of tire failure in RVs.
By maintaining that showroom finish, you're helping to build or retain value in your motorhome or RV trailer. Resale value drops fast enough in the RV business. Having an RV that looks fresh and new will mean big dollars in your pocket when it comes time to sell.
With the wide variety of RV cleaning products available today, maintaining that new RV finish could never be easier!
I've been involved in RVing for over 50 years — including camping, building, repairing, and even selling RVs and motorhomes. I've owned, used, and repaired almost every class and style of RV ever made. I do all of my own repair work. My other interests include cooking, living with an aging dog, and dealing with diabetic issues. If you can combine a grease monkey with a computer geek, throw in a touch of information nut and organization freak, combined with a little bit of storyteller… you've got a good idea of who I am. To date, I've shared my RV knowledge in over 300 articles here at The Fun Times Guide! Many of them have over 25K shares.